Turn it into a haunted haven over the course of an afternoon.
Getting into Halloween spirit doesn't mean you have to break the bank buying decoration. instead spent time crafting with kids.
With just a few store-bought material and items you already have on hand, you can set a festive tone in a matter of hours.
1. Monster Cocktail Stirrers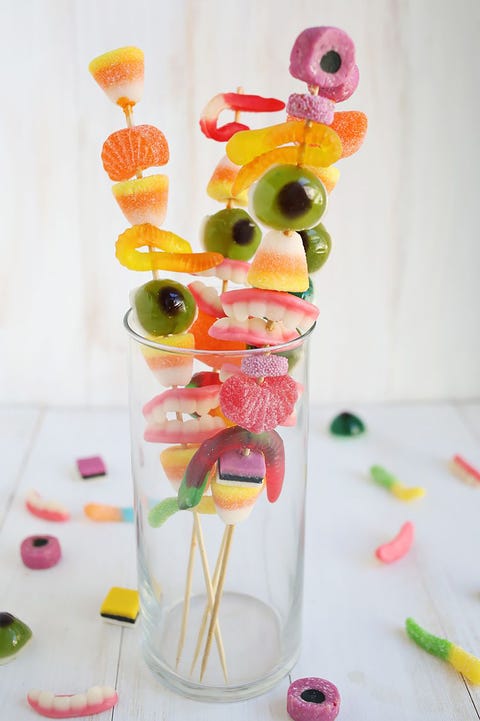 There's no reason why adults can't have fun Halloween at parties too. Dress up your cocktails with these edible quirky monster stirrers.
Get the tutorial at
A Beautiful Mess.
2. Black Flower Pumpkins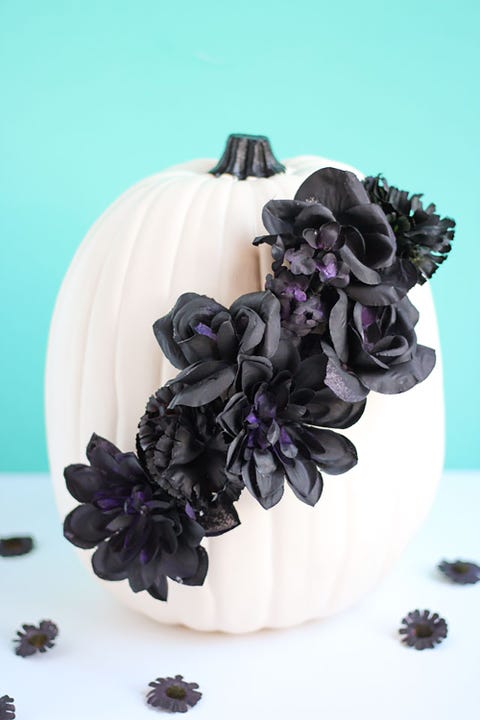 Why would you carve a pumpkin when you can spruce one up with Halloween decor like these eerie flowers?
Get the tutorial at
Design Improvised.
3. Crepe Tissue Paper Pumpkins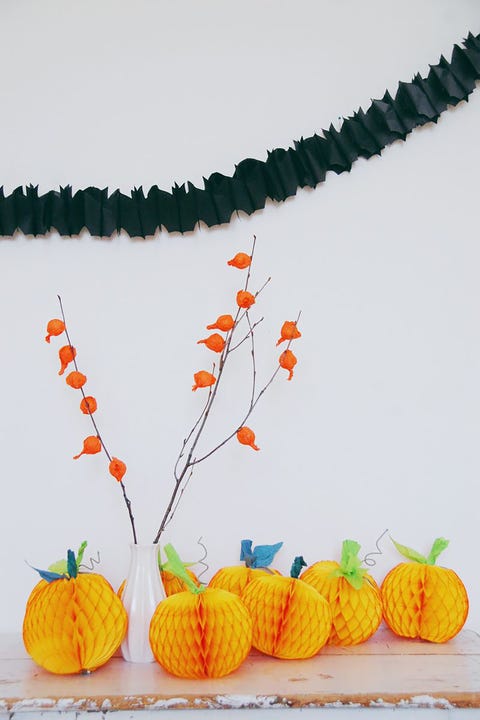 These easy-to-make, paper pumpkins will look great spread out on dessert table for your Halloween party.
Get the tutorial at
A Beautiful Mess.
4. Halloween Candy Jar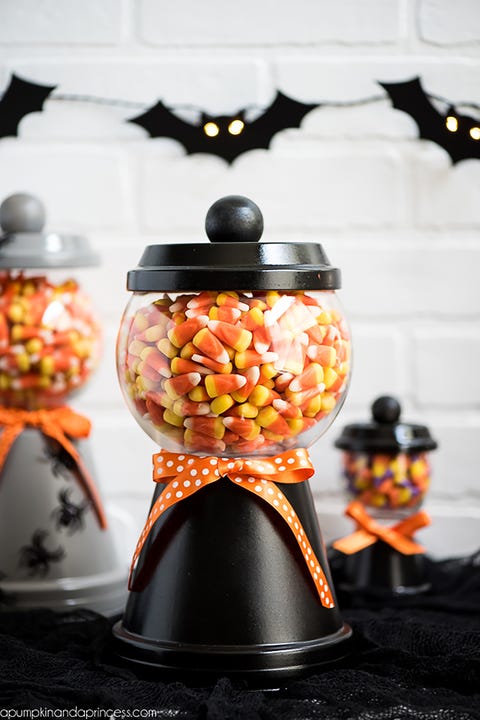 Would you ever guess this candy jar is made from a small terra cotta pot? Fill the glass bowl with your favorite candy, like candy corn or Reece's Peanut Butter Cups.
Get the tutorial at
A Pumpkin and a Princess.
5. DIY Ghost Decorations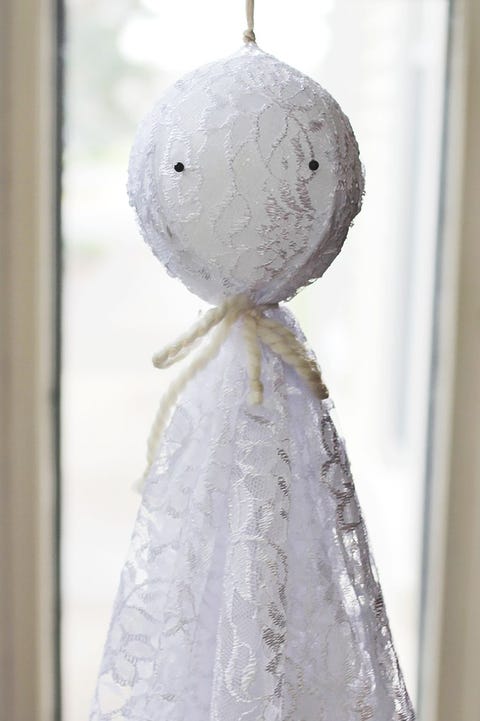 These dainty ghosts look pretty and spooky hanging in an entryway or along a stairwell.
Get the tutorial at
A Beautiful Mess.
6. Halloween Felt Banner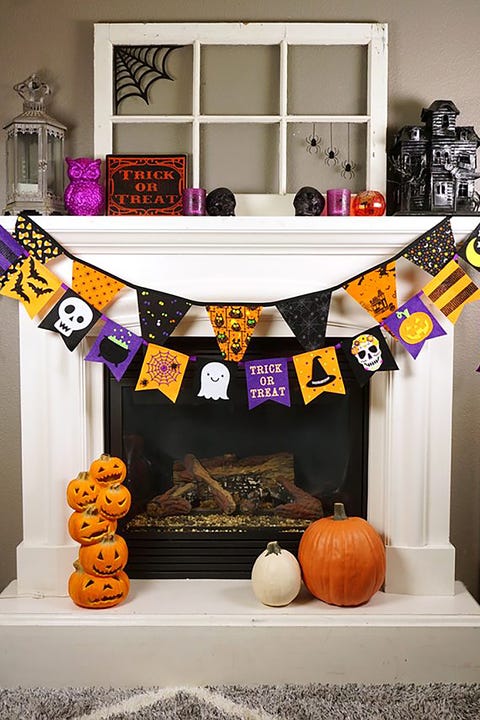 To make this banner, make sure you have a Cricut Maker on hand. Once you cut out all the Halloween-themed shapes, you'll have a banner you can use for years to come.
Get the tutorial at
Happiness Is Homemade.
7. Galaxy Jack-O-Lantern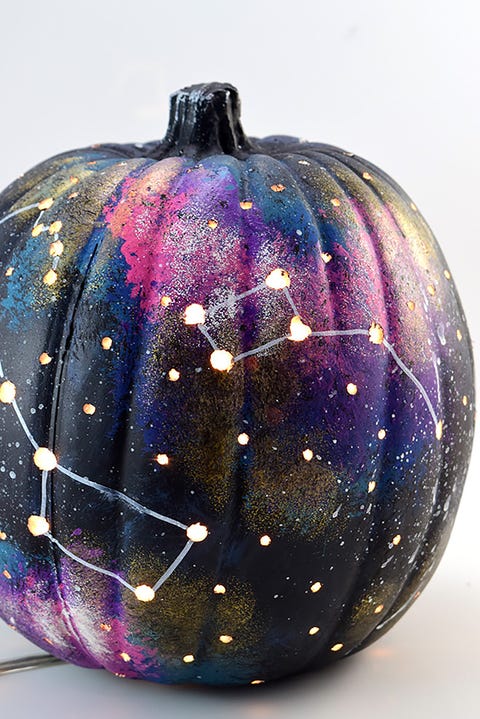 Skip the ghoulish decor and go for a more out-of-this-world look with these painted pumpkins.
Get the tutorial at Dream a Little Bigger.
8. Spider Balloons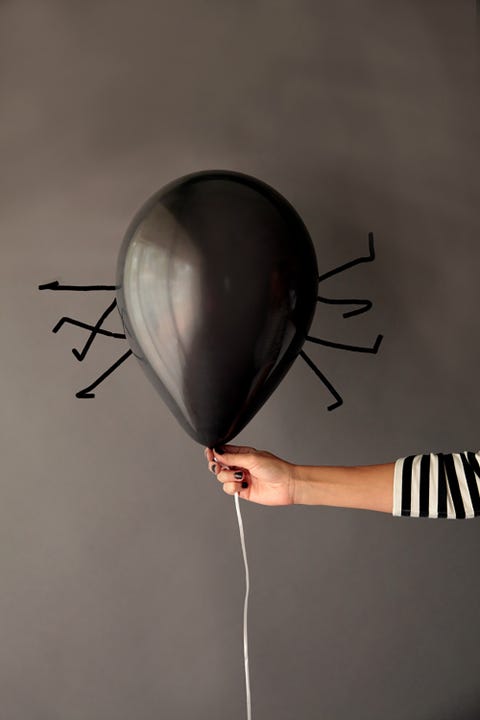 If you're in need a new theme for your Halloween party, try incorporating all spider decor and let these quick and easy balloons steal the show.
Get the tutorial at
Design Improvised.
9. "You've Been Boozed" Wine Bottles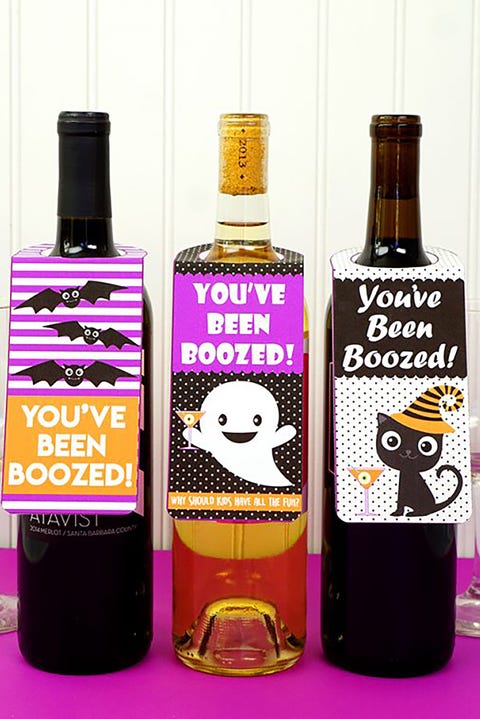 These punny labels are perfect as a Halloween gift or decor for your bar cart.
Get the tutorial at
Happiness Is Homemade.
10. Halloween Cake Topper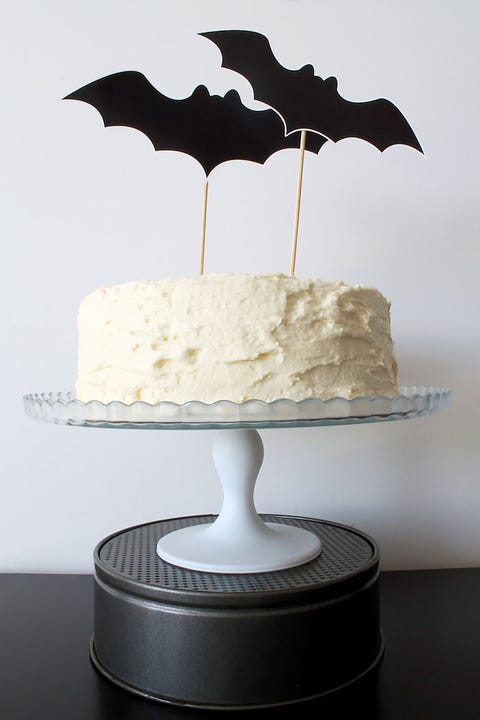 Download this printable design
and you're halfway there to creating simple decor for your holiday cake.
Get the tutorial at
Kara's Party Ideas.
11. Spooky Front Porch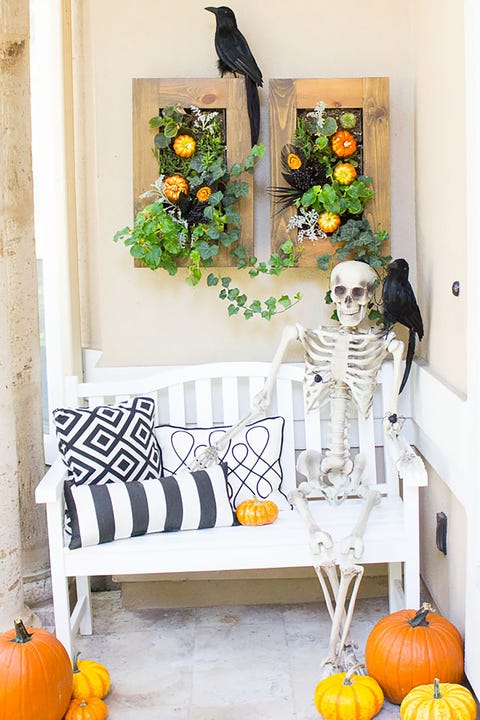 Guests will be spooked (and amazed) by your front porch decor this year when you incorporate these five decorating steps.
Get the tutorial at
Design Improvised.
12. Glow in the Dark Pumpkins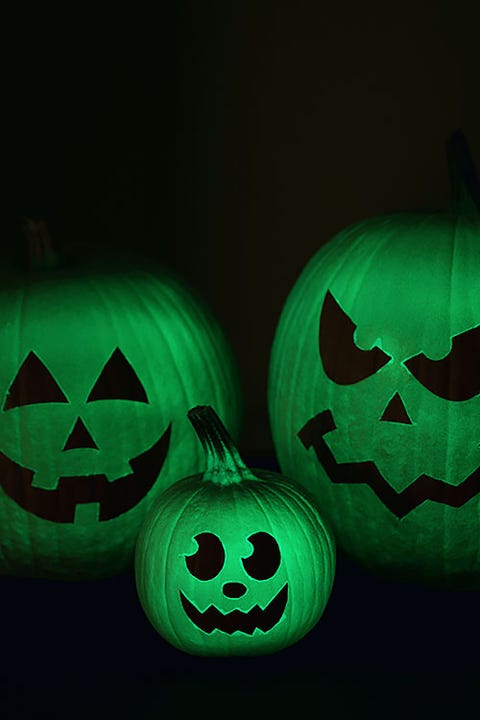 Even if you've given up on new and creative Halloween pumpkin ideas, we bet you've never painted them with glow-in-the-dark spray paint!
Get the tutorial at
One Little Project.
13. Paper Plate Candy Corn Banner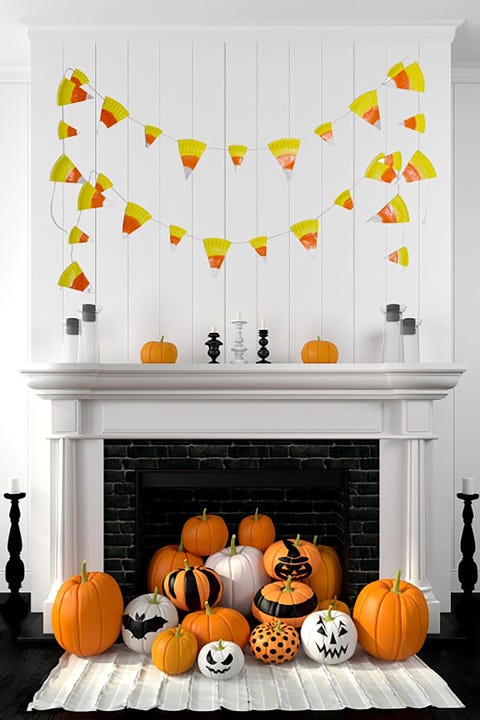 Homemade banners are a quick way to spruce up an empty space, and this candy corn one works for fall and Halloween.
Get the tutorial at
The Gracious Wife.
14. Signs of the Times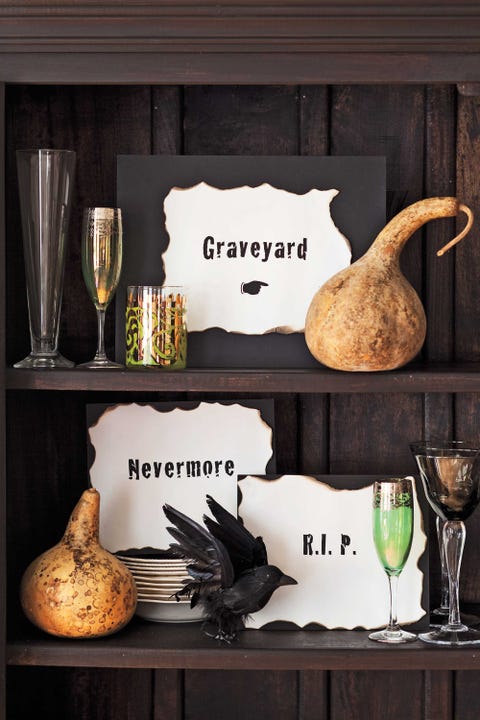 Use crafts-store rub-on transfers to create Scary Signs as place cards, buffet-table identifiers, or just for decorating fun. Carefully burn around the edges, then glue to a black overlay to complete the morbid effect.
Get the tutorial.
15. Clean Sweep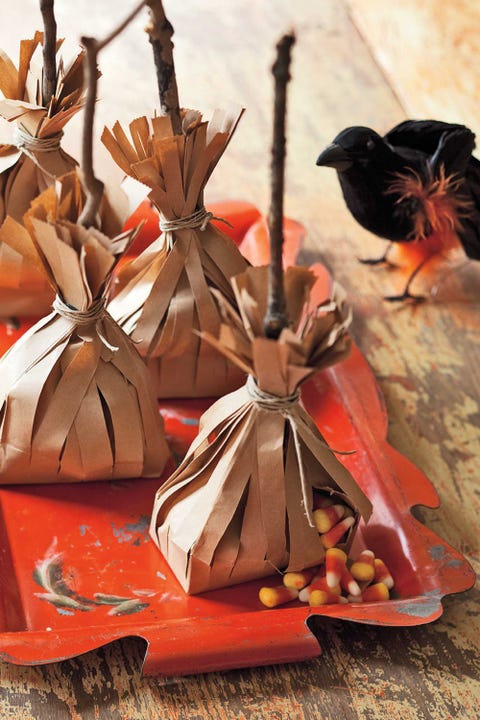 Two paper sandwich bags, the outer one shredded into partial strips, make cunning Broom Party Favors when they're filled with candy and cinched around a stick with raffia cord.
Get the tutorial.
16. Golden Delicious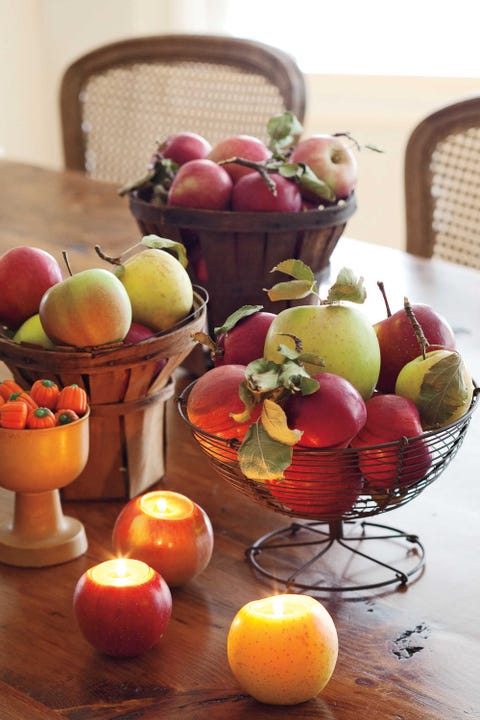 Hollow out the season's crisp apples about an hour before guests arrive (rub cut edges with lemon so they don't brown). Then drop in tealights and strike a match when the doorbell rings.
Get the tutorial.
17. Candy Pumpkin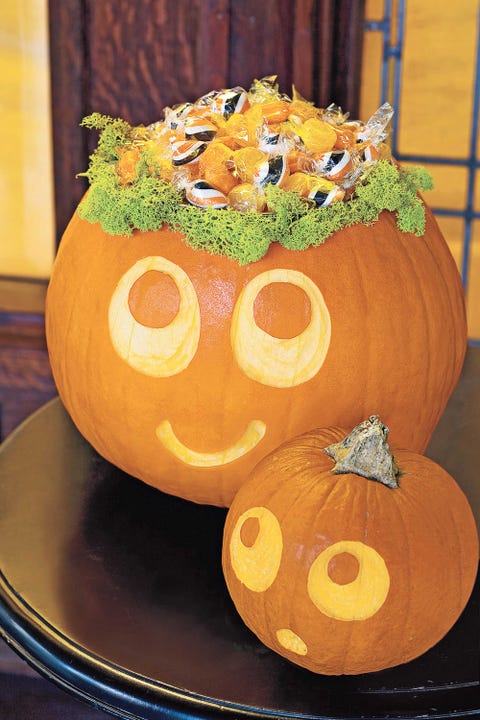 This pumpkin sports a carved out hairdo, lined with faux moss and filled with colorfully wrapped candies in shades of black and orange.
18. Safety Lights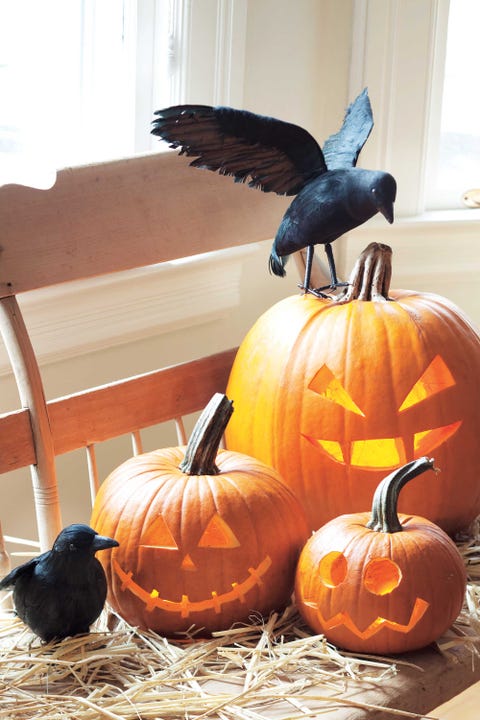 The growing popularity of realistic, battery-operated, and rechargeable LED candles mean you never have to worry about lighted jack-o'-lanterns, especially indoors, leaving you free to get monstrously creative with your decorating scheme.
19. Halloween Skull Wreath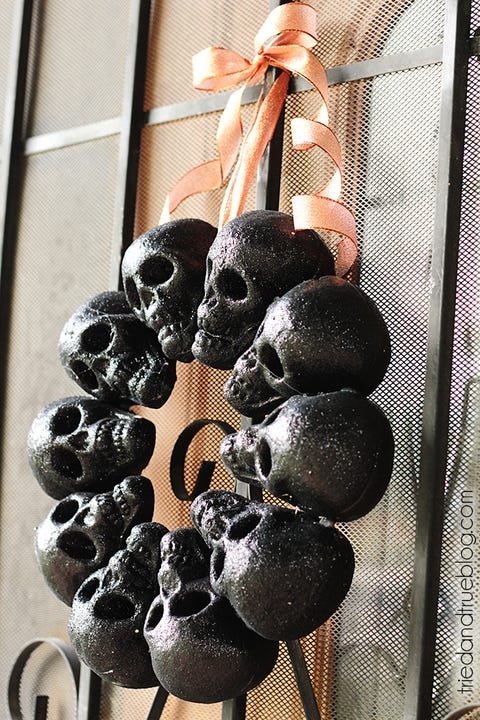 Have your front door ready to spook with this creepy wreath. For an extra bonus, put colorful lights in each skull's eyes to light things up.
Get the tutorial at
Tried & True.
20. Neighborhood Watch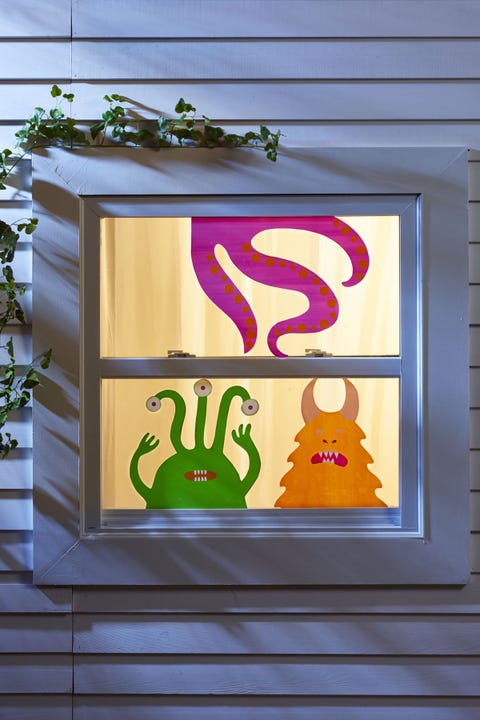 These cling-on creatures are looking even when nobody's home. Download the templates, trace them out on contact paper, and cut out.
Get the template.
21. Ma and Pa Pun'kin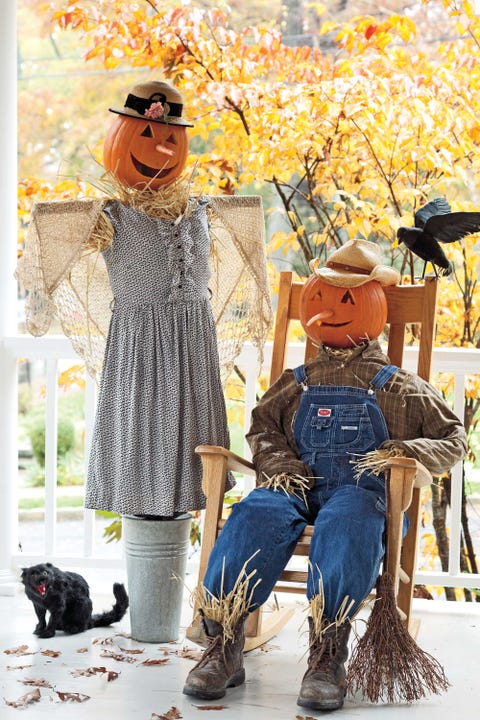 This scarecrow-style American Gothic is a well-turned-out couple of stuffed shirts … and hats and dresses and overalls. Use wooden tomato stakes to add structure to straw-filled clothes and to serve as a "neck" for jack-o'-lantern heads. Drag out a rocking chair, prop Ma in a pail of sand, and your front porch is ready for arrivals.
22. Creepy Seat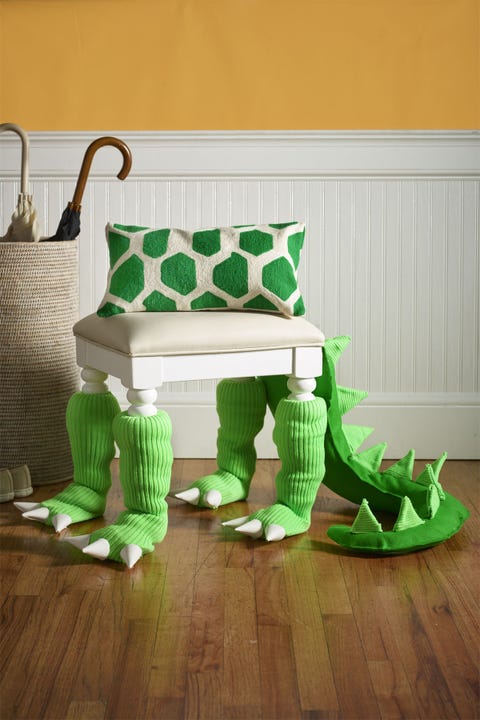 Guests will think twice about taking a rest on this eerie entryway bench.
1. Tape pillow batting around bench legs, then slip on leg warmers and leave 6" of fabric at bottom for feet.
2. Cut 3" off the top of a party hat; discard. Stuff bottom piece of hat with pillow batting and slide into bottom of leg warmer; hot-glue edges to secure. Repeat for other feet.
3. To make claws, roll a 4" semicircle of white foam into a cone and hot-glue along straight edge. Repeat to make 12, then hot-glue three to each foot.
4. For tail spikes: bend nine pipe cleaners into triangles, leaving a 1" tab at one corner of each; cut two more leg warmers along seam and use to cover triangles, keeping tabs bare.
5. From 2 yards green felt, cut two identical tail shapes. Hot-glue together at the tail's base and along one edge; fill with batting. To attach each spike, cut a small slit in the top of the tail, then insert the spike's pipe cleaner tab and fold it under. Reinforce with hot glue.
6. Hot-glue tail shut and attach to bench with hem tape.
23. Monster Mash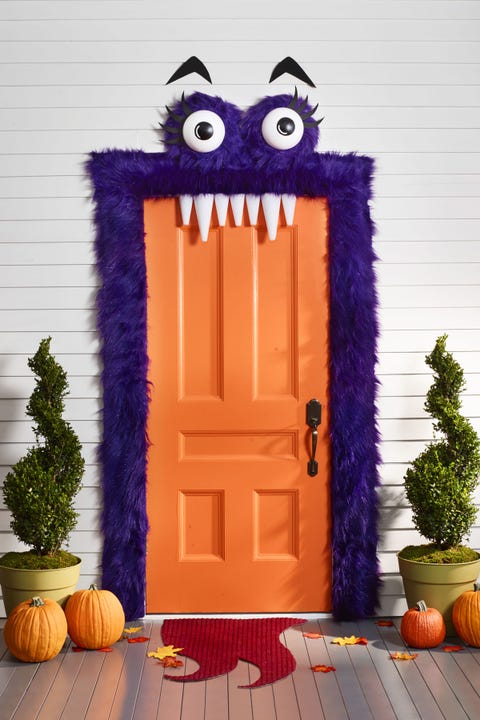 Welcome trick-or-treaters with a hungry smile.
1. To make eyes, paint black circles on two 8" foam half balls; let dry. Paint white highlight. Cut black foam eyelashes and eyebrows.
2. From 3 yards faux purple fur, cut two 16" squares and hot-glue each around a 12" foam wreath. Glue eyeballs in center and eyelashes across top. Add a horizontal string across back of each eye for hanging.
3. Frame door with strips of fur using tacks of hem tape. Use Command Hooks to hang eyes above. Tack or hem tape eyebrows in place.
4. For teeth, use foam cones, and then attach to top of door frame with hem tape.
5. Draw and cut tongue shape from floor mat. Spray-paint red; let dry.
24. Skull Lamp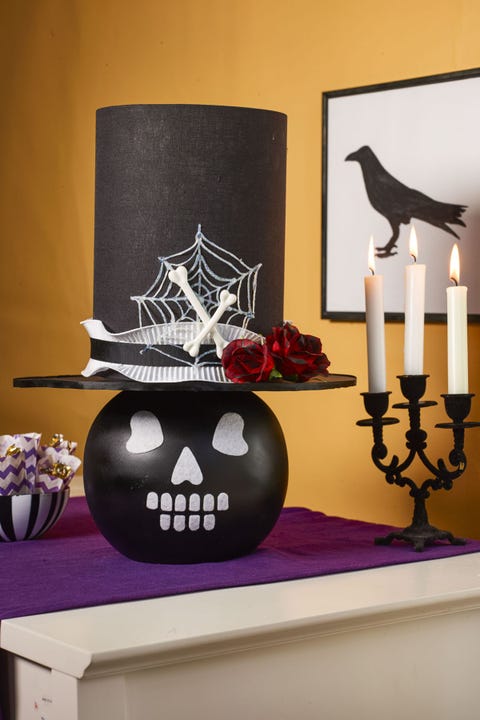 Switch on this skeleton's top hat to signal that there are treats waiting in the house.
1. Spray-paint round table lamp black; let dry. Cut facial features from white adhesive felt and press in place.
2. For top hat, start with a black drum lampshade. Cut a circle of black foam core that's 4" wider than shade on all sides for a brim; cover outer edge with ¼"-wide black ribbon. Cut a center hole for harp, then hot-glue brim to bottom of shade and attach to lamp.
3. To make spiderweb, squeeze white dimensional paint onto wax paper in web shape; once dry, peel off.
4. Hot-glue ribbon, spiderweb, faux red roses brushed with black paint, and small bones to hat.
25. Pretty in Plaid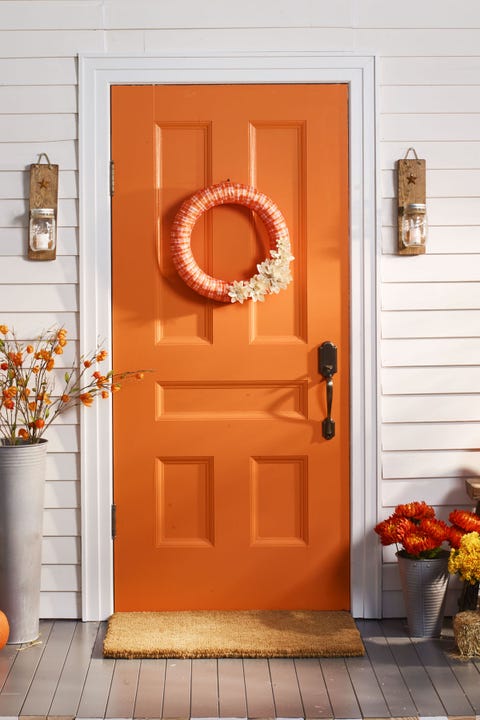 Nothing says "Come on in!" like a wreath wrapped in an iconic fall print.
1. Wrap plaid ribbon around 18" wreath form; secure with hot glue.
2. For flowers, soak corn husks in room-temperature water for two minutes; remove and blot excess water. To make a few petals at once, accordion-fold corn husk into 1"-wide sections, then cut out 1" teardrop-shaped petal. Repeat as needed and to make 1½" and 2½" petals.
3. Cut a 1"-wide corn husk strip, fold in half lengthwise, roll into tight swirl, and hot-glue onto a small cardboard circle. Hot-glue on petals, working big to small, back to front.
4. Hot-glue flowers to wreath.
26. Pumpkin Jars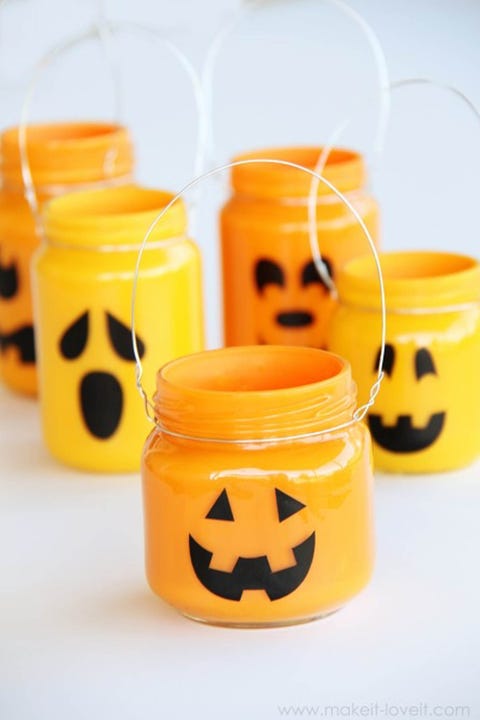 Don't forget to stuff these adorable pumpkin jars with your favorite treats!
Get the tutorial at
Make It & Love It.
27. Porch Perchers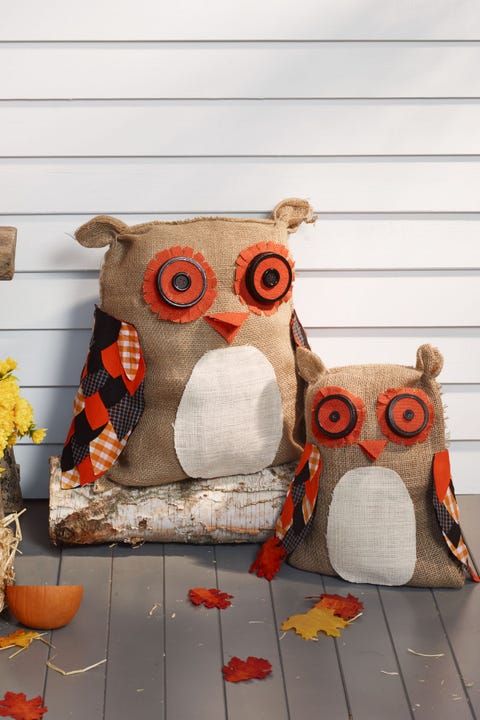 These night owls are a hoot! Fabric, buttons, and mason jar lids bring burlap sacks to life.
1. Fold burlap sack in half so it's doubled over. Stuff with pillow batting and baste-stitch closed with twine. To make ears, gather top corners and tie with twine.
2. For the eyes, cut two 5" orange burlap circles and sandwich each piece of fabric inside a canning jar lid; glue along inside edge to secure.
3. Glue a black button to center of each eye and cut slits in fabric around outside. Glue eyes in place on body.
4. To make beak, cut 4" diamond from orange burlap, fold over, and glue in place below eyes.
5. For wings, start with two teardrop-shaped pieces of fabric (about 14" x 7" each). Use a mix of patterned and solid fabric to make 15 leaf-shaped feathers for each wing. Hot-glue to wings, then glue wings to sides of body.
6. Cut a 12" oval from white burlap and glue to chest.
28. The Bell Jar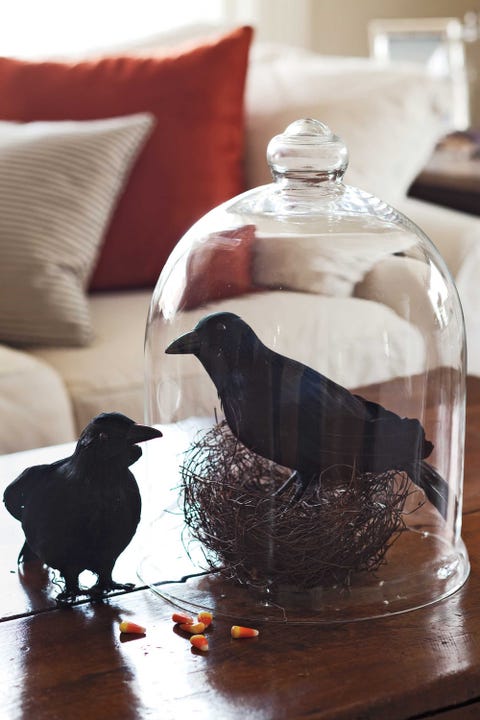 Serve up a helping of raven under glass with craft store crows and a real or faux nest under a glass hurricane. Nevermore, nevermore!
29. Mummy Luminary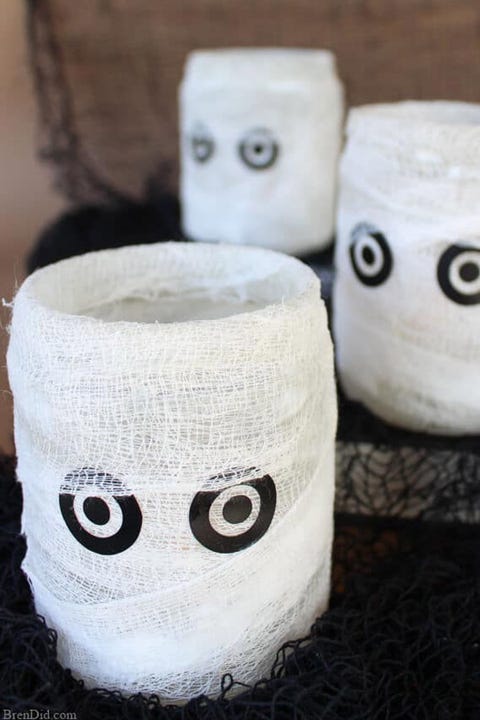 Use battery-operated tea lights to light up these mummified luminaries.
Get the tutorial at
Bren Did.
30. Halloween Topiary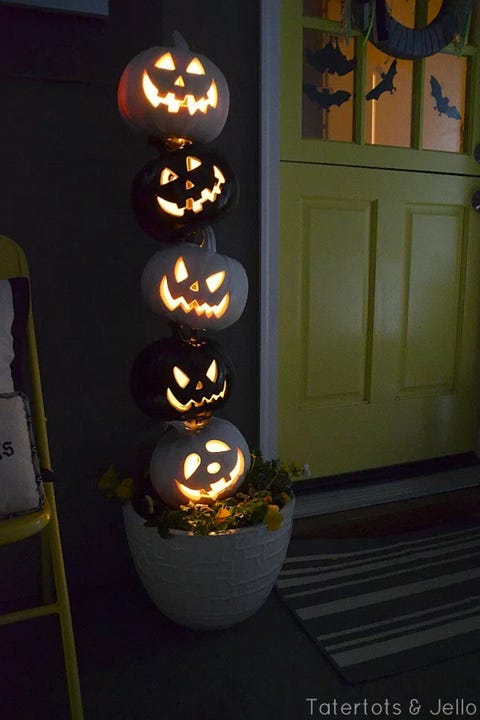 Your front porch just got a whole lot spookier thanks to these whimsical pumpkins.
Get the tutorial at
Tatertots & Jello.
Happy Halloween!!
30 DIY Halloween Decorations That'll Transform Your Home
Reviewed by
Team
on
October 02, 2018
Rating: