Its all about the stoop of Halloween.
But if you want to go beyond the expected jack o lantern, them make or buy these scary outdoor decorations to get your porch into the top-notch shape for trick or treaters.
1. Halloween Lightshow Ghoul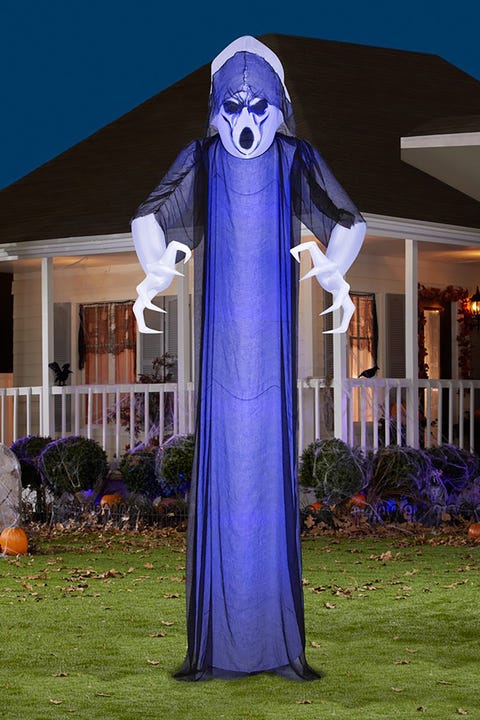 If you're on the hunt for outdoor Halloween decorations that are on the scarier side, this airblown ghost will do the trick. And it also measures 12 feet in size — which would be pretty creepy to witness in person!
2. Creepy Crawly and Pretty Halloween Wreath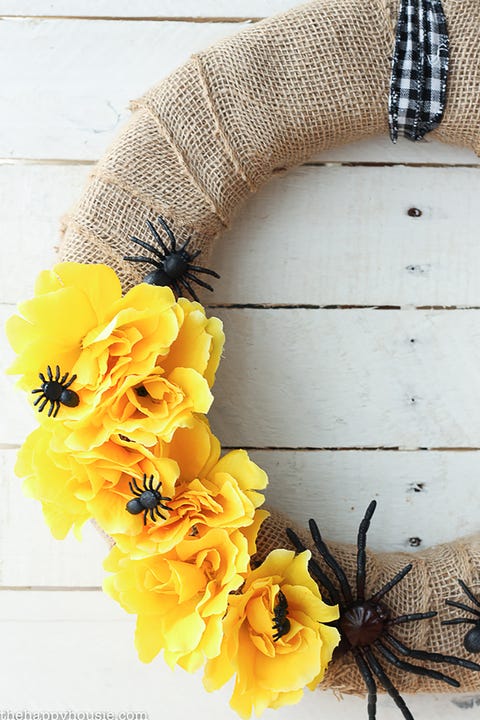 Greet guests with a spooky wreath that can easily be made with just a foam base, faux spiders, and burlap ribbon.
Get the tutorial at
The Happy Housie.
3. Halloween LED Scary Pumpkin Kaleidoscope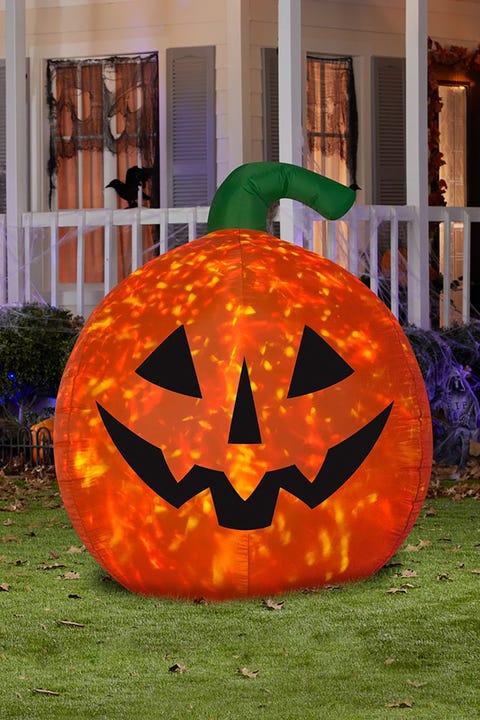 You can't go wrong with an illuminated lawn jack-o'-lantern you can use year after year.
4. Fall Porch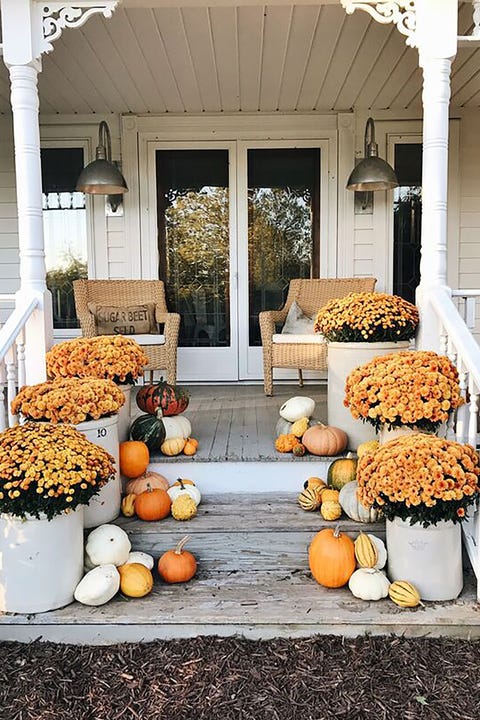 When visiting your local farmers' market or grocery store, stock up on pretty mums and eclectic gourds and pumpkins that you can arrange on your front porch.
Get the tutorial at
Liz Marie Blog.
5. Halloween Clear Ghost Pathway Lights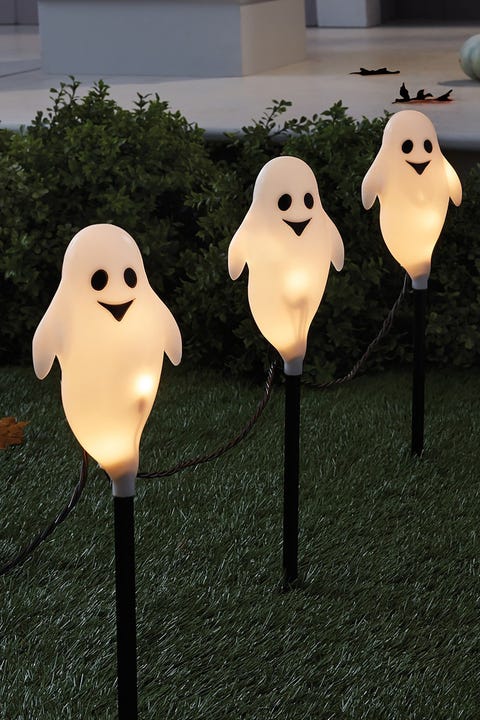 These cuties are more adorable than they are scary and they'll make your sidewalk stand out in the neighborhood.
6. DIY Halloween Bone Wreath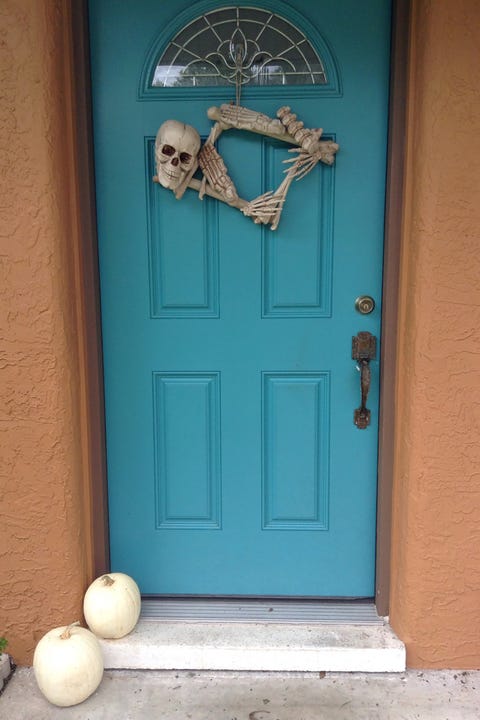 For a spookier take on Halloween wreaths, try assembling this piece of door decor made from faux bones.
Get the tutorial at
Modern Day Moms.
7. Projection Kaleidoscope Spider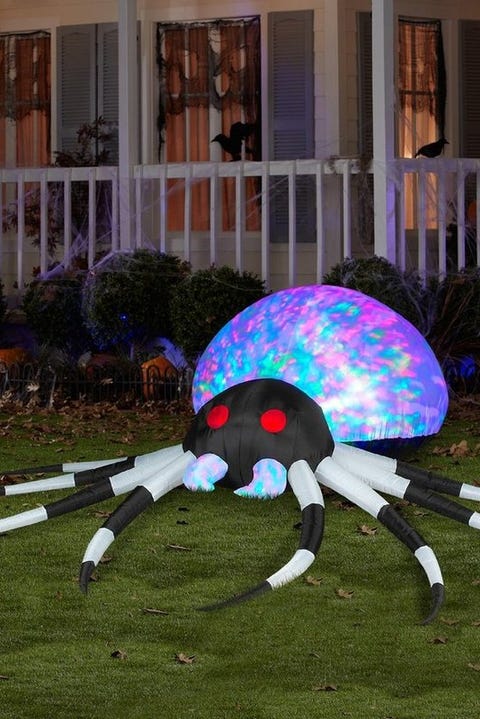 It's creepy, it's crawly, and it's perfect for Halloween! This inflatable spider includes lawn stakes and inflates seconds after being plugging in.
8. Creepy Crawly Magnetic Spiders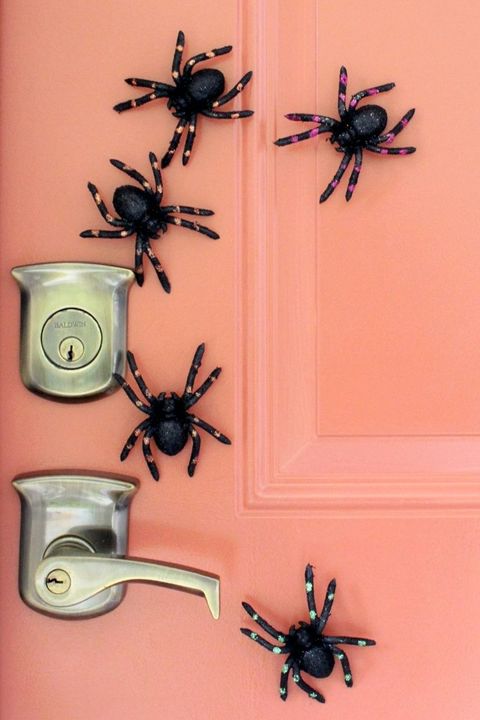 Stick these crawlers to your door by adding a magnetic backing. Now watch them move!
Get the tutorial at
Leigh Laurel Studios.
9. Ping Pong Ball Ghost Lights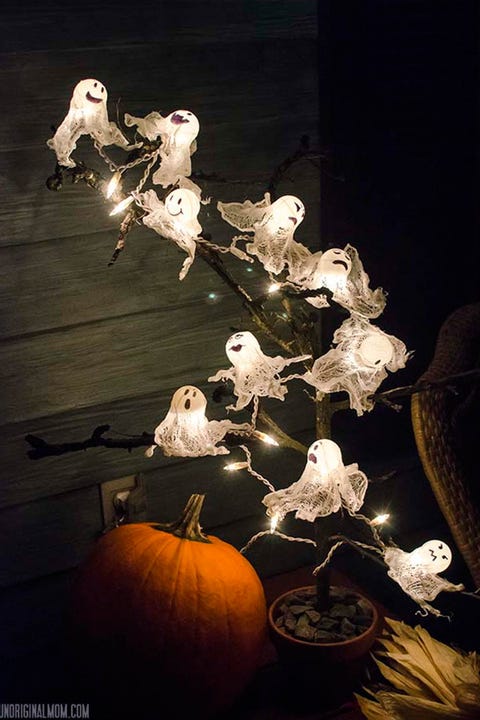 Put together these spooky little fellas for one clever Halloween decoration.
Get the tutorial at
Unoriginal Mom.
10. Spiders and Bats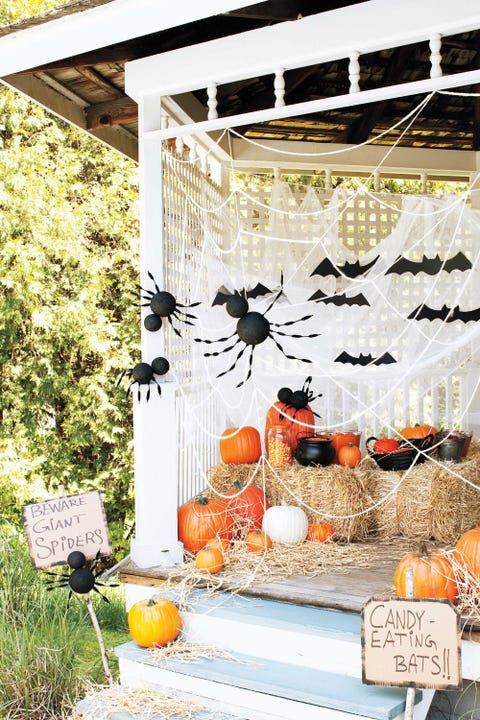 Make your guests carefully maneuver through the web of giant spiders to reach a bowl of prized treats. Made of foam balls and chenille stems, these creepy creatures try to catch candy thieves in their web!
11. Bat Branches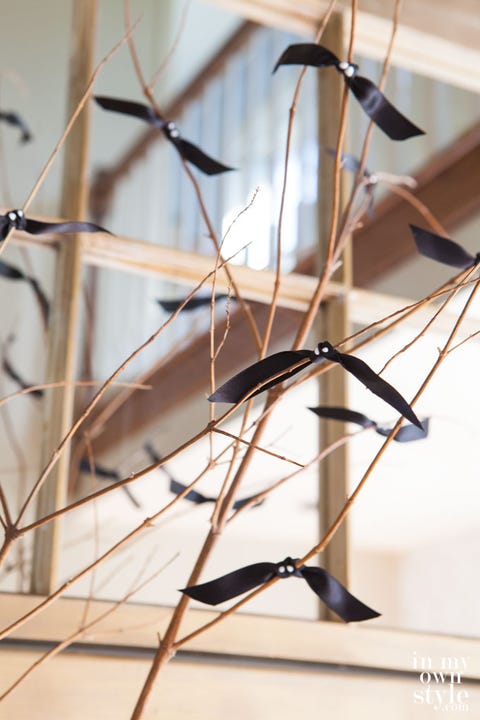 Knot tiny black ribbon around branches and add dots of white paint to make eyes that will stare you down through the night.
Get the tutorial at
In My Own Style.
12. Spooky Front Yard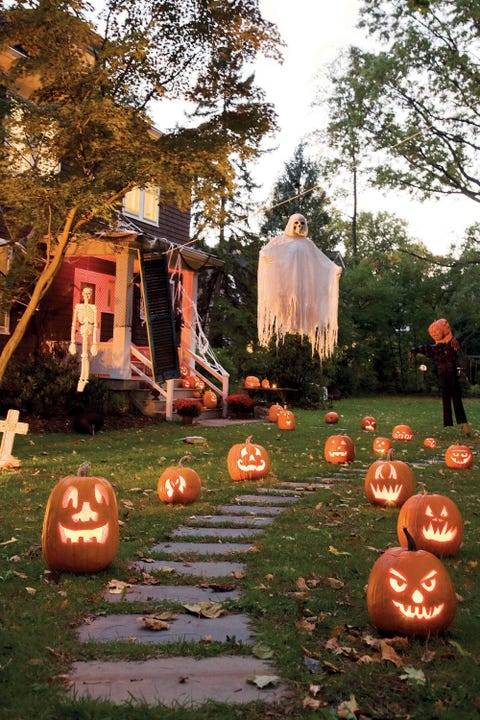 Hanging ghosts and skeletons greet trick or treaters as they make their way up the path.
13. Halloween Spiders & Bats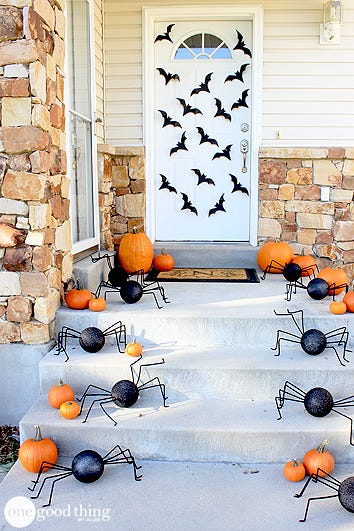 Make the ultimate entrance with a door decked out in paper bats and stairs cast with Styrofoam spiders. Eek!
Get the tutorial at
One Good Thing.
14. Rest In Pieces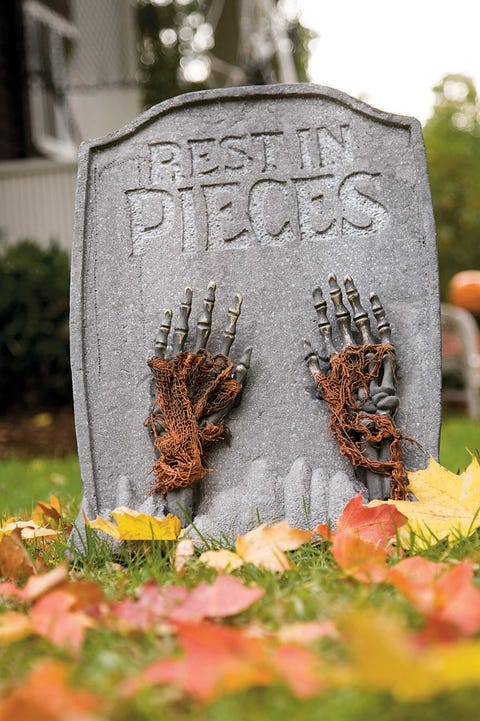 Foam graves are a classic way to dress up your yard for the season.
15. Spooky Lantern Post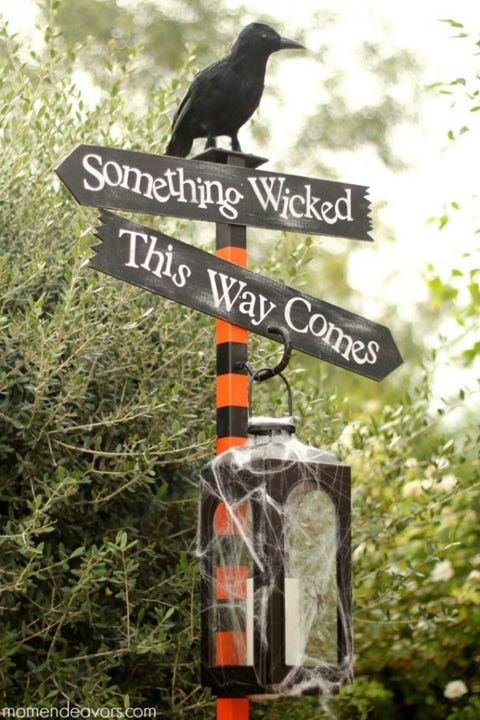 This DIY lantern post will get your whole neighborhood in the mood for Halloween.
Get the tutorial at
Mom Endeavors.
16. Cauldron Witch Legs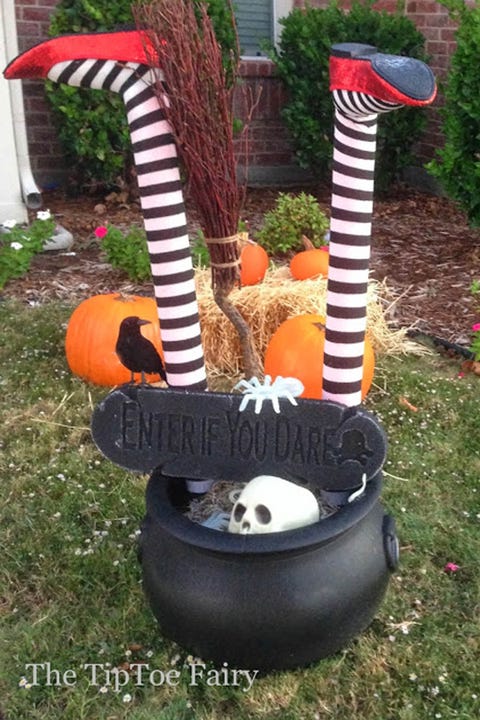 Your trick-or-treaters will be giggling over this wicked party crasher.
Get the tutorial at
The TipToe Fairy.
17. Enter at Your Own Risk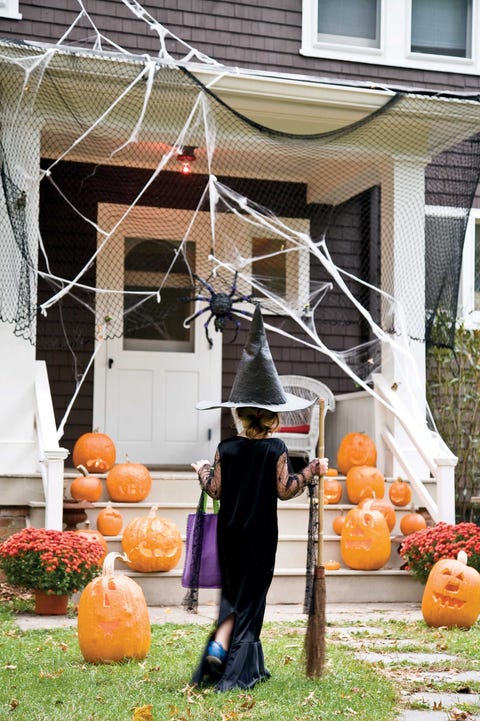 Two rows of jovial jack-o-lanterns guide cautious guests toward the door. Soccer goal netting is draped halfway over the roof, offering a clever method to attach webs and giving one spider a fun way to greet newcomers.
18. Front Porch Gravestones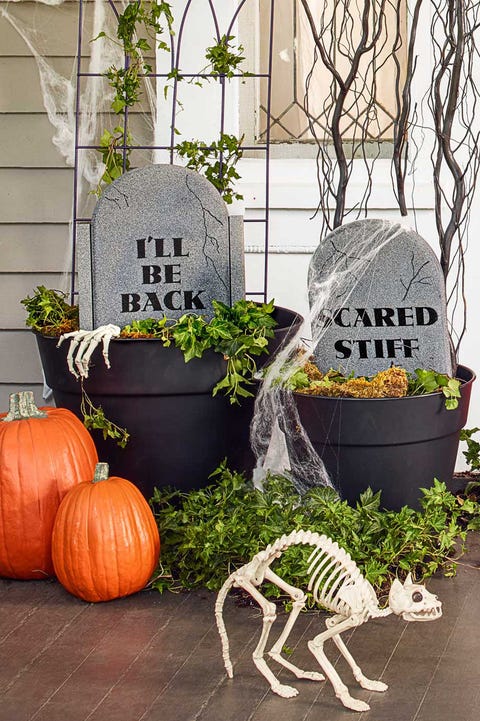 1. If desired, hot-glue a 1"-square dowel to either side of black kickboard.
2. Adhere letter stickers to kickboard to spell out a phrase, like DEAD ZONE. Secure peeling edges with straight pins.
3. Apply stone spray paint to kickboard. While paint is wet, use pins to carefully help remove letter stickers, then use end of skewer to draw cracks in painted surface.
4. Once completely dry, hot-glue a ¼"-round dowel to back of kickboard as a stake.
19. Fall Into Autumn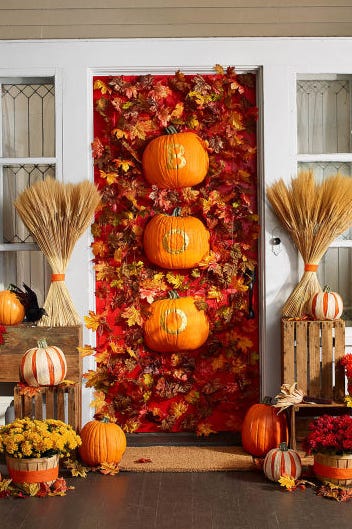 This pretty display sets the tone for a harvest-style holiday. Stenciled, halved Fun-Kins anchor a cascade of maple leaf garlands. Add potted mums in apple baskets and sugar pumpkins striped with dried corn husks for a front door that will last into Thanksgiving.
1. Use a utility knife to halve two Fun-Kins lengthwise.
2. Print and cut out stencils for the word BOO.
3. Trace each letter onto a halved Fun-Kin with a pencil.
4. Use small paintbrush to apply gold enamel paint inside lines; let dry.
5. Hang on door with Command wire hooks.
20. Eyes Everywhere Front Door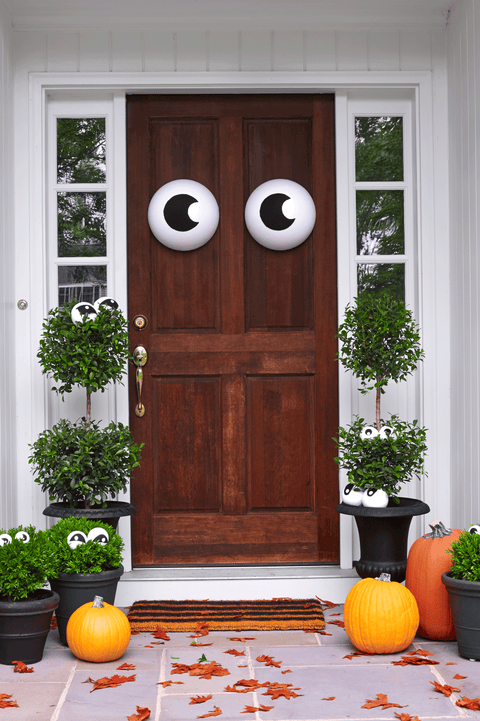 Your front door, potted plants, and more will peer at passersby. Cut pupils out of adhesive-backed felt and position them on assorted Styrofoam balls or half-spheres. Use double-stick tape to attach peepers to the door or skewers to stake them into the greenery.
21. Rustic Halloween Sign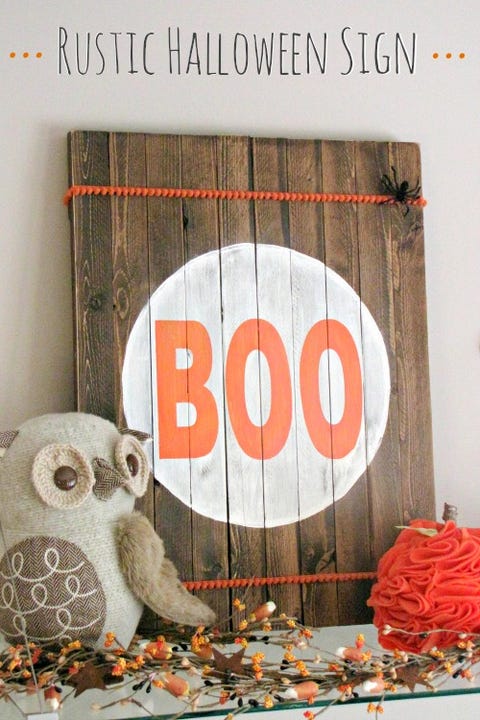 Get a vintage look when you paint garden stakes with wood paint and acrylic Halloween colors.
Get the tutorial at
Clean and Scentsible.
22. Halloween Mason Jar Luminaries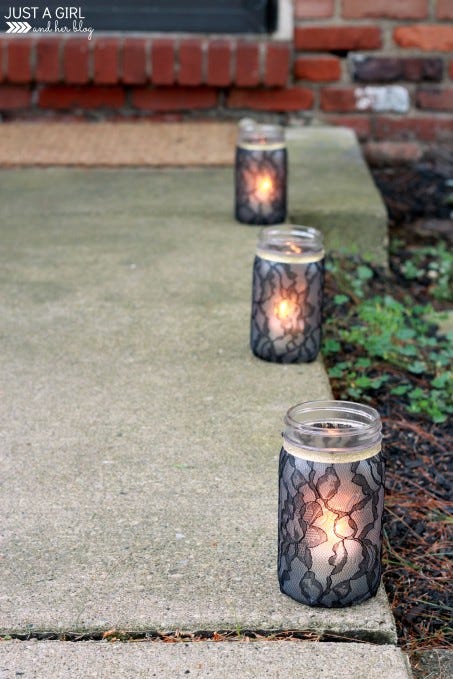 To create these hauntingly festive pathway lights, line lace along the inside of a mason jar before adding a candle.
Get the tutorial at
Just a Girl and Her Blog.
23. Halloween Mummy Door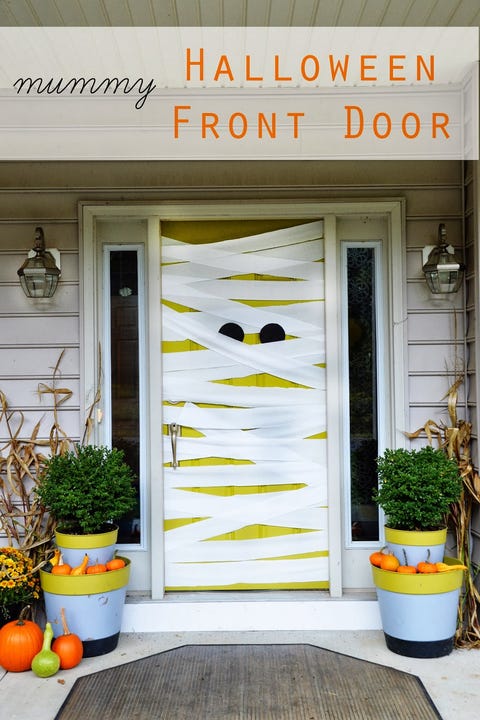 Mummify your front door with loads of white fabric strips and some peeping felt eyes.
Get the tutorial at
East Coast Creative.
24. Classic Halloween Front Door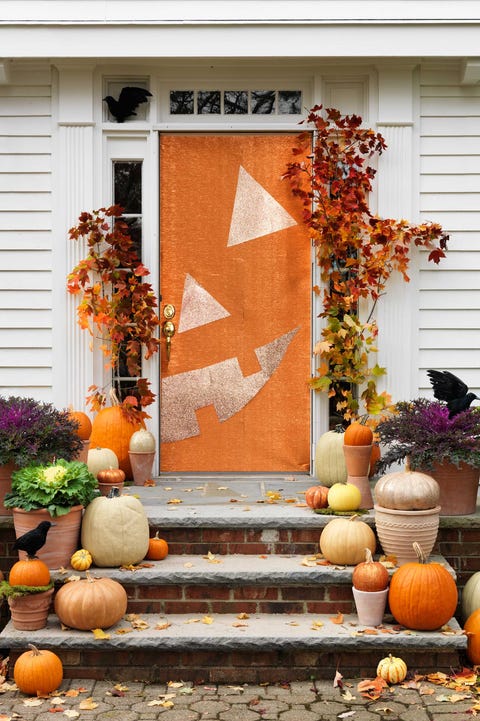 1. Trim orange wrapping paper to the height of the door; secure with masking tape.
2. Overlap another sheet to cover the rest of the door; tape down.
3. Lay gold glitter paper facedown and use a ruler to draw an eye (a triangle with 12" sides), nose (a triangle with 10" sides) and lopsided smile.
4. Cut out, arrange and tape to the door as shown.
5. Cut a small hole in the top of each large pumpkin with a craft knife.
6. Insert the leaf branches; push down until secure.
7. To keep the branches upright, tap a picture nail into either side of the door frame; secure each branch with fishing line.
8. Spray-glue small pumpkins; dust with glitter; let dry.
9. Arrange cabbages and pumpkins in planters on the steps.
10. Add faux crows, if desired; secure with fishing line as needed.
Happy Decorating!!
Happy Halloween!!
24 Spooky Outdoor Halloween Decorations Your Yard Needs
Reviewed by
Team
on
October 04, 2018
Rating: