Why haven't we thought of The Bachelorette before?!
If you have waited this long to pick up Halloween costume, fear not. There is still time to assemble the perfect look. These ideas are simple, inexpensive and quick to DIY - the perfect combo.
1. Bread Winner
You're bound to fall in a loaf with this sporty, gluten-tolerant option.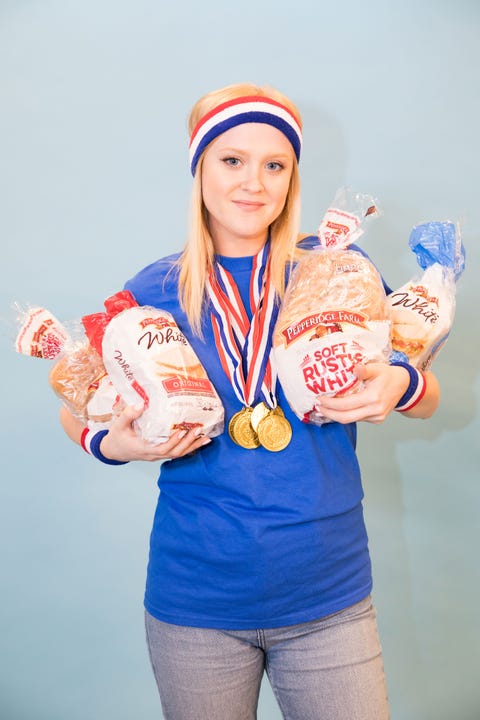 2. 50 Shades of Grey
This play on the popular E. L. James series is whip-smart ... no Red Room required! Pick up some paint swatches at your local hardware store and tape them on a T-shirt.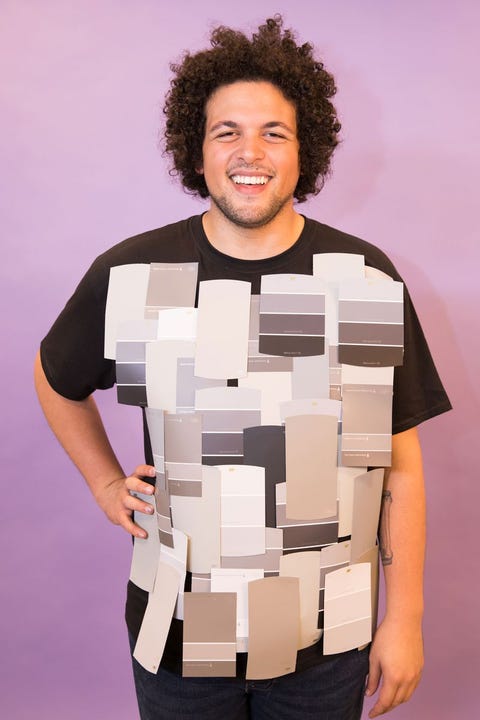 3. Rosie the Riveter
Nothing says "girl power" quite like Rosie the Riveter. The best part of this costume: you probably already have the jeans and denim shirt, so you're more than halfway there.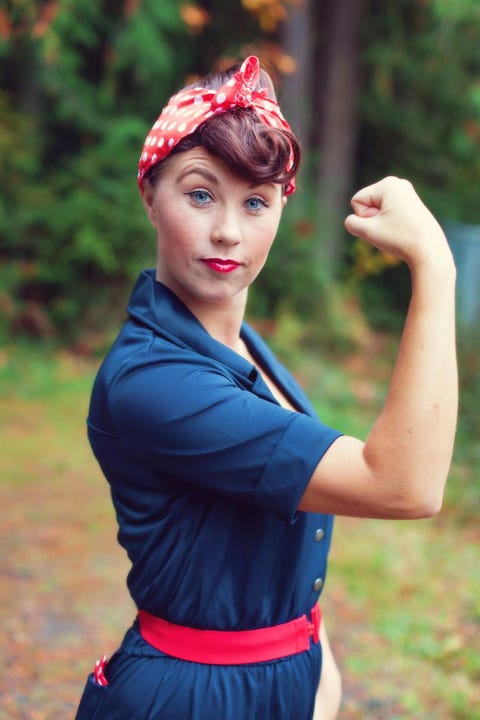 4. Holy Guacamole
Avocado lovers, rejoice. This adorable combination is both heavenly and delicious. Just print out avocado illustrations from the internet and you're practically done with your costume.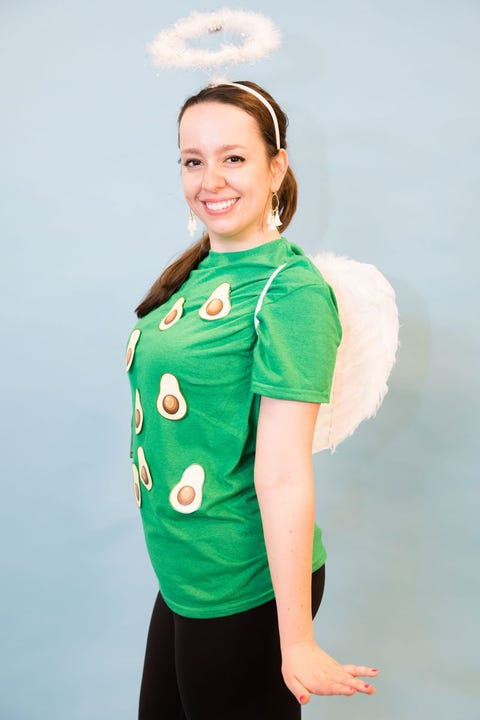 5. Smart Cookie
No one will need to see your report card after you show up in this clever costume.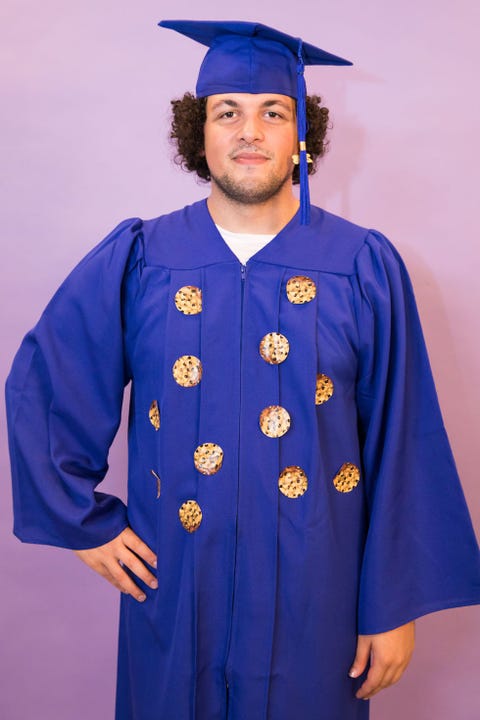 6. The Bachelorette
Put on your fanciest dress and then ask everyone at the party if they'll "accept this rose?"
See more a Southern Belle in Training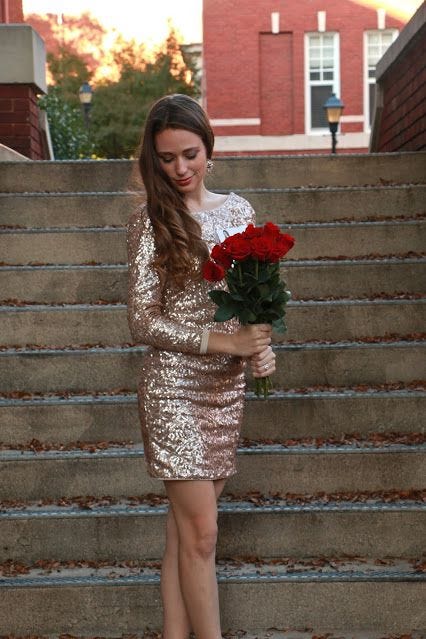 7. Brawny Man
Add a roll and everyone will instantly recognize you as the king of paper towels. Make this an easy couple costume by having one person dress in all white and stick a print-out of the Brawny logo on their chest.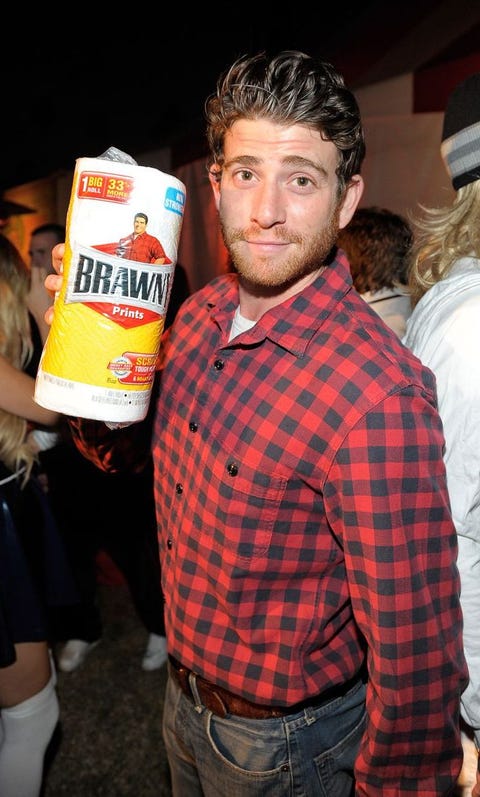 8. Spice Girls
Spice up your life by getting your friends together for this spice cabinet-meets-girl group costume. Head to your local copy store to print out larger-than-life images of spice jars.
9. Green With Envy
Be the punniest pair at the party with this hilarious couple costume.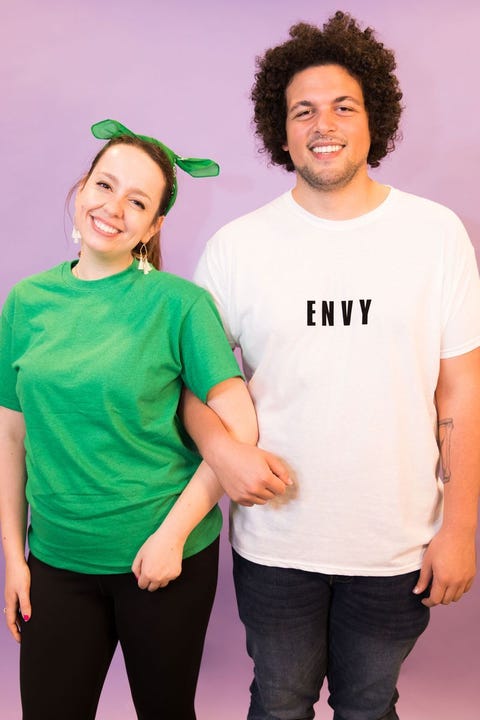 10. Raining Men
Hallelujah, it's a costume that's weather-proof and will make your friends LOL. Tape cutouts of your favorite guys to a clear umbrella, then wear rain boots and a trench coat to complete the look.
See more on Studio DIY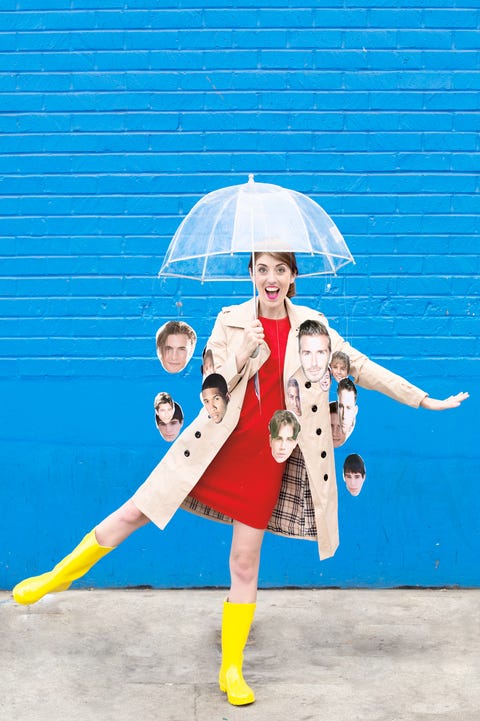 11. Formal Apology
With an easy DIY costume like this, you (and your wallet) will have nothing to be sorry about. Just grab a nice dress or suit from your closet and pair it with a sash.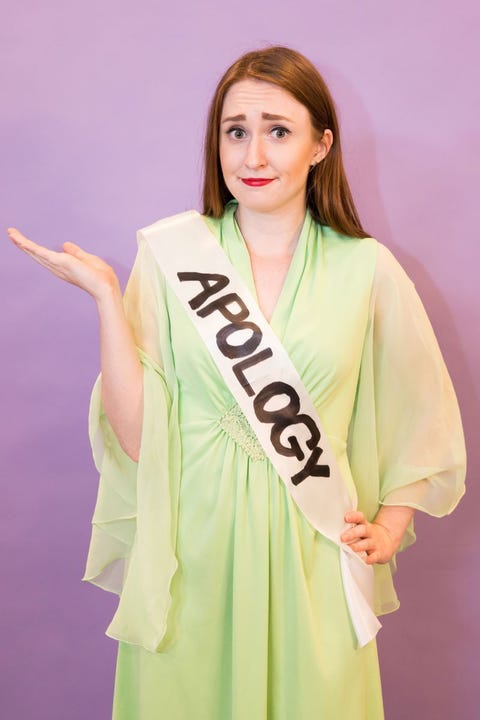 12. Hawaiian Punch
Think outside of the juice box with this island getaway-inspired interpretation of your favorite childhood beverage.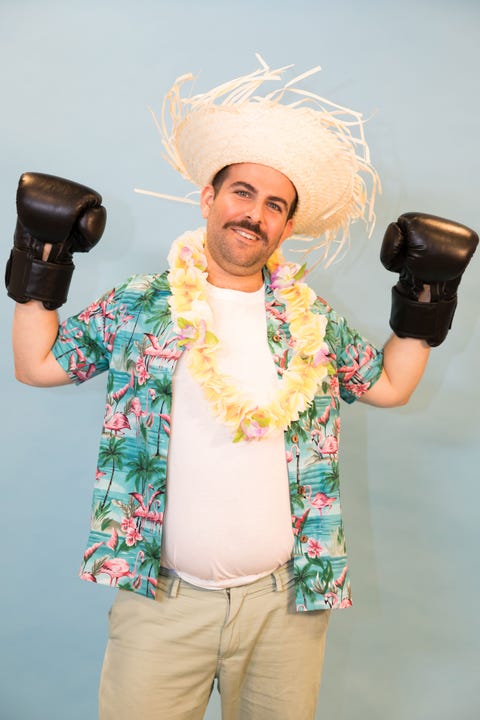 13. Deer
Whether you or your little one decides to go as a deer for Halloween, all you'll need is a brown faux fur vest, an antler headband and a little face paint worn over a simple dark outfit. Too cute!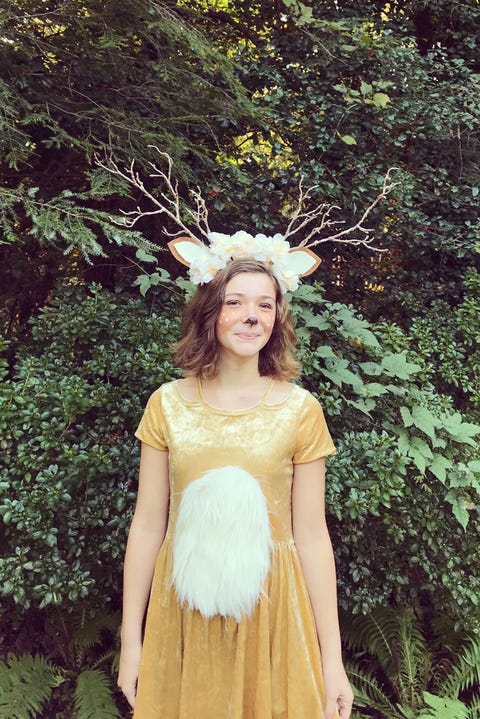 14. Pink Shirt Girl Emoji
If you're not up for even that level of effort, just find a pink shirt. Then strike a few familiar emoji girl poses every time someone asks what you are. Bonus points if you bring a pair of scissors to recreate this favorite.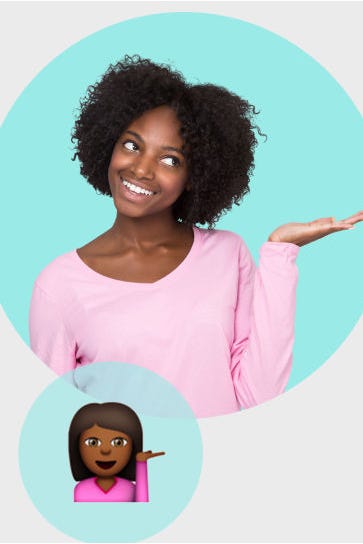 15. Blessing in Disguise
Even if you've waited until the last second to pull something together, you'll feel beyond blessed for this idea.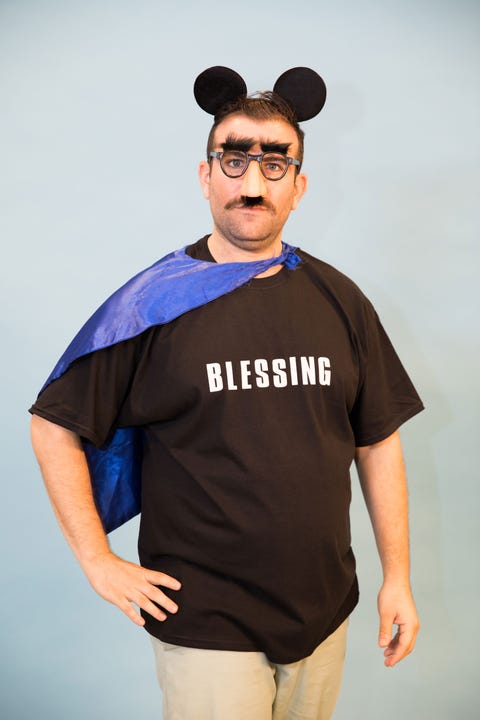 16. Minnie Mouse
Well gosh — isn't this the cutest DIY costume you've ever seen? We're sure Mickey would agree.
See more on I Am Style-Ish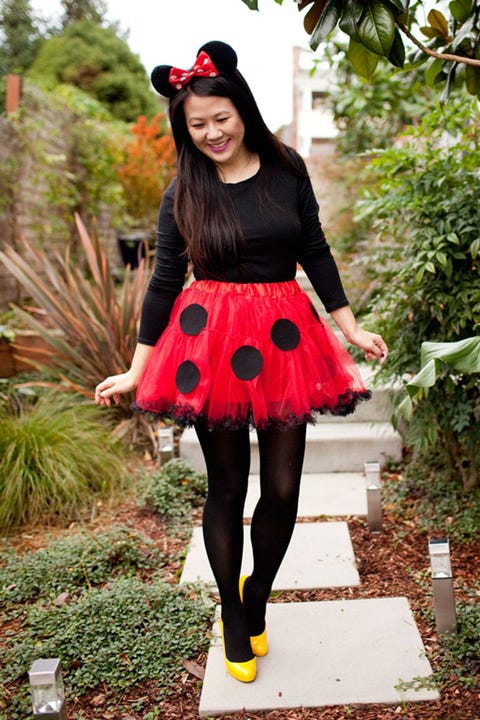 17. She Sells Seashells
She sells seashells down by the seashore ... on Halloween! The popular tongue twister is now an easy DIY costume.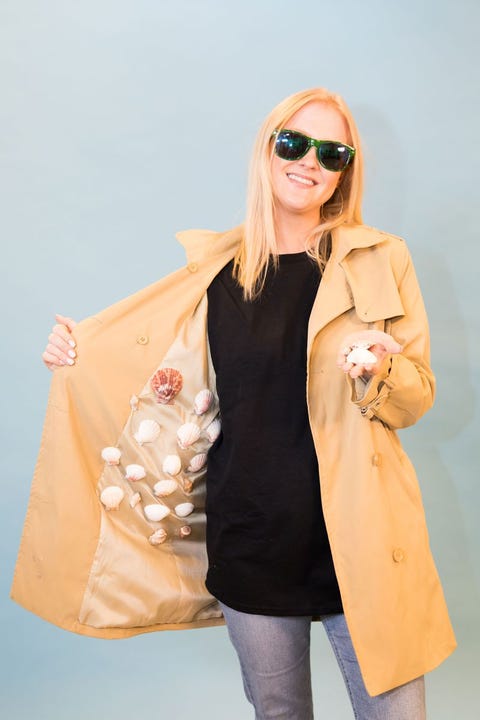 18. Harry Potter
Hogwarts costumes are totally overdone for adults, but put a striped scarf, oval glasses, and a drawn-on lightening bolt on a baby and it's SO cute.
See more at Love and Lion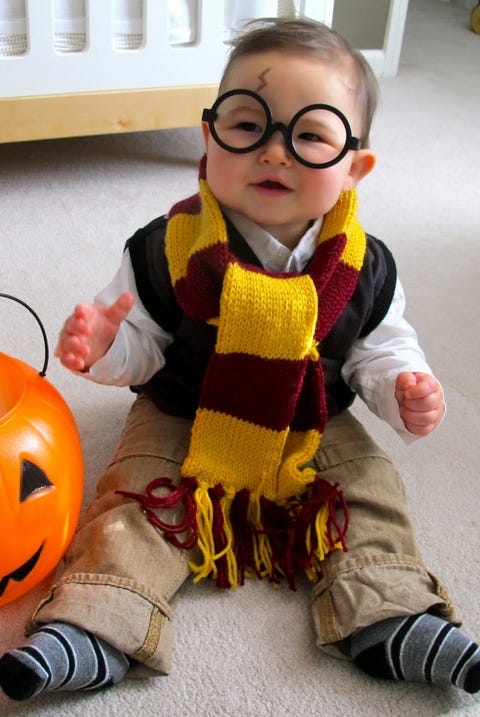 19. Pineapple
This blogger uses felt to create a quirky pineapple-inspired headband. It's a mess-free DIY that looks adorable paired with a yellow dress.
See more at The Diary of a Debutante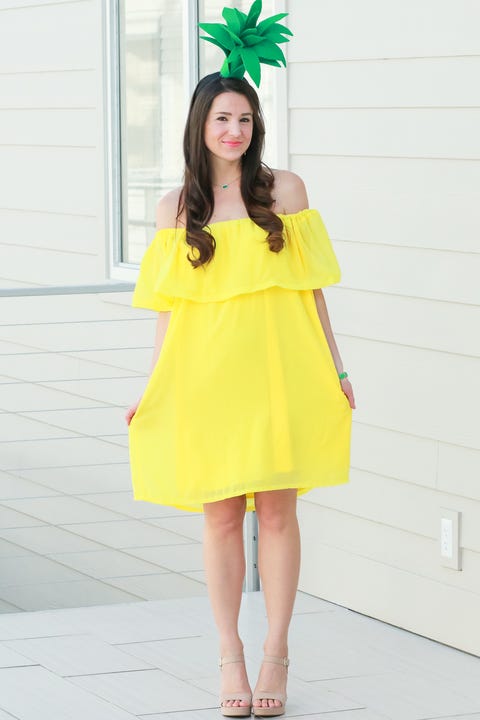 20. Error: Costume Not Found
You can literally prep this costume as you walk out the door. A+ for hilarity, but maybe not effort.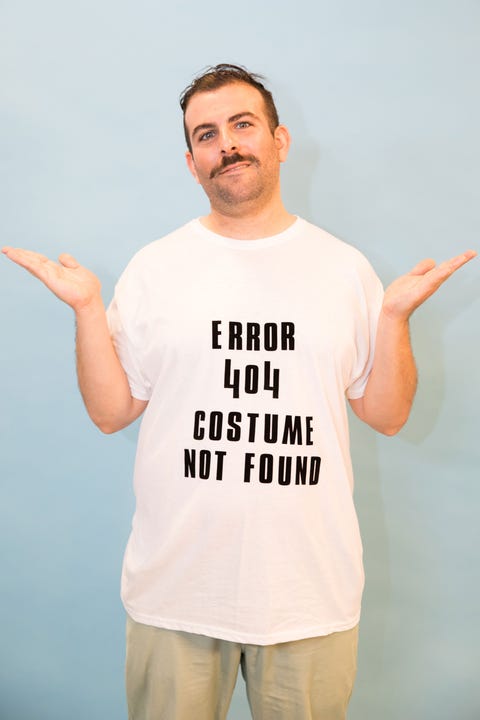 21. Bob Ross and a Happy Little Tree
While this couple costume may look complicated, it's surprisingly simple and is super cheap to make — and very on trend since The Joy of Painting is now on Netflix. Bonus: If you have a little critter of your own, you can dress him or her up as Bob's squirrel Peapod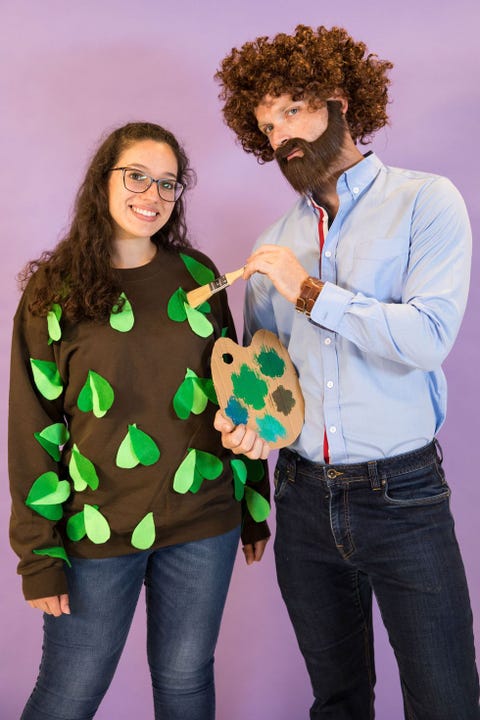 22. Queen Bee
Who doesn't love a good play on words? And if you have kids, you can dress 'em up as adorable baby bees to go trick or treating.
See more on Studio DIY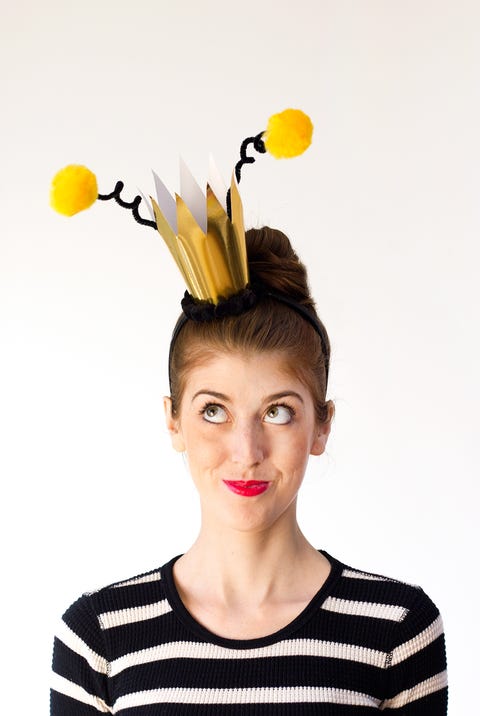 23. Bubble Bath
No water required! Safety-pin white balloons to a white tee and add a colorful shower cap. Just try to avoid anyone dressed as a porcupine!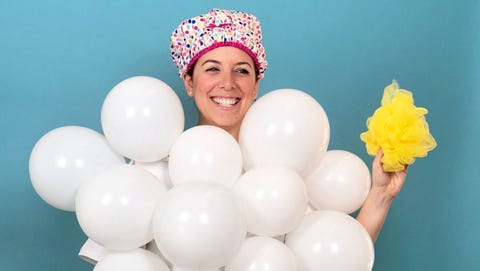 24. Mary Poppins and Bert
If you wore a dark midi skirt and blazer with a white button-down, it might not look like much of a costume; add a red ribbon around your neck, however, and you're clearly Mary Poppins. Same goes for your pal: With ash-colored eyeshadow and a broom, he or she can transform into a Bert look-alike.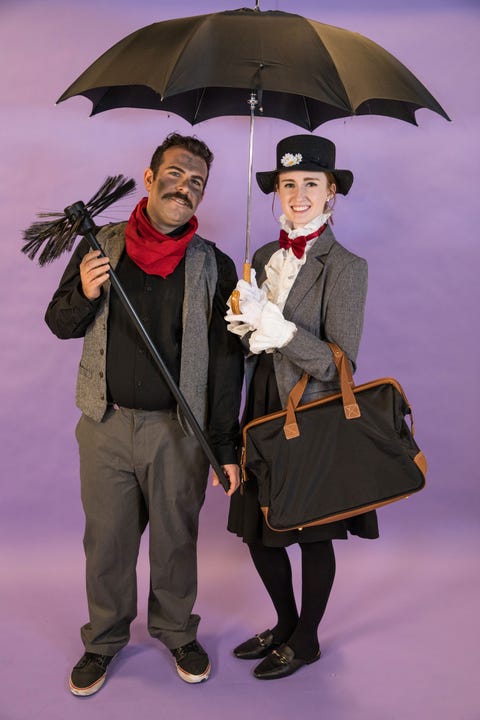 25. Dunkin' Donuts
If you're Team Dunkin', here's an easy way to show your pride using bright colors and mini blow-up donuts.
See more on Aww Sam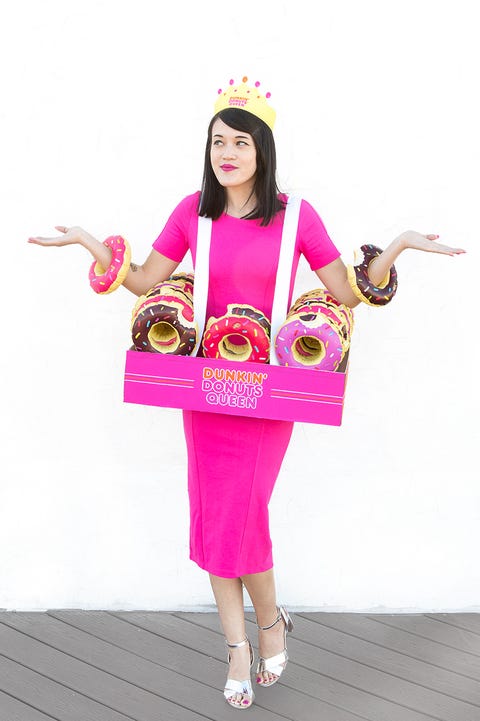 26. Pop Art Character
With this cool costume makeup, you can pretty much wear whatever you want and still look incredibly put together.
See more on Best Halloween Blog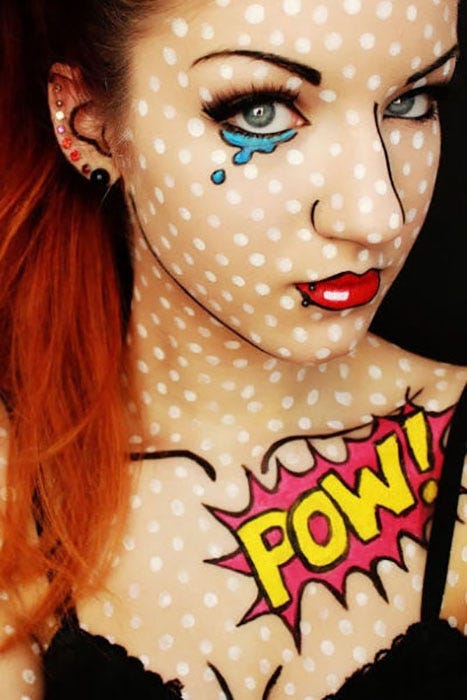 27. Sia
Here's a cheap thrill: The only thing you need to buy for this Sia costume is her signature two-toned wig. You can get it on Amazon, then wear whatever black and white ensemble you have at home. Bonus points if you get a friend to dress up as Maddie Ziegler.
See more on Bunny Baubles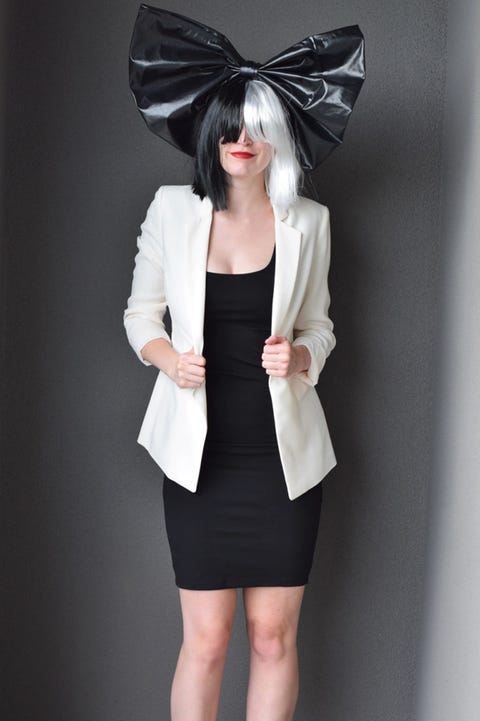 27. Train
One crafty mom used a recyclables around the house (diaper box included) to come up with this adorable train. The straps and foot holes make it easy to wear in the school parade and around the block.
See more at C.R.A.F.T.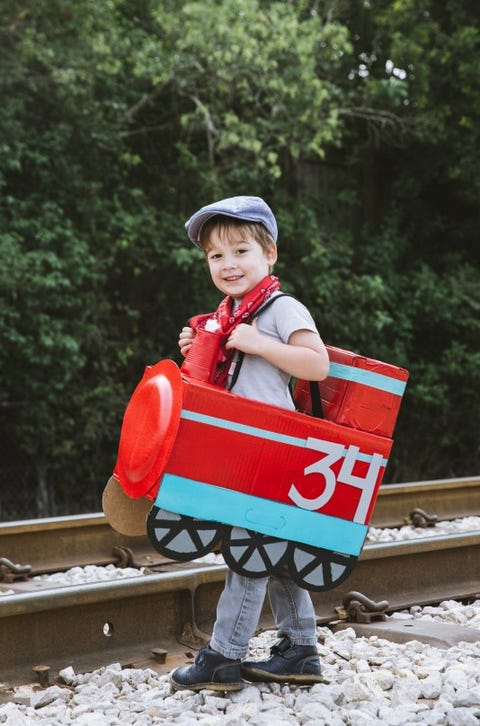 28. Spaghetti and Parmesan
Celebrate your love of pasta with this anything-but-cheesy costume. Get a green jersey dress and glue on the parmesan label, then use pom-poms and yarn for your spaghetti sweater. Top with a colander and pasta "hair" — we recommend angel hair.
See more on The Surznick Common Room.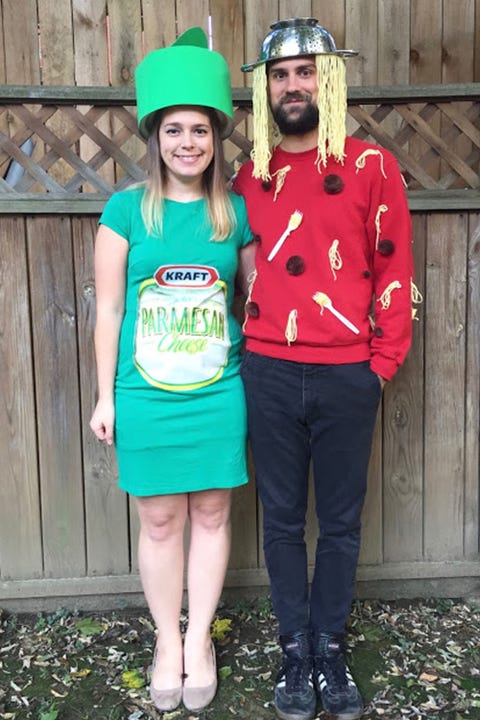 29. Dancing Girl Emojis
Dressing up as emojis has become a big costume trend for Halloween, and the simplest way to do it is to use clothing you already own. A black shirt and black shorts make up the clothing portion of this dancing girl emoji pair, while black cardstock attached to headbands serves as bunny ears.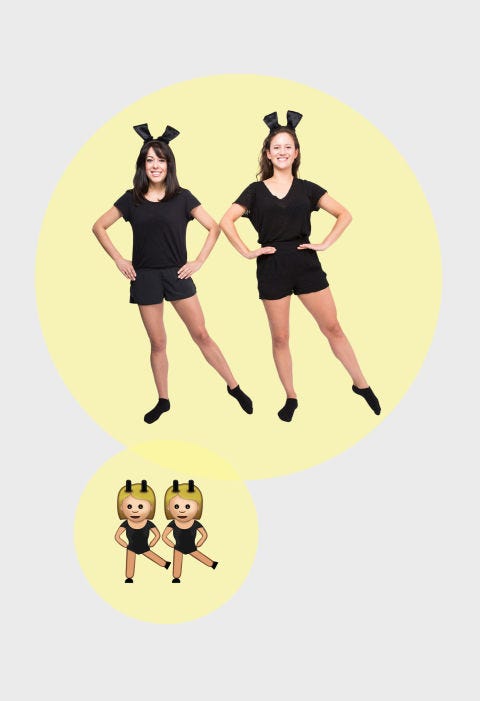 30. Wilma and Fred
Dress up as everyone's favorite prehistoric couple — at a borderline-prehistoric price, too! At just $15 total, this quick craft is reasonable on so many levels.
See more on Creating Really Awesome Free Things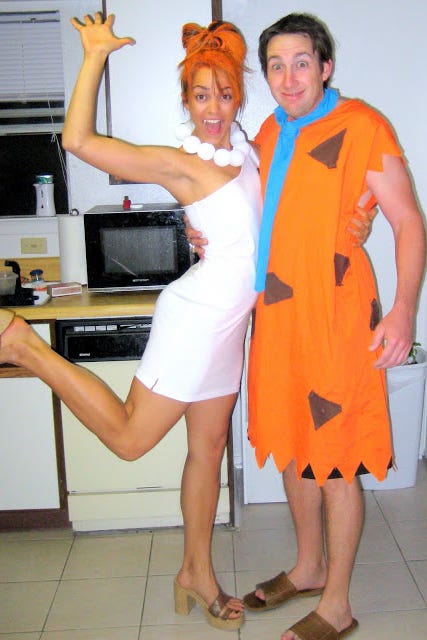 31. Minion
One of the year's hottest Halloween costumes is surprisingly simple — and you can even dress up your little one to match!
See more on SheKnows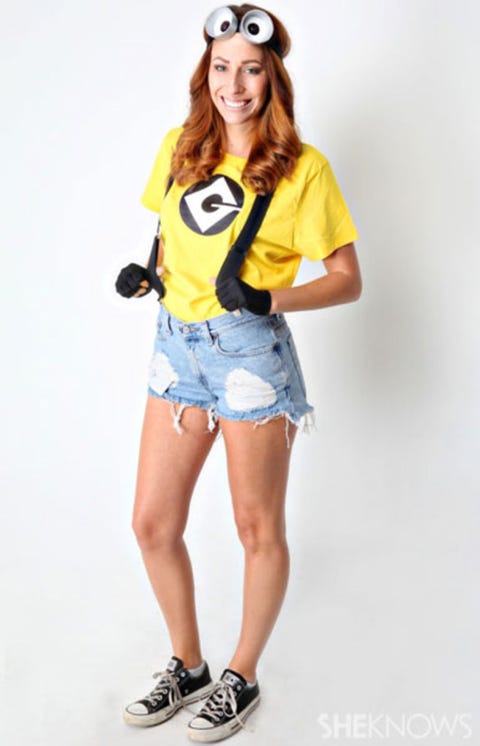 32. Paper Doll
This cool paper doll costume is deceptively simple. Just get your hands on some poster board, a pair of scissors and a set of markers to create this funky 2-D design.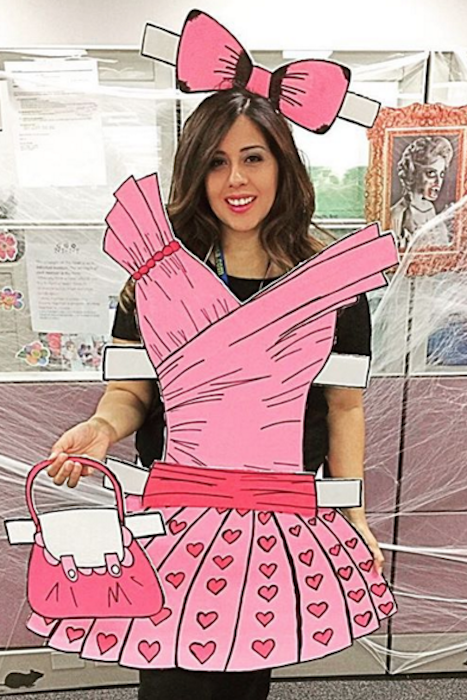 33. Skeleton
No need to go for anatomical correctness. Cut out sections of a t-shirt to create a ribcage illusion. Some B&W makeup and a paper heart make this an especially adorable skeleton.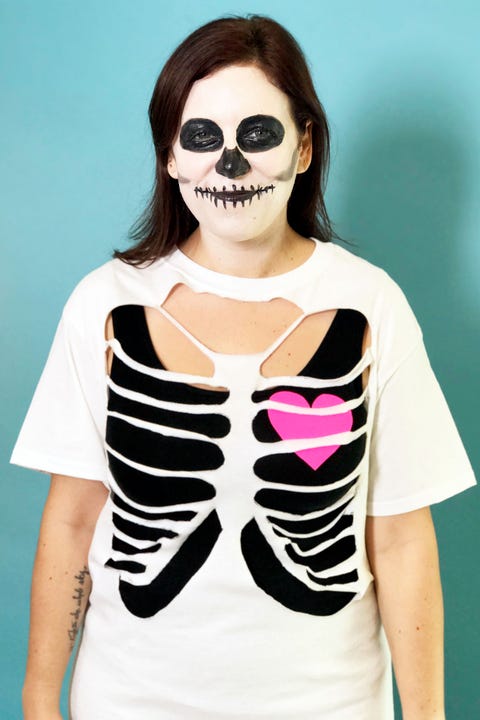 34. Arthur
You can use leftover Harry Potter glasses from past costumes, monkey animal ears, and a yellow pullover sweater to recreate everyone's favorite cartoon aardvark. Plus, you'll score major cool points with all the teens in your neighborhood for this relevant costume.
See full tutorial on Youtube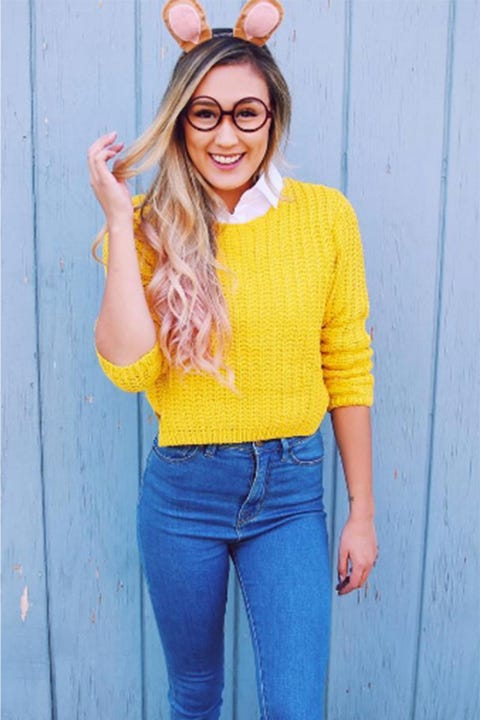 35. Party Animal
You just need some traditional party accessories and a mask of your favorite creature to turn any outfit into a party animal costume. Add them to a fancy dress or tux for a more glamorous version!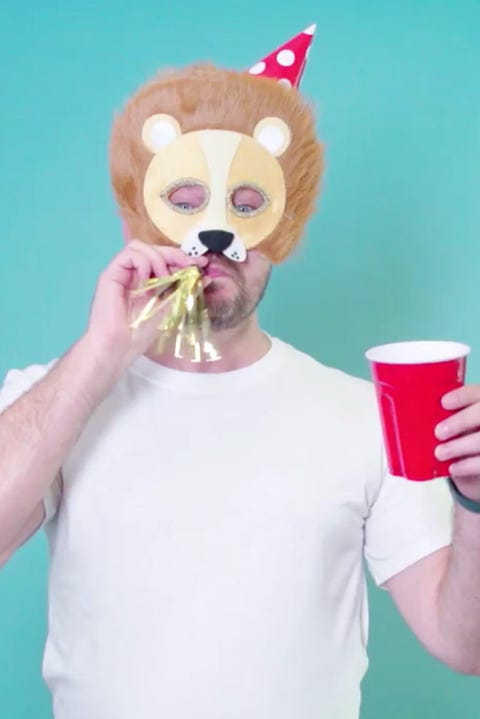 36. Bunch of Grapes
This classic DIY costume never goes out of style. Plus, you can get really ironic and drink wine exclusively all night!
See more on eHow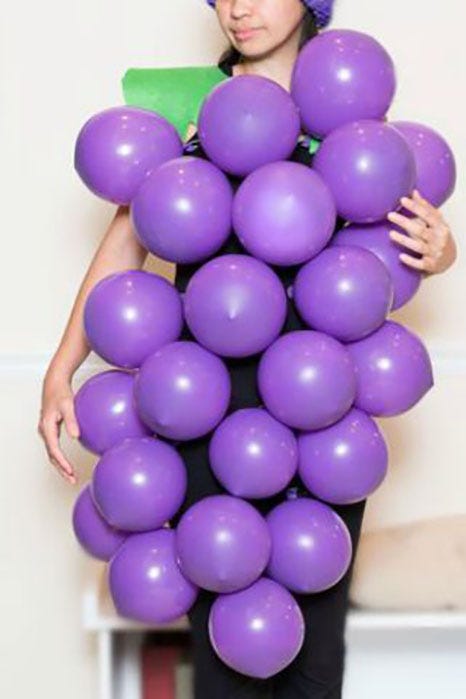 37. Duck Dynasty
You don't need a giant self-grown beard to dress up as these mountain men — all this costume requires is a pair of sunglasses, a headband, and a tolerance for yarn going in your mouth.
See more on eHow.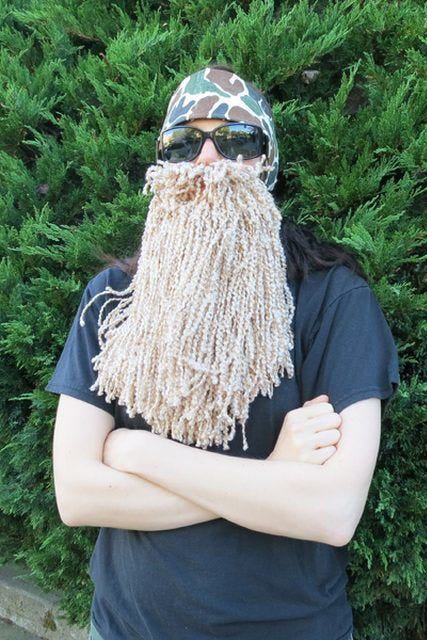 38. Instagram Photo
If you forgot to buy a costume, look no further than this easy Instagram cutout — social media is the ultimate inspiration source, after all. Just make the battery a little more charged than this DIY-er did — that 37% is stressing us out!
See instruction on
Thirty Handmade Days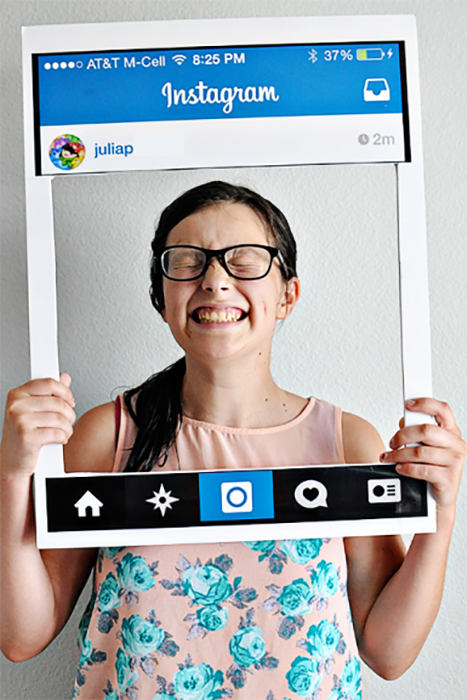 Rock this Halloween with these quick DIY costumes.
Hope you got mor ideas from this list.
Happy Halloween!!
38 Last-Minute Halloween Costumes You Can Quickly DIY
Reviewed by
Team
on
September 19, 2018
Rating: