On this Halloween, decorate your house with these creative non-craving pumpkins. These best-painted pumpkins design will catch everyone attention at Halloween party. Best outdoor and indoor Halloween decoration you can do this time.
Sometimes craving pumpkin for Halloween can be a real chore but fear not. We have rounded up the best ways to dress up your pumpkins with paints. all it takes is a few coats of colors and some clever embellishments to design the pumpkins no one on the block will forget.
1. DIY Painted Fall Pumpkin
While you might not be able to replicate this design exactly (it's pretty impressive!), create a lovely fall pattern that matches the rest of your home decor.
Get the detailed tutorial here.
2. DIY Iridescent Pumpkins
If you can't get enough of the recent unicorn trend of pretty pastel and iridescent colors, dress up your pumpkins with your favorite vibe.
Get the tutorial at
Oh So Beautiful.
3. Glitter Decorated Pumpkins
For an easy way to make your pumpkins shine and sparkle, add glitter on top of painted designs.
Get the tutorial at
I Heart Naptime.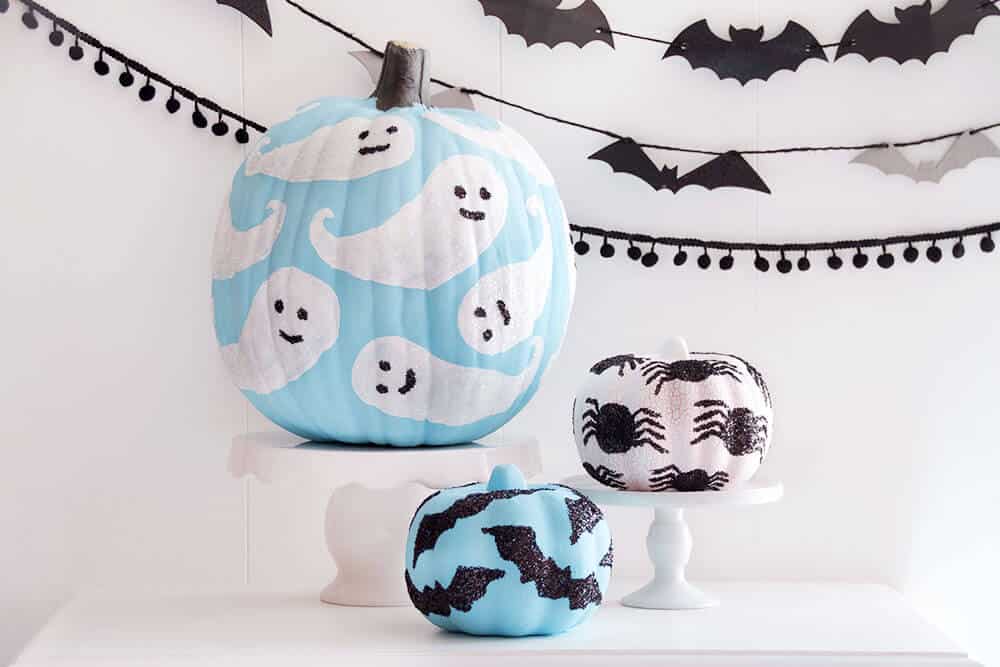 4. Decoupage Floral Pumpkins
Grab anything with a pattern you love — could be tissue paper, napkins, or the page of a magazine — and use it (with Mod Podge, of course) to create a one-of-a-kind pumpkin.
Get the tutorial at
PMQ for Two.
5. DIY Matisse-Inspired Pumpkins
For a fresh new way to decorate your Halloween pumpkins, grab some matte vinyl and your Cricut cutting machine.
Get the tutorial at
Oh So Beautiful Paper.
6. Hand-Painted Floral Pumpkin
Skip the traditional colors of Halloween this year and embrace a floral motif (complete with a gold stem!) instead.
7. No-Carve Princess Pumpkins
If your little ones can't get enough of their favorite Disney princesses, have them help you decorate painted pumpkins inspired by Tangled, The Princess and the Frog, Frozen, and Cinderella.
Get the tutorial at
As The Bunny Hops
8. Rifle Paper Co. Floral Pumpkins
Instead of painting pumpkins with a pretty Rifle Paper Co. floral pattern, trying applying their wrapping paper with Mod Podge.
Get the tutorial at
Kastles
.
9. DIY Fruit Pumpkins
It might be fall, but there's no reason you can't decorate your Halloween pumpkins with a little summer inspiration.
Get the tutorial at
Style Me Pretty.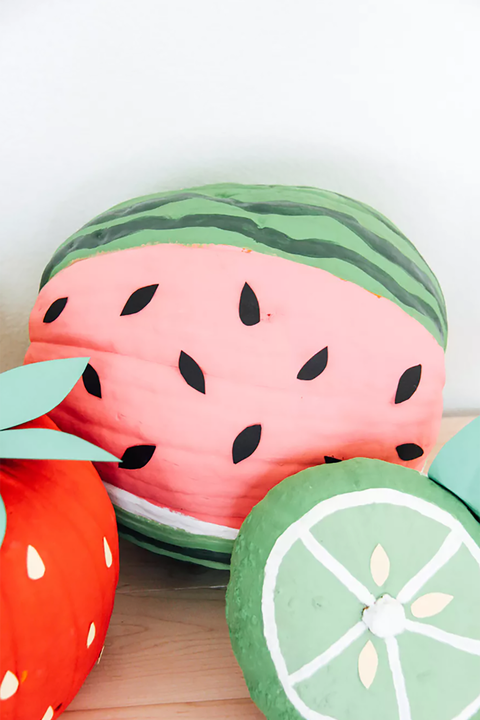 10. Blue Porcelain Craft Pumpkin
Your pumpkins will look elegant and beautiful when you take a cue from these popular home decor pieces.
Get the tutorial at
Craftberry Bush
.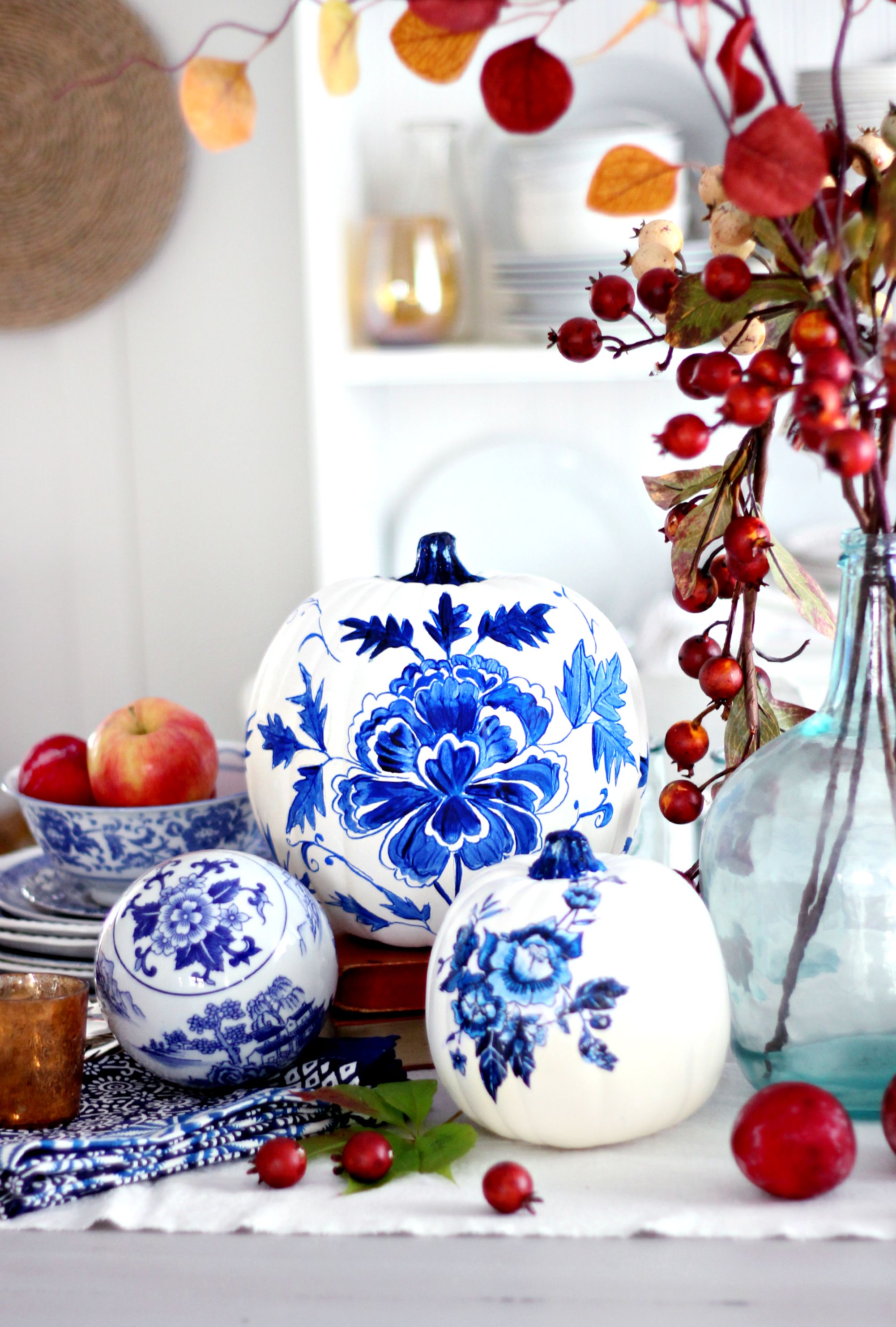 11. Tiny Message Pumpkins
Cover a pumpkin with chalkboard paint, and you can use a paint marker to change the message as many times as you want leading up to October 31.
Get the tutorial at
Lovely Indeed.


12. Doughnut Pumpkins
Who doesn't love a good doughnut? Make your own with frosting and sprinkle colored paint. Though these can't be eaten, they'll still add a sweet touch to your kitchen.
Get the tutorial at
Studio DIY.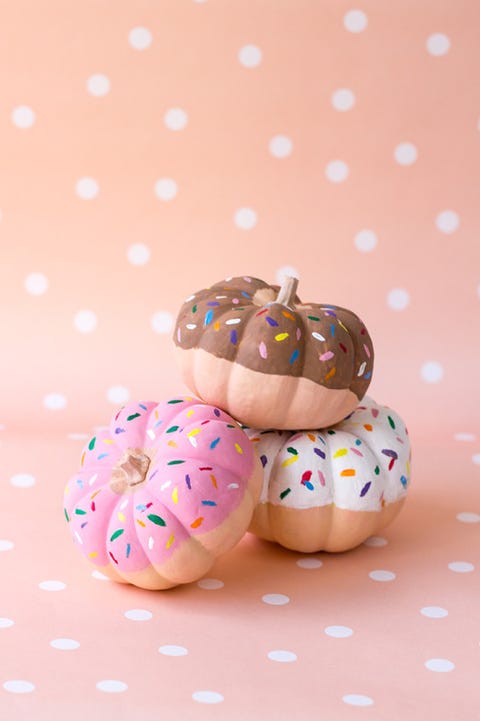 13. Pretty Paintings
Exercise your artistic side by painting a picture on your pumpkin. It's a safer alternative to carving for kids, and you'll cut down on mess. Apply washable poster paints to a clean pumpkin in your desired design. Uncut pumpkins can last for months, so paint a non-Halloween image for decoration you can display all season.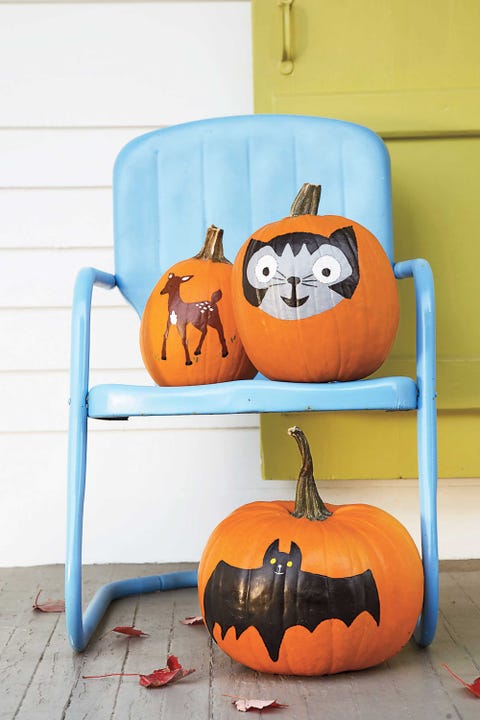 14. Copper Herringbone Pumpkins
These pumpkins require only one material: paint pens. If you're using orange pumpkins instead of white, first paint them solid before decorating with patterns.
Get the tutorial at
Lovely Indeed
15. Cinderella Butterfly Pumpkin
This beautiful pumpkin, made from glitter and paper, will mesmerize all of your guests. Just be careful it doesn't turn into a carriage!
Get the tutorial at
A Pumpkin & a Princess.
16. Gold Confetti Pumpkins
Use Washi tape to create these sophisticated pumpkins, which look especially stunning in front of a clean, white wall.
Get the tutorial at
Homey Oh My.
17. Pumpkin Guest Book
This genius approach to pumpkin decorating is a keeper. Coat your pumpkin in white and give all your party guests markers to sign their names or write little messages.
Get the tutorial at
Something Turquoise.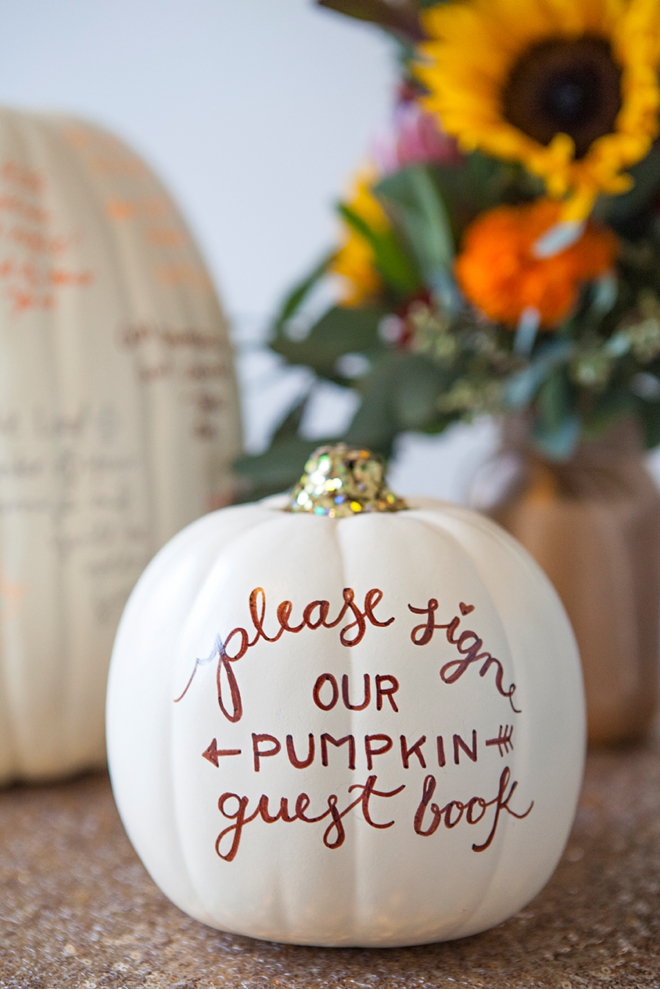 18. Pun-kins!
Create these hilarious pun pumpkins by making your favorite sayings Halloween themed. Use the white primer before coating your pumpkins in the paint to make it pop.
Get the tutorial at
Studio DIY.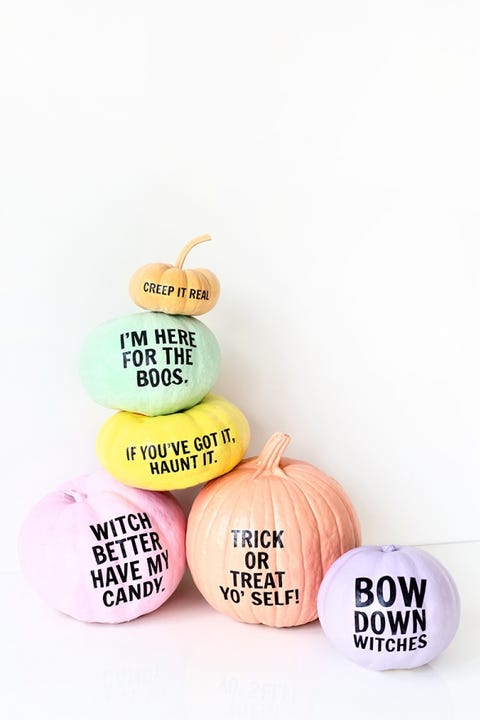 19. Patterned Pumpkin Patch
Paint pumpkins in colorful designs for an element of Halloween fun. Combine different patterns by using one same shade on each to unite the group.
Get the tutorial at
Handmade Charlotte.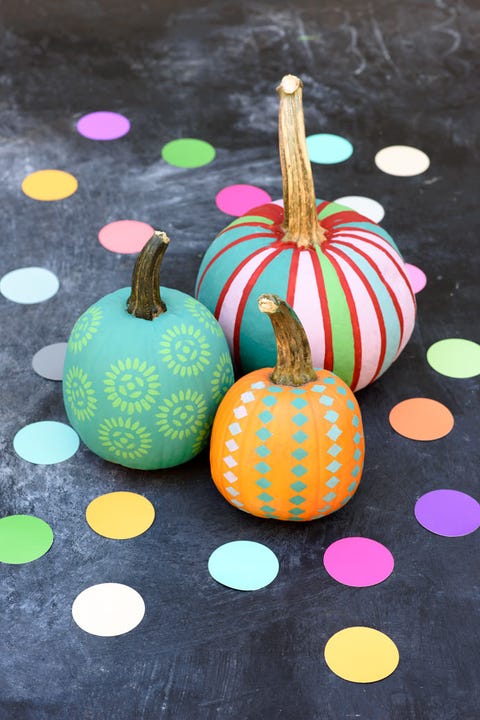 20. Bat Tree
Use gold permanent marker to draw tree on the tall white pumpkin. Add bat stickers.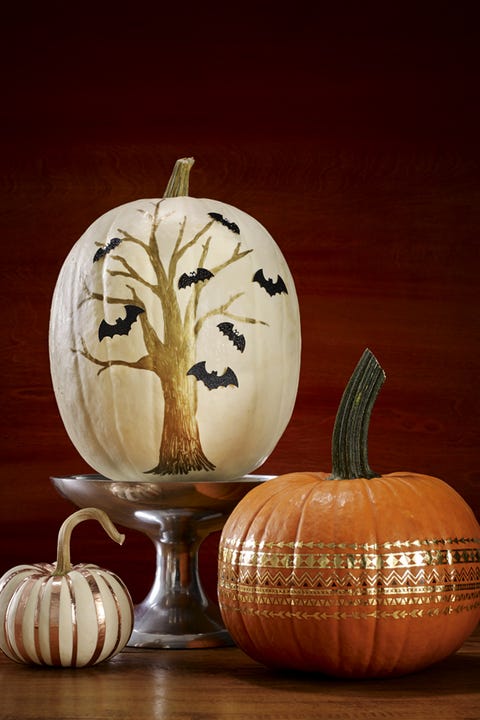 21. Falling Leaves
Grab the kids and gather up a couple of shapely leaves from your lawn. Gently trace a leaf onto Silver Fanci-Foil Wrap, then cut out; repeat (or fold foil first to cut multiple leaves at once). Use Mod Podge to adhere leaves onto a green heirloom pumpkin. Etch leaf veins with toothpick while wet or dry.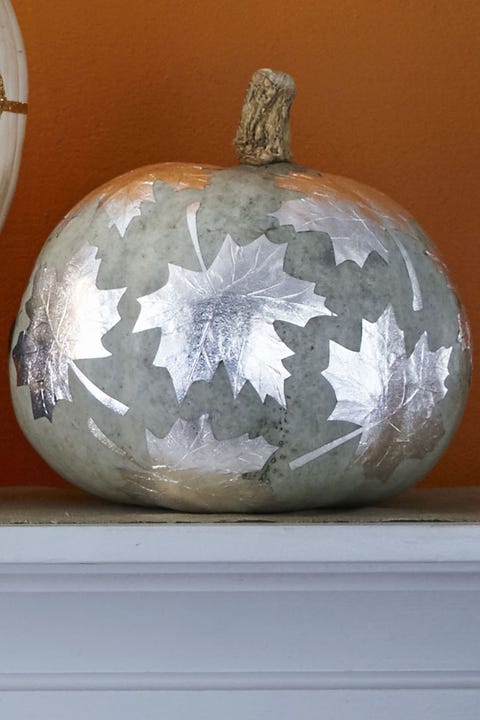 22. Office Supply Pumpkins
After painting the pumpkin a solid color, poke push pins randomly around the surface for a show-stopping design.
Get the tutorial at
A Subtle Revelry.
23. Scary Silhouettes
Conjure up a sophisticated setting with a grouping of painted silhouette pumpkins. Just use adhesive stencils to make orange bugs, birds and creepy crawly snakes pop against a matte black paint finish.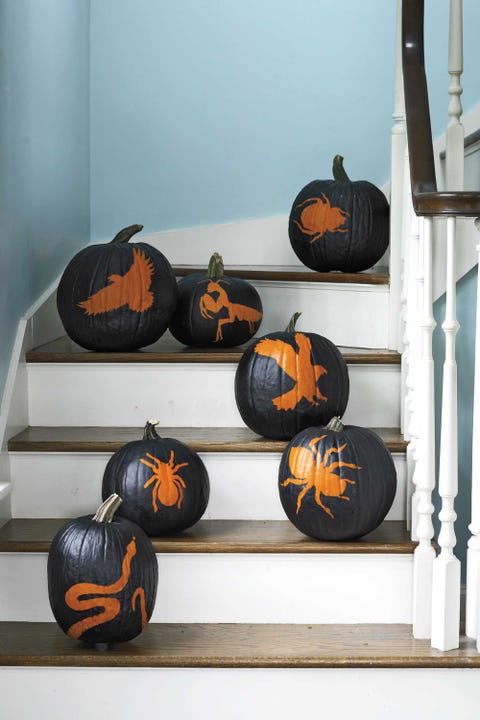 24. Address Numbers
Let your party guests know they've arrived at the right place by painting your address number onto a pumpkin.
Get the tutorial at
Country Living.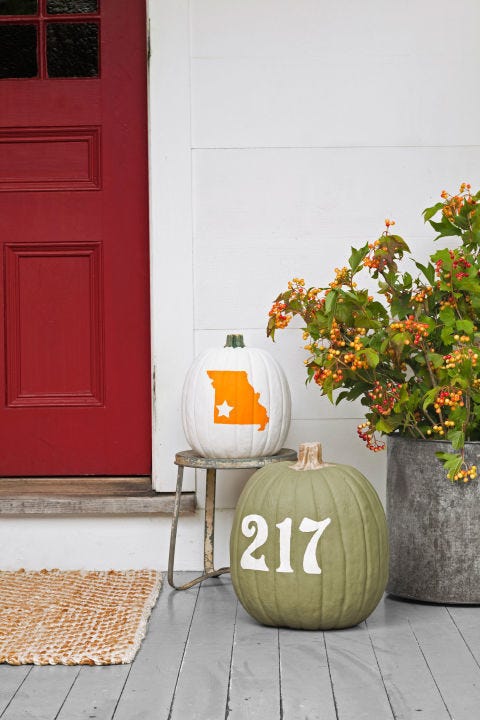 25. All that Shimmers
Gild your gourds with metallic paint. Follow the natural ridges of the pumpkin for a fun stripe, or use stencils to paint other patterns onto the surface. The effect is especially pretty when you mix in different-colored pumpkins — like white ones.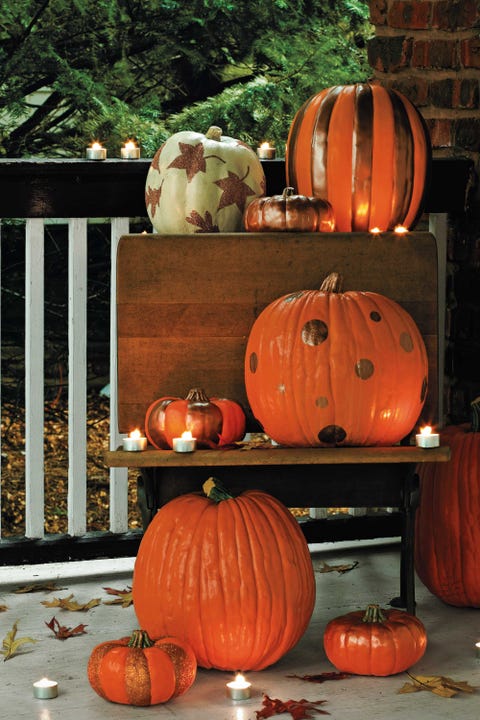 26. Mummy Pumpkin
Use a bright color like teal to make this mummy pumpkin stand out.
Get the tutorial at
Making It Milk-Free.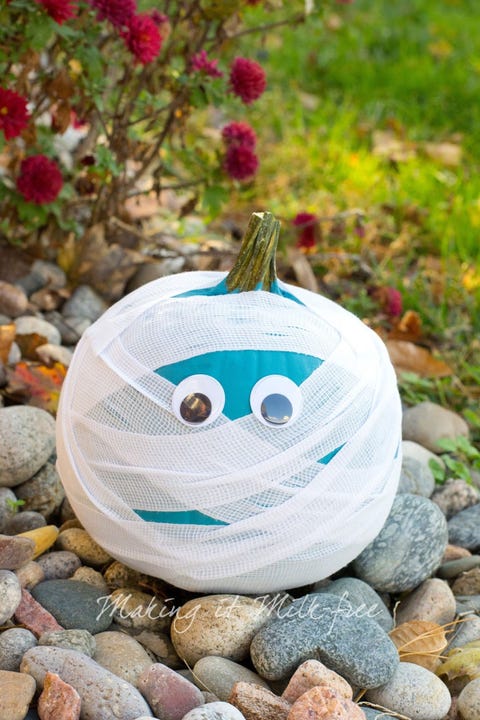 27. Candy Corn
Candy Corn: Spray-paint the top fourth of an oval pumpkin white. Once dry, flip it over (balance on a cardboard box) and spray-paint the bottom third yellow.
Patterns: Use dimensional fabric paint pens to add dots and dashes.
Boo!: Apply letter stickers as shown. Use a paintbrush to make a drip design in gold paint around the pumpkin, then paint everything above this line gold. Once dry, peel away and discard the stickers.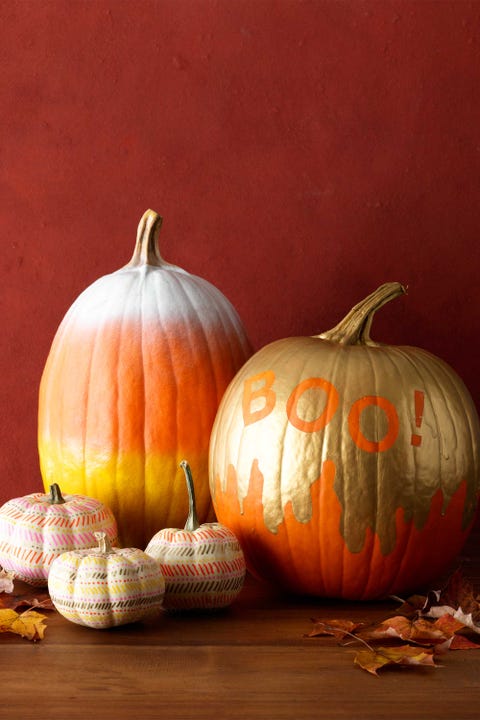 28. Watercolor Pumpkins
These funky pumpkins allow tons of freedom when creating. Choose your own complementary shades of paint and play around with the watercolor patterns to make it your own.
Get the tutorial at
Lines Across.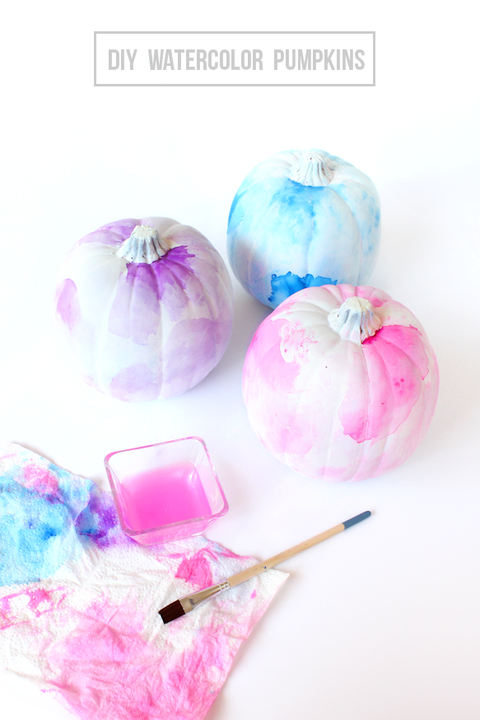 29. Fresh Floral Moon Pumpkin
A matte black pumpkin with a white flower crescent adds a unique twist to pumpkin painting. Place fresh flowers in drilled holes for a pretty and sweet-smelling decoration.
Get the tutorial at
The Merrythought.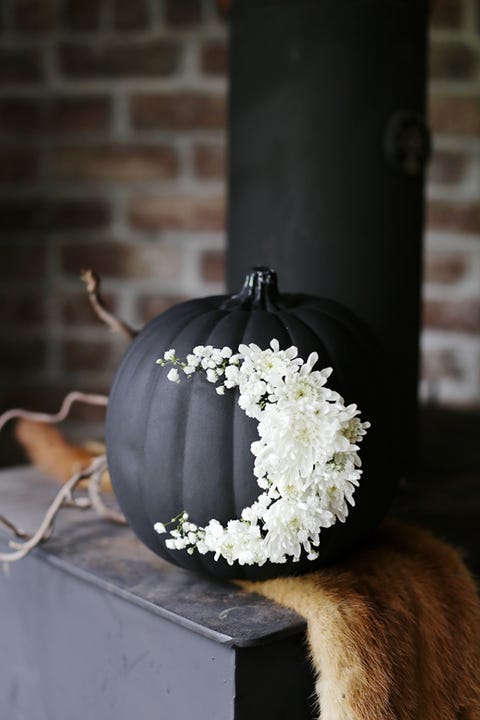 30. Neon Paint-Dipped Pumpkins
Brighten the room with neon paint-dipped pumpkins. Dip the bottoms in paint and turn upside down until the desired drip is reached.
Get the tutorial at
A Night Owl.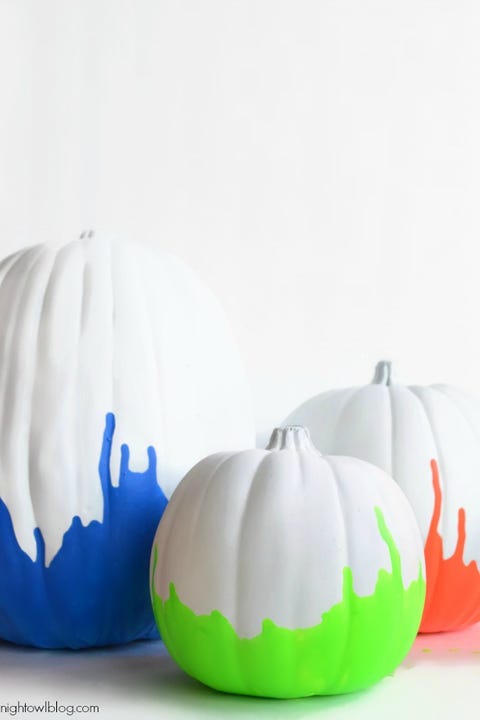 31. Sharpie Owl Pumpkins
Draw on these cute owl designs with a Sharpie marker. Slightly change up each bird for a more interesting combination.
Get the tutorial at
Ashely Hackshaw.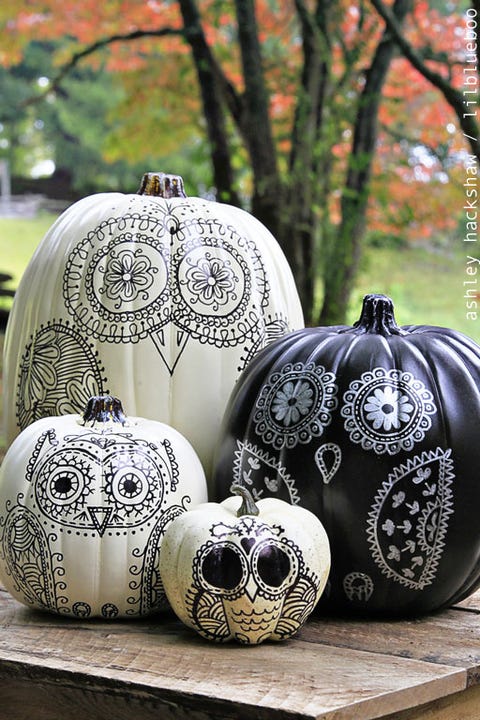 32. Edgy Chic" Pumpkins
With stick on gems and studs over solid gray, white, and black pumpkins, these quick designs will add a modern touch to your home.
Get the tutorial at
Erika Brechtel.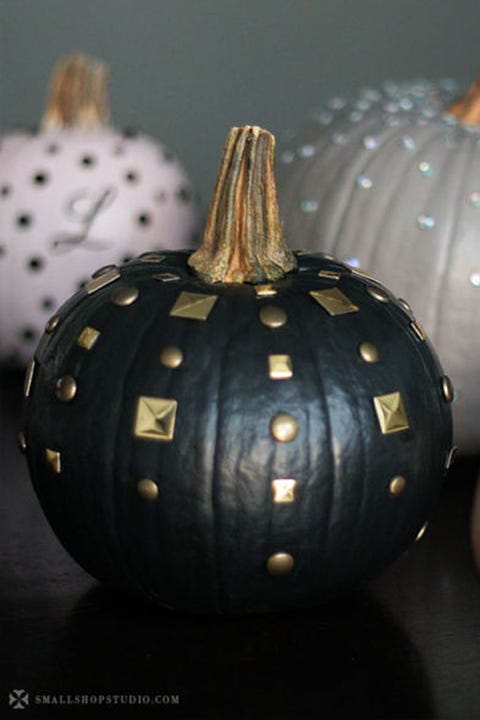 So, Choose any of these to decorate your house with these painted no craving pumpkin and make your mood more festive.
Happy Halloween!!
30 Fun Painted Pumpkins for the Best Halloween Ever
Reviewed by
Team
on
September 21, 2018
Rating: