Give your home a spooky makeover!
Trick out your home with the creepiest and cutest Halloween decor this year. These DIY creations feature THE BEST OF BEST and will impress tricks or treaters.
From your porch to a mantel, no one will question your commitment to the holiday.
1. Craft a Piñata

Double the purpose, double the cuteness.
2. Dress Up a Plain Pillow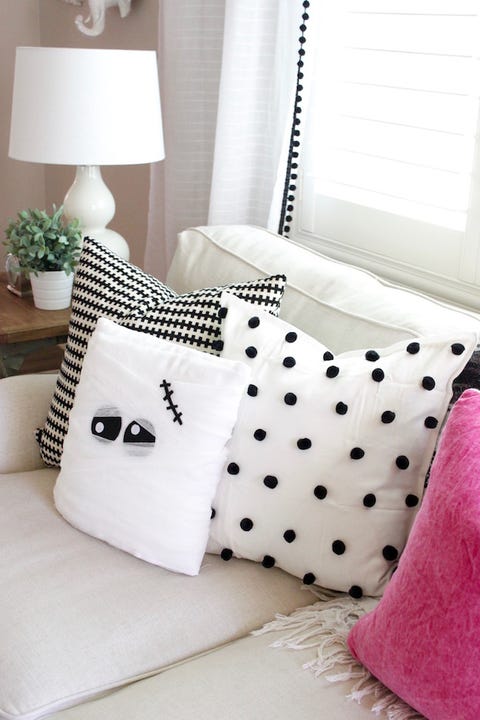 Proof that your house can still stay minimalistic and chic during one of the more extravagant holidays.
Get detail tutorial at
Eighteen 25.
3. Weave a Web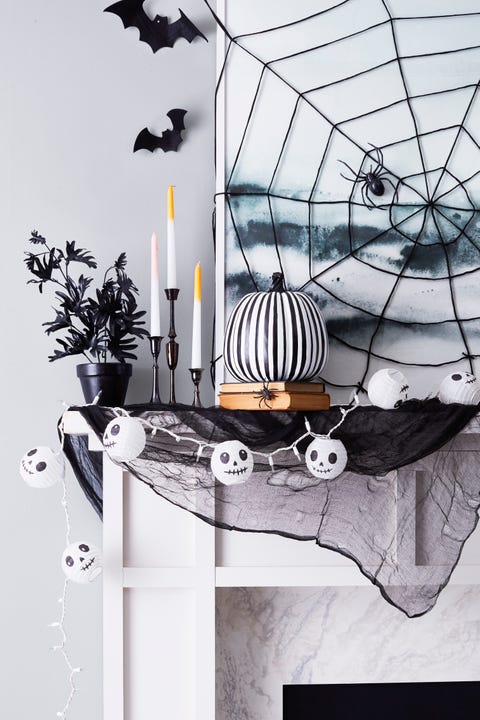 String a creepy crawling cobweb over artwork or a mirror you already have for the eeriest undead effect.
4. Blow Up a Balloon Backdrop
Every memorable party has a photo station, so why don't you make your own? Bonus: This is a backdrop and photo prop all in one.
Get detail instruction at
The House That Lars Built.
5. Make Funny Faces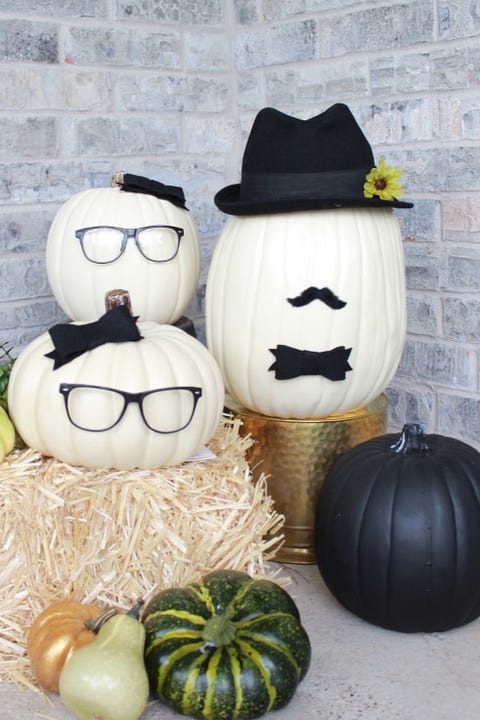 Let your front stoop do the talkin' and show off your sense of humor with these no-carve pumpkins.
Get details instruction at
Pretty Providence.
Know funnier painted pumpkin decorating ideas.
6. Decorate Lanterns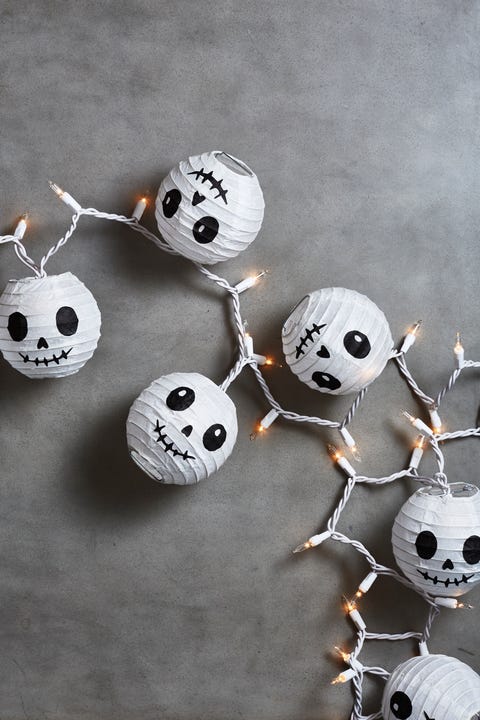 Cut cute faces out of black paper, and Mod Podge them onto a string of white lights with paper lanterns.
7. Keep a Watchful Eye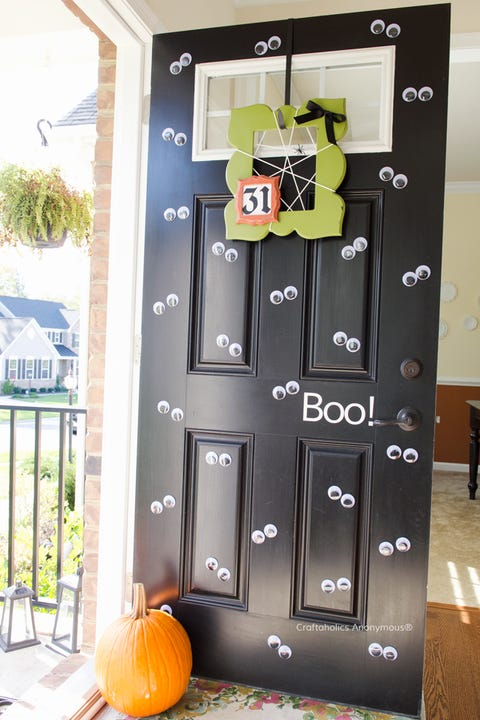 Here's one way to let trick-or-treaters know that you're keeping an eye on them.
Get detail instruction at
Craftahoilcs Anonymous.
8. Festoon a Pumpkin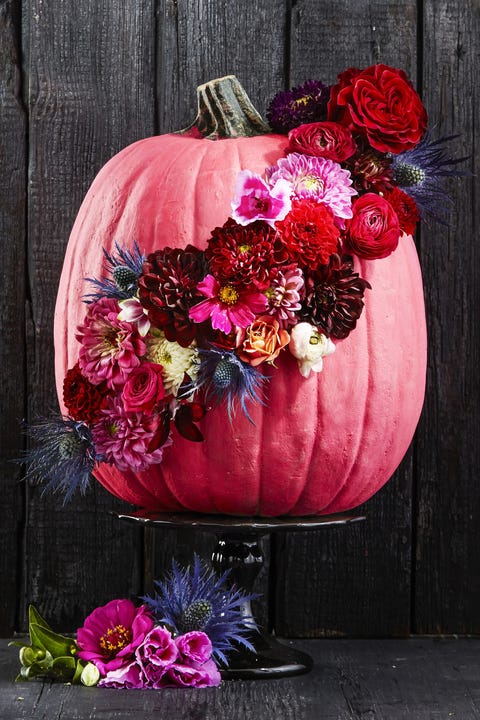 Trade spooky for sweet by adding fresh blooms to a hot pink squash. Snip stems about one to two inches from buds, drill small holes in the painted rind, then stick in the buds. Keep the centerpiece fresh for the party by periodically spritzing with water.
9. Fill Existing Jars
The latest apothecary jar trend: adapting them by the season. Here, a blogger fills her traditional container with bold, colorful leaves for autumn.
Get details instruction at
Casa Watkins Living.
10. Warm Up the Room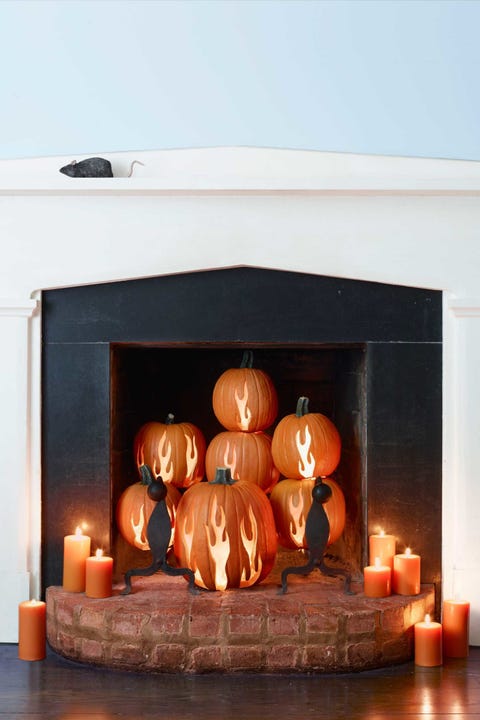 Carved with flickering flames, these clever pumpkins are absolute fire. Avoid any literal fires by trading real candles for battery-powered illumination instead.
Get detail instruction at
Country Living.
11. Craft Creepy Crawlers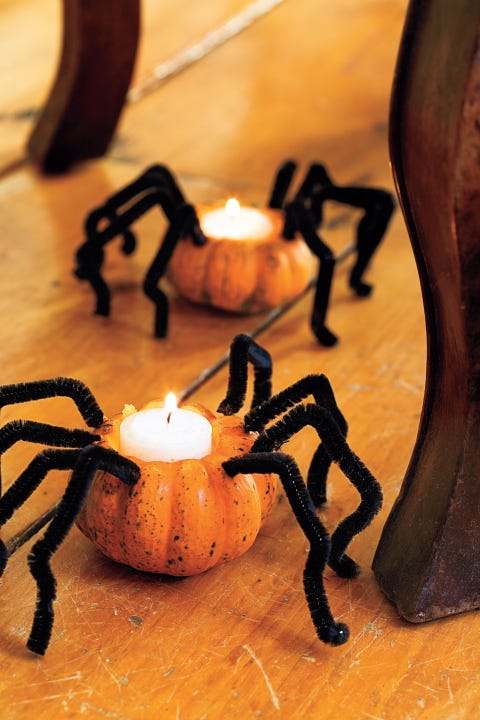 Light the way with these spidery candle-holders. Scoop out mini pumpkins and add tealights and pipe cleaners for big bugs you'll actually love spotting around the house.
12. Punch Up Pumpkins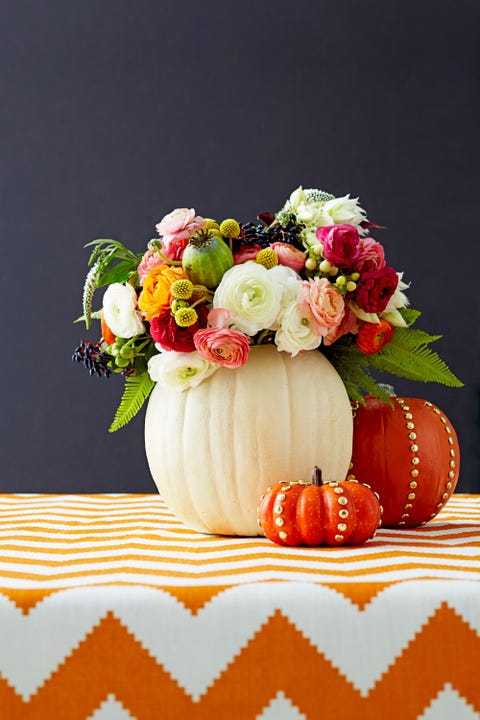 Flowers in fall shades transform any hollowed-out gourd into a wow-worthy centerpiece. The secret to a long-lasting display? Tuck a water-filled vase inside.
13. Light a Candelabra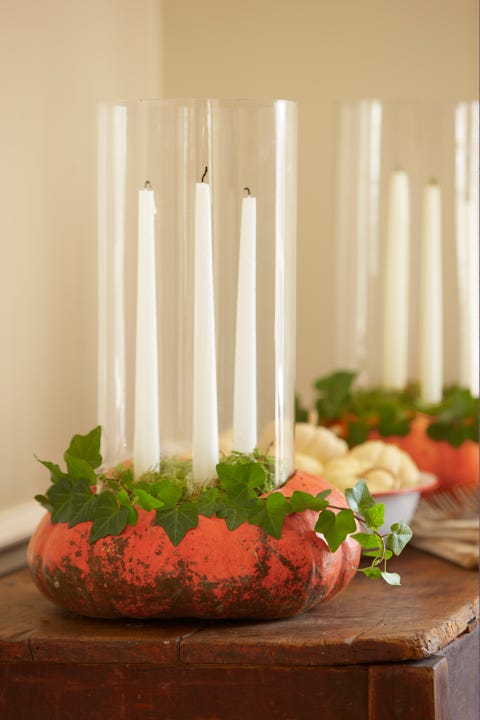 A squat, scooped-out pumpkin makes the perfect holder for tapers in a hurricane adorned with trailing ivy.
14. Dish Out the Punch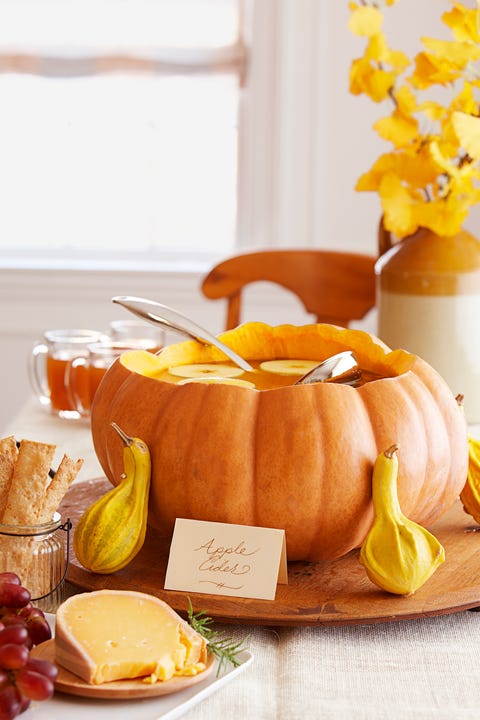 Filled with cider, a hollowed-out pumpkin becomes an organic punch bowl. Plus, it's one less dish to wash during post-party clean-up.
15. Branch Out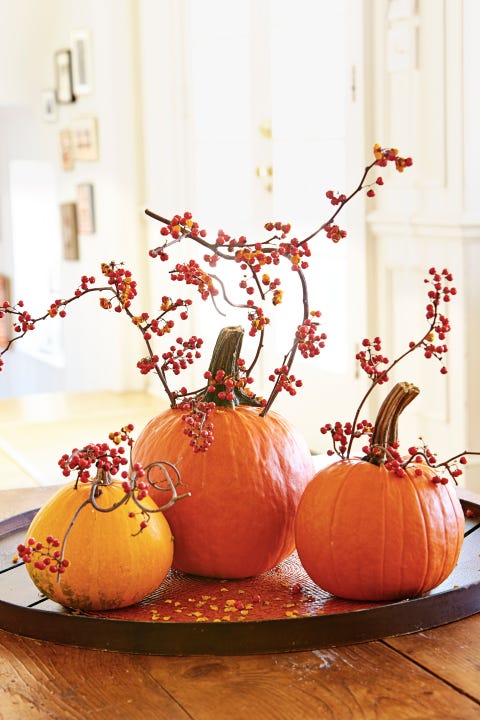 To show off the beauty of autumnal berries, simply drill small holes into pumpkins and insert branches.
16. Up Your Curb Appeal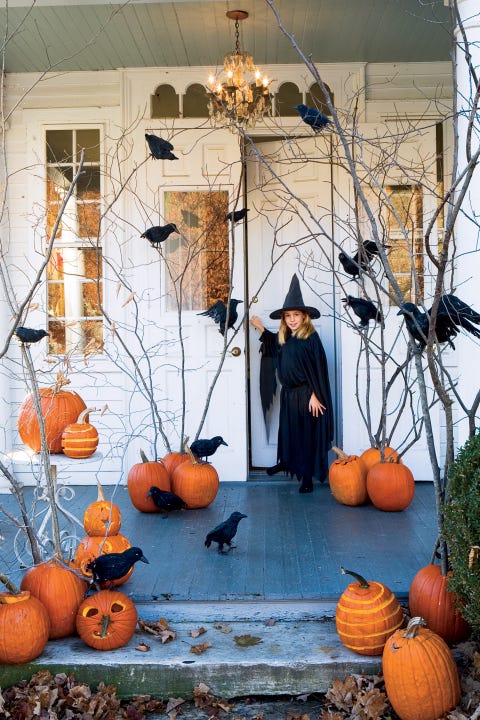 For a killer entrance, perch ravens on tall branches with pumpkins as their base.
17. Cut Out a Costume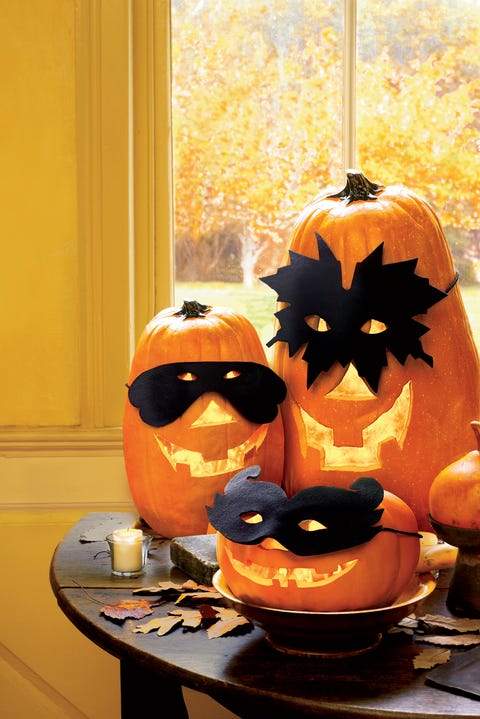 Trick out your jack-o'-lanterns in these bewitching handmade masks. Just download one (or all three!) of our easy cut-out templates.
Get detail instruction
Good House.
18. Stack a Topiary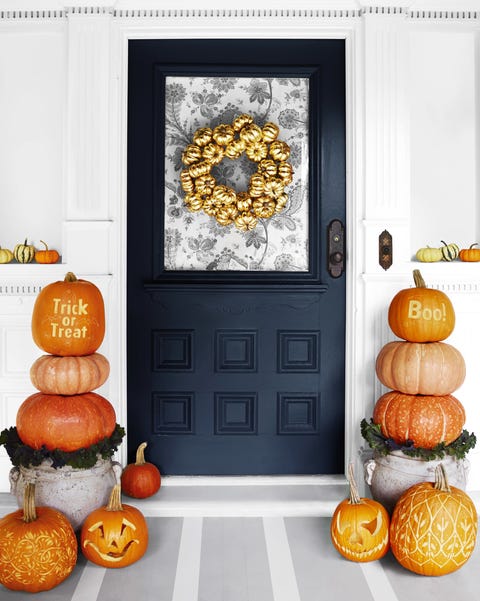 Wow trick-or-treaters by piling heirloom pumpkins on planters. To create a gilded wreath for the front door, snap up faux mini pumpkins (they're lighter than the real deal!) and spray with metallic spray paint. Once they're dry, attach pumpkins to a wreath form using hot glue.
19. Perfect the Tabletop
Dress up the dinner table with a fast autumnal centerpiece. Just coil wire vines around gourds' stems, then weave in a faux ivy garland for extra greenery.
20. Set the Mood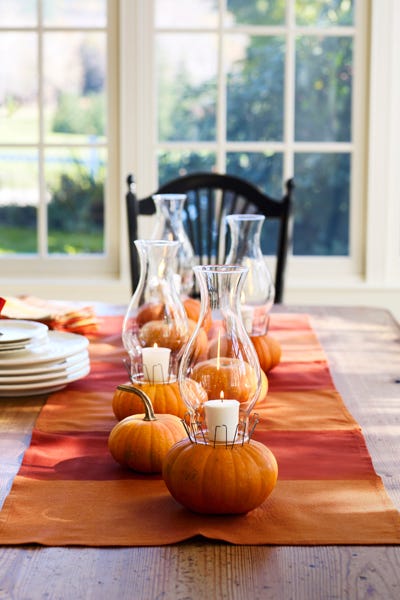 Put mini pumpkins to work as votive holders for a flickering fall table. Snap off each pumpkin's stem, and position a candle in its depression. Cover with a clear glass hurricane shade and insert floral U-pins to hold the shade in place.
21. Save Time With No-Carve Pumpkins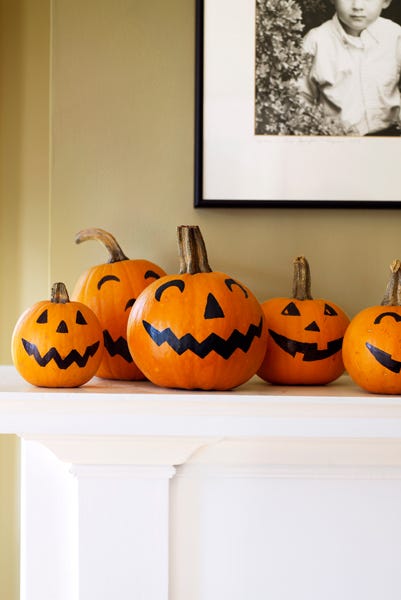 These familiar faces are dead ringers for cut-out lanterns, but they're ready in less than five minutes. All you need to do is freehand the features with washable markers (just wipe off and restart if you're not satisfied with the design), then finalize the sketch with a black permanent marker.
22. Light a Pair of Leafy Lanterns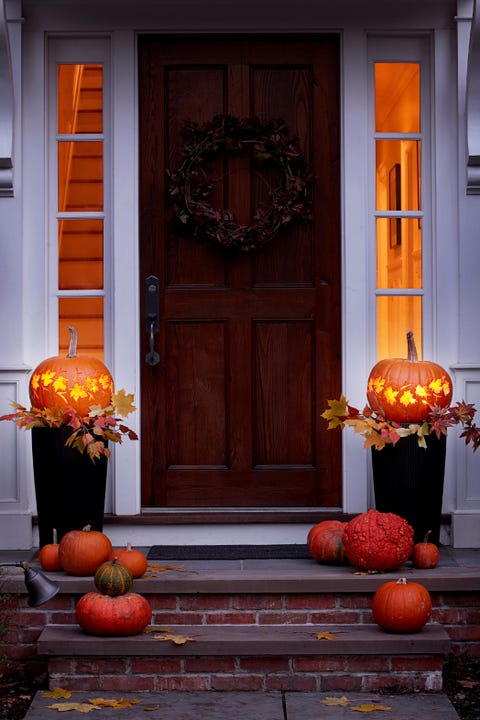 Carving out a fall garland is easy with our printable template. Plop the pumpkins atop a pair of planters for a festive welcome.
Get detail instructions at
Good House.
23. Weave a Tangled Web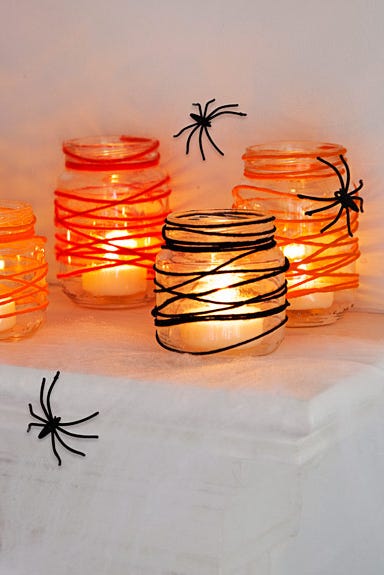 Recycle (clean) baby-food jars as spidery votives with this easy DIY. For each candleholder, dip 48 inches of yarn into a one-part Elmer's glue, two-part water solution. Squeeze out excess; wrap strand around the jar from the top down. When dry, add an LED tealight.
24. Darken Your Door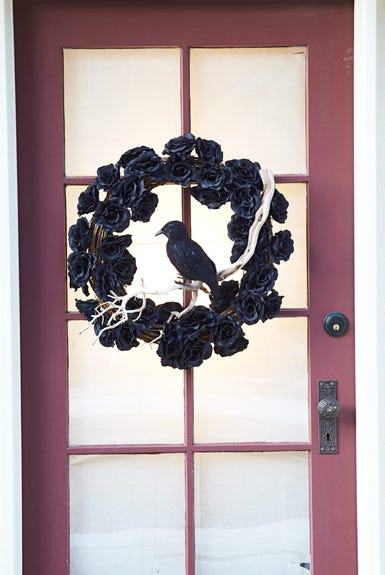 This moldering wreath looks like it came straight from the crypt. Craft it fast with ebony flowers, a stuffed raven, bone-white branches and a gnarled grapevine base.
25. Gild a Gourd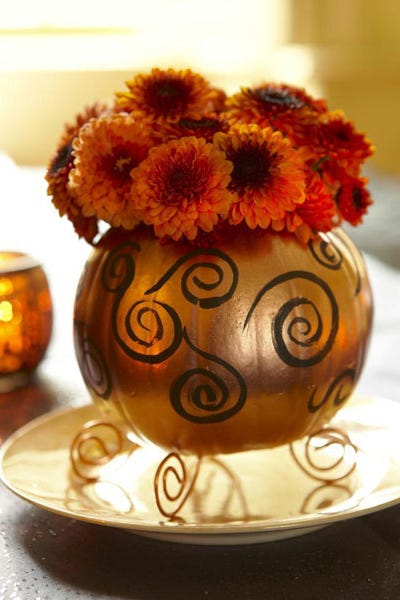 A sugar pumpkin stars in this elegant centerpiece, which doubles as a vase for autumnal floral favorites.
26. Do a Literal Witch Craft
Use our free template to cut out a simple silhouette (and some twinkling Styrofoam stars) that will delight trick-or-treaters.
Get detailed instructions at
Good House.
27. Sink Your Teeth Into This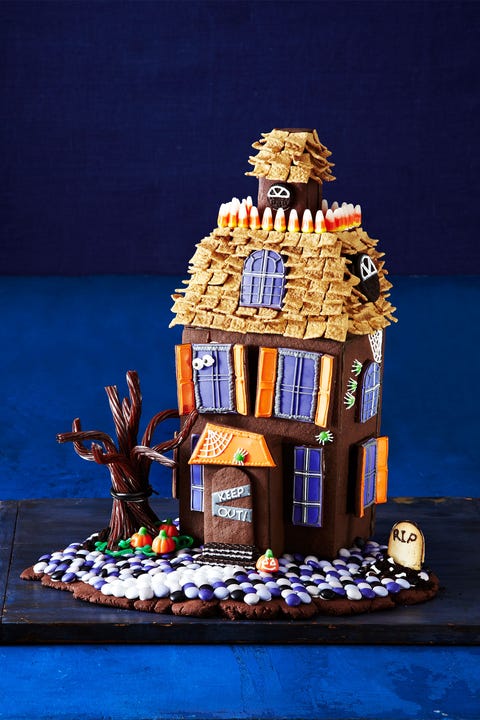 Chocolate cookie walls and candy decorations make this haunted house frightfully delicious.
Get detail instructions at
Good House.
Happy Decoration!!
Happy Halloween!!
27 Easy DIY Halloween Decorations and Decorating ideas
Reviewed by
Team
on
September 29, 2018
Rating: