Try these spooky and creative festive Halloween decoration ideas. Best Halloween window decoration ideas for adults.
It is time to start preparing for October 31st to arrive with Halloween window decorations.
The air is crisp and the nights are becoming longer, making this the perfect season for a whimsical, yet spooky holiday.
As an adult, there is no better way to embrace this holiday than to decorate. Pumpkins, bats, skeletons, witches, ghosts, and other creatures of the night will make great additions to your home this season.
No matter how you decorate, whether it is placing jack-o-lanterns on your pathway or adding Halloween window decorations to your windows, decorating is part of the fun, especially if the decorations are scary.
Choosing a theme for your decorations this Halloween can be a difficult decision, so we've put together a few ideas to help you to create an atmosphere that adds to the trick or treating excitement. Take a look.
1. Skeleton Silhouette With Lights
2. DIY Halloween Window
A very inexpensive way to decorate the inside and outside of your home for Halloween!
3. Jack-O-Lantern
Turning the whole window into a jack-o-lantern isn't that hard!
4. Witches Decoration
Garage door could also be covered with Halloween silhouettes. Would take your yard's decor to the next level.
5. Spooky Ghost and Witches
All front windows could be decorated with silhouettes. Cats, ghosts, bats and witches would work as a charm.
6. Paper Pumpkin Window
The paper pumpkins are made from strips of orange paper that are attached with small metal brads. You can tie string around the brads to hang the pumpkins wherever you like such as stair banisters, window frames, mantels, door frames, and even from the ceiling!
Get detailed instruction here.
7. Stop Looking at Me!
Silhouettes are great to have for Halloween window decorations, but creating a design that makes it look like the eyes of the cats, ghosts, or other creatures are following you is one of the spookiest ideas you could have in your window. As your neighbors pass by your window, they will feel like they are being watched. The trick to creating this effect is to position the pupils slightly back in the eye cavity. The pupils will also need to have a dome shape, and no matter which direction you are looking from, the eyes will be looking back at you.
Get detailed instruction here.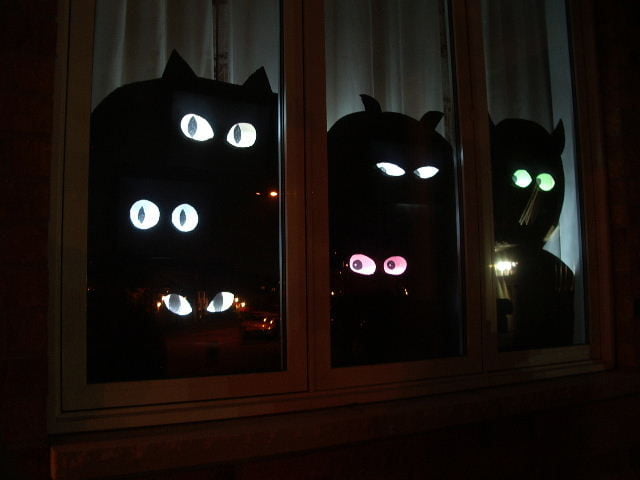 8. The Spooky Tree
Old crooked trees that creek in the wind on Halloween night can be scary, especially if you are traversing through the forest alone. To recreate this unsettling feeling, make a silhouette of a large tree that has jagged reaching branches that could easily grab you from the path that you are walking on. You can complete the look of the tree by adding an owl to one of the branches or you can add some upside down bats if you prefer. Add a tombstone at the base of the tree for a spine tingling graveyard feel.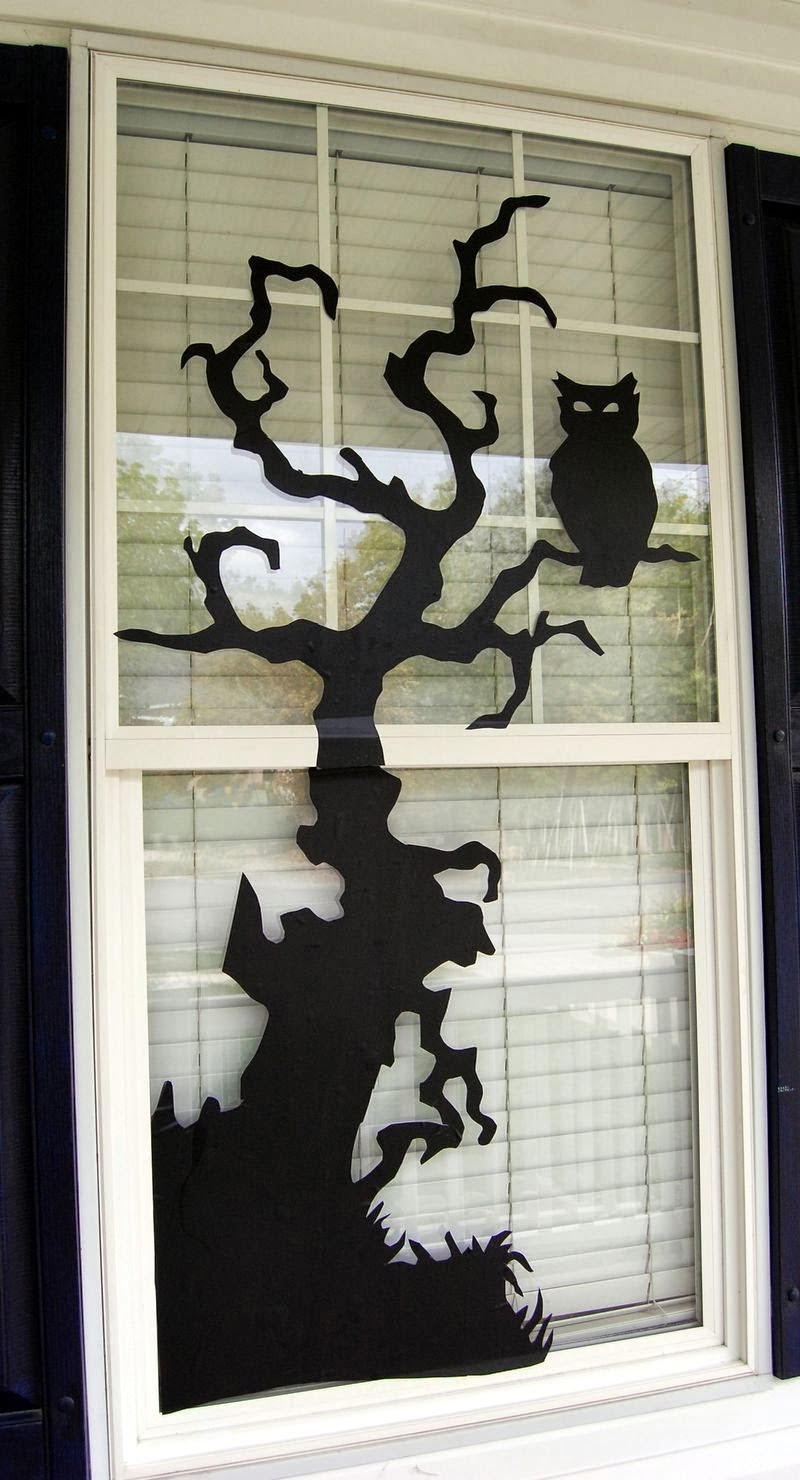 9. Crepe Paper and Bats
Crepe paper is a great way to make your window's scene more dramatic.
10. Ghost attach to the window
Attaching a ghost to the window can provide an awesome silhouette, but have you ever considered designing a ghost that is attached to your curtains? All you need to do is create some large eyes and a wide open mouth that looks like it is saying boo. Attach them to your curtains with some tape or glue, and it will be easily visible to neighbors passing by your window. You can even incorporate a fan to make the curtains blow around so that the ghost appears to move in the window. This design is a fun, yet haunted decoration that the kids can enjoy creating.
Get detailed instruction here.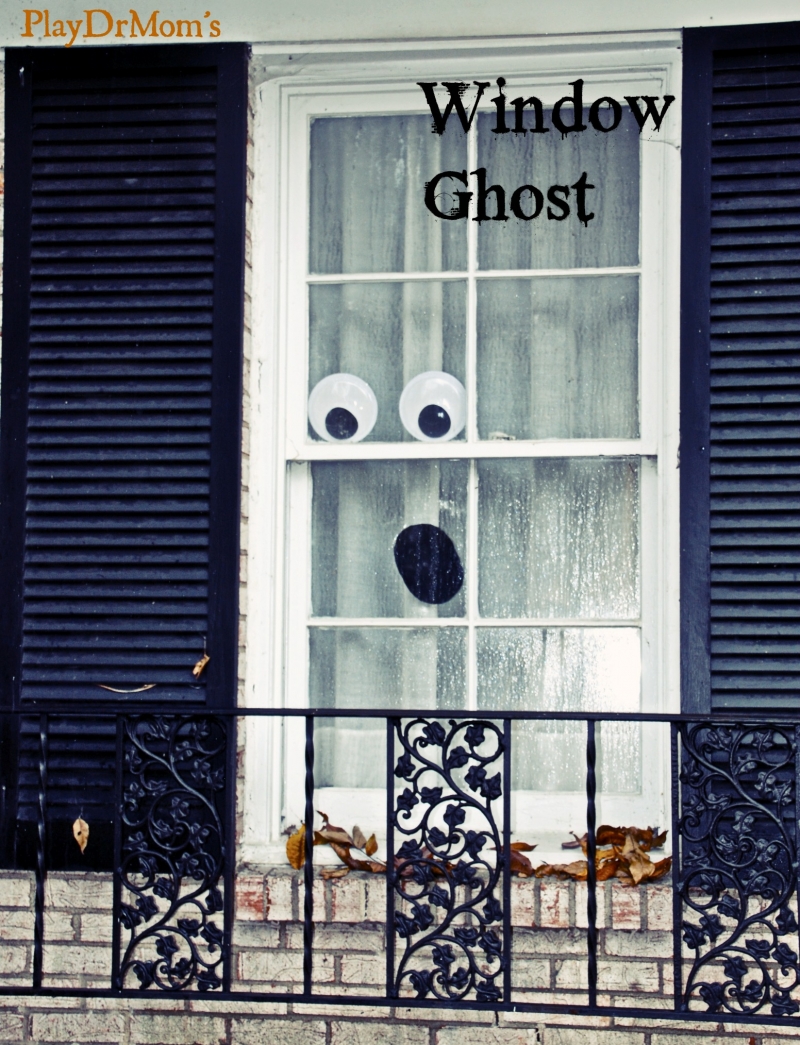 11. Jack-O-Lantern Design
Most people like to carve jack-o-lanterns near Halloween to create unique looking pumpkins that express your creative side, but doing that can be messy. If you prefer to avoid the mess of a live pumpkin, then you can use an orange colored string of lights to create a pumpkin design on your windows that will glow at night. You can make the pumpkin look anyway you want, and there is no backlighting required to see the display from the sidewalk, so you can easily watch a movie in the dark if you wish.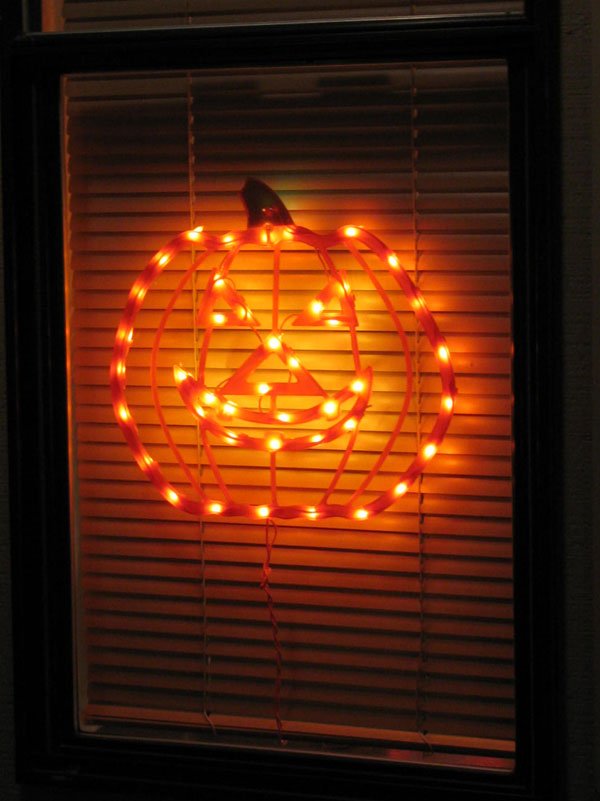 12. Witch in Window
Nothing can have more of a classic Halloween feel than a witch. Creating a window silhouette of a witch can add a sense of mystery to your Halloween decorations. Use construction paper to create any witch you desire, but don't forget the hat. You can also use green construction paper for the skin if you wish. It will be able to be seen during the day, but at night it will become a mere shadow of what it once was. If the witch is concocting a potion in her cauldron, it invites more mystery and intrigue into the design. Including bats above the witch or a cat as her familiar will enhance the image as well.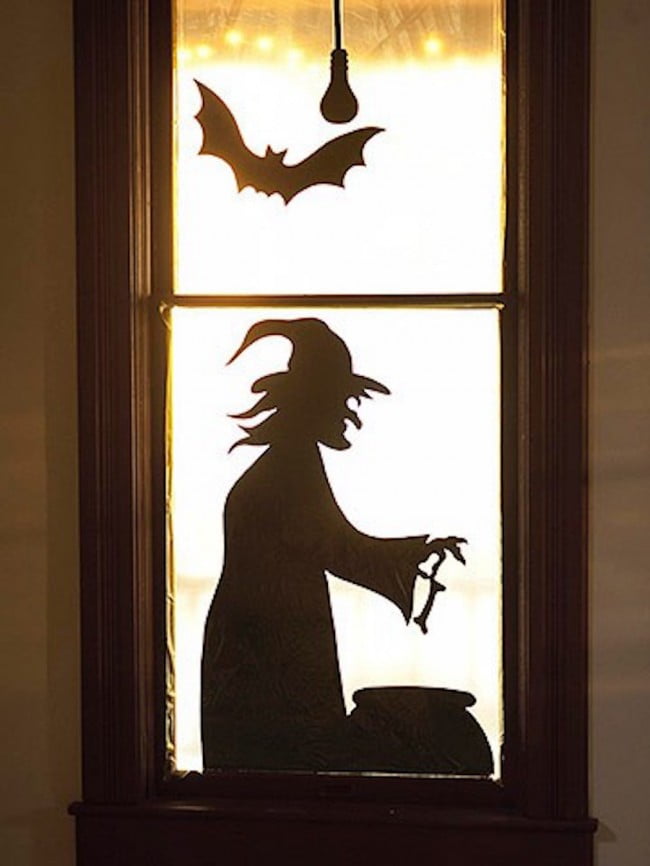 13. Always Watching
Do you have two windows in your home that are positioned beside each other? If you do, then consider making those boring windows into glowing eyes that follow you down the sidewalk. The eyes should be big enough to cover that majority of the window to create the illusion that a very large creature is inside. Cat eyes would be perfect; it is Halloween after all, but the eyes of a monster would be a great way to decorate your windows as well. When you are designing the eyes it is going to be important to add creases, wrinkles, and folds to make it look more like a real cat that is looking out of the window.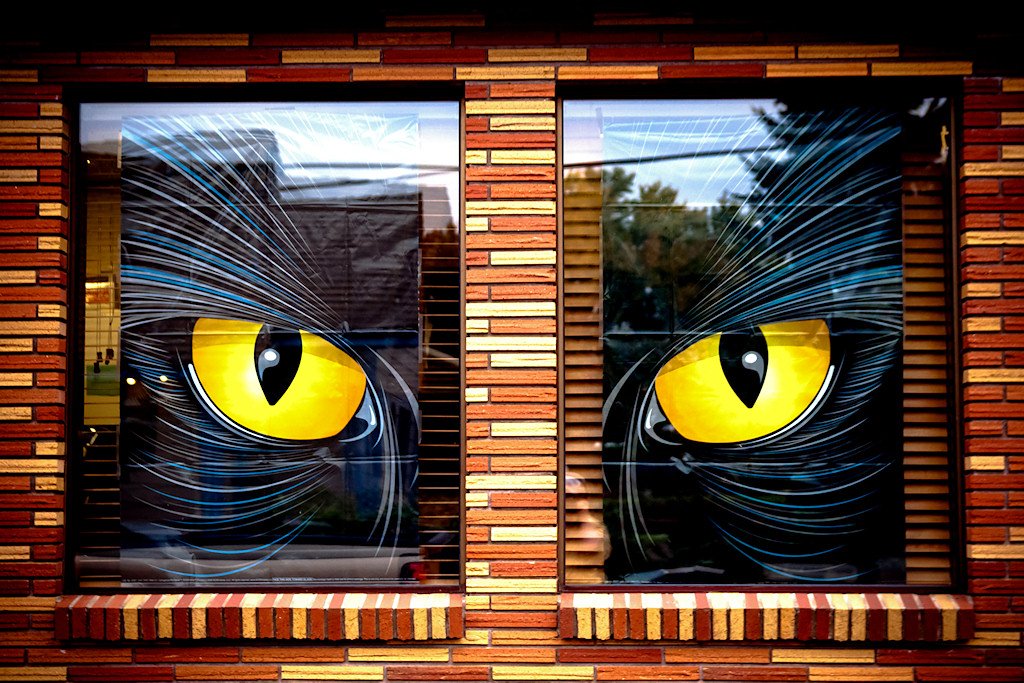 14. Friendly Skeleton
Not all Halloween decorations need to be frightening; some can simply be whimsical and fun. One way to create this type of Halloween vibe is to place a place a waving skeleton in your window. If you want a little less friend of a creation, then you can incorporate spiders and bats into the design. Spiders make it easy to add cobwebs in front of the skeleton if you wish. This idea is perfect for homes with older windows. It makes it seem like the person who these bones belong to simply died inside your home; turning this friendly waving skeleton into a frightful figure of Halloween.
Get detailed instruction here.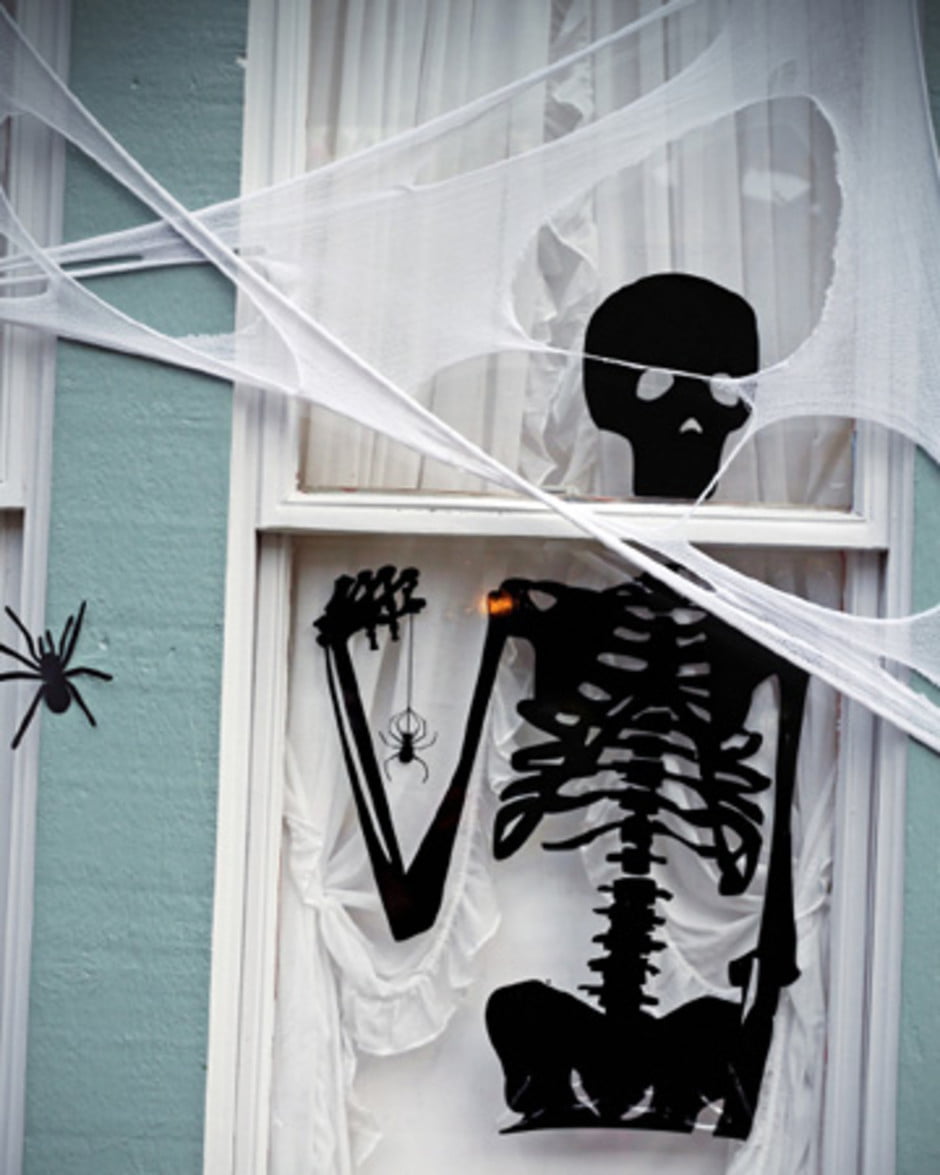 15. Perfect Pumpkins
If you have kids, you know how much they enjoy helping you to create new ideas and decorations for Halloween. Using a sheet of tissue paper and some orange and green construction paper you can create pumpkins for your windows. Add eyes, a mouth, and any features that you desire. Clear tape is perfect for adhering them, and the tissue paper allows the sun to shine through the pumpkin to give it a unique glow. You can make a pumpkin creation to represent each member of the family. Smaller sized tissue paper can even be used to represent the younger individuals of the family.
Get detailed instruction here.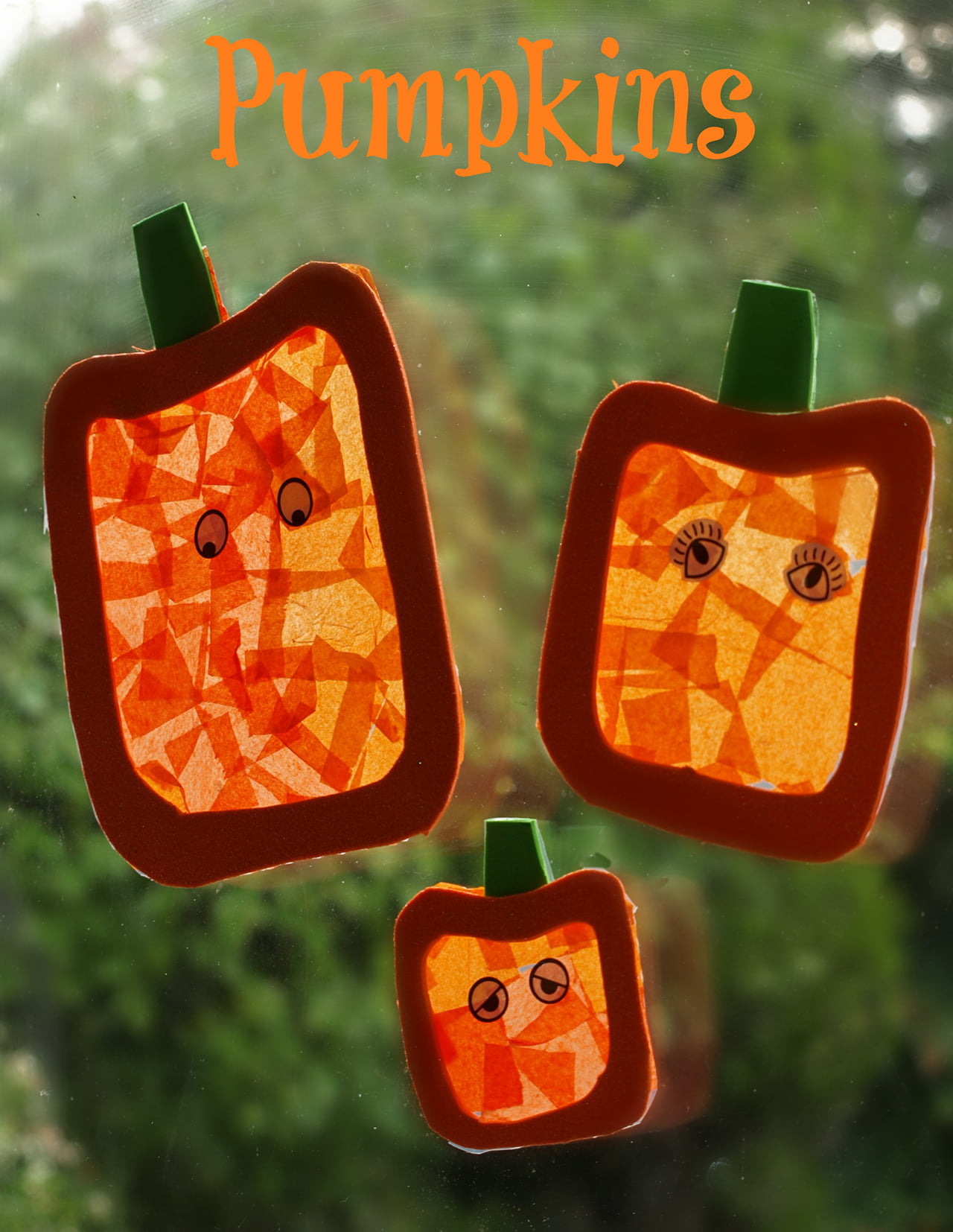 16. Bats, Bats and Bats
Curtains are the perfect background for silhouettes, but they can also serve as a place to hang bats from. The more bats that you incorporate into this design idea, the better it will look. Anywhere that the curtain is bare, place a bat. Use several different sizes of bats to make it look like they have been living in your home for a while. The simplest way to make these bats is to cut them from black construction paper. Once you make one bat, it is easy to trace a few to recreate more that are the same size.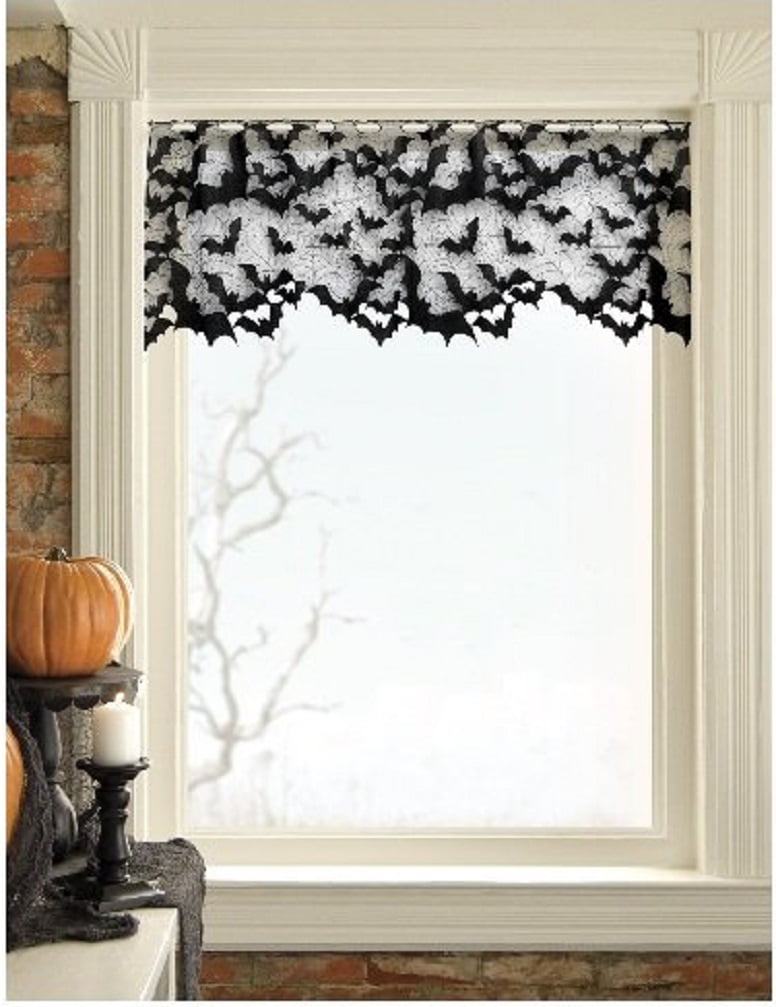 17. Shades of a Ghost
Adding shades to your windows is a great way to add an extra layer of Halloween fun. Purchase some cheap paper shades in both the black and white variety, and then cut a ghost shape out of the blackout shades. Place the two shades together and tape them or glue them so that they remain attached. You will see a ghost in the shade from the sidewalk below as you walk by. The ghosts can be standing still or flying through the air. In addition, the shades can also be cut into any design pattern you want, so a moon, stars, bats, or other simple designs can be added as well.
Get detailed instruction here.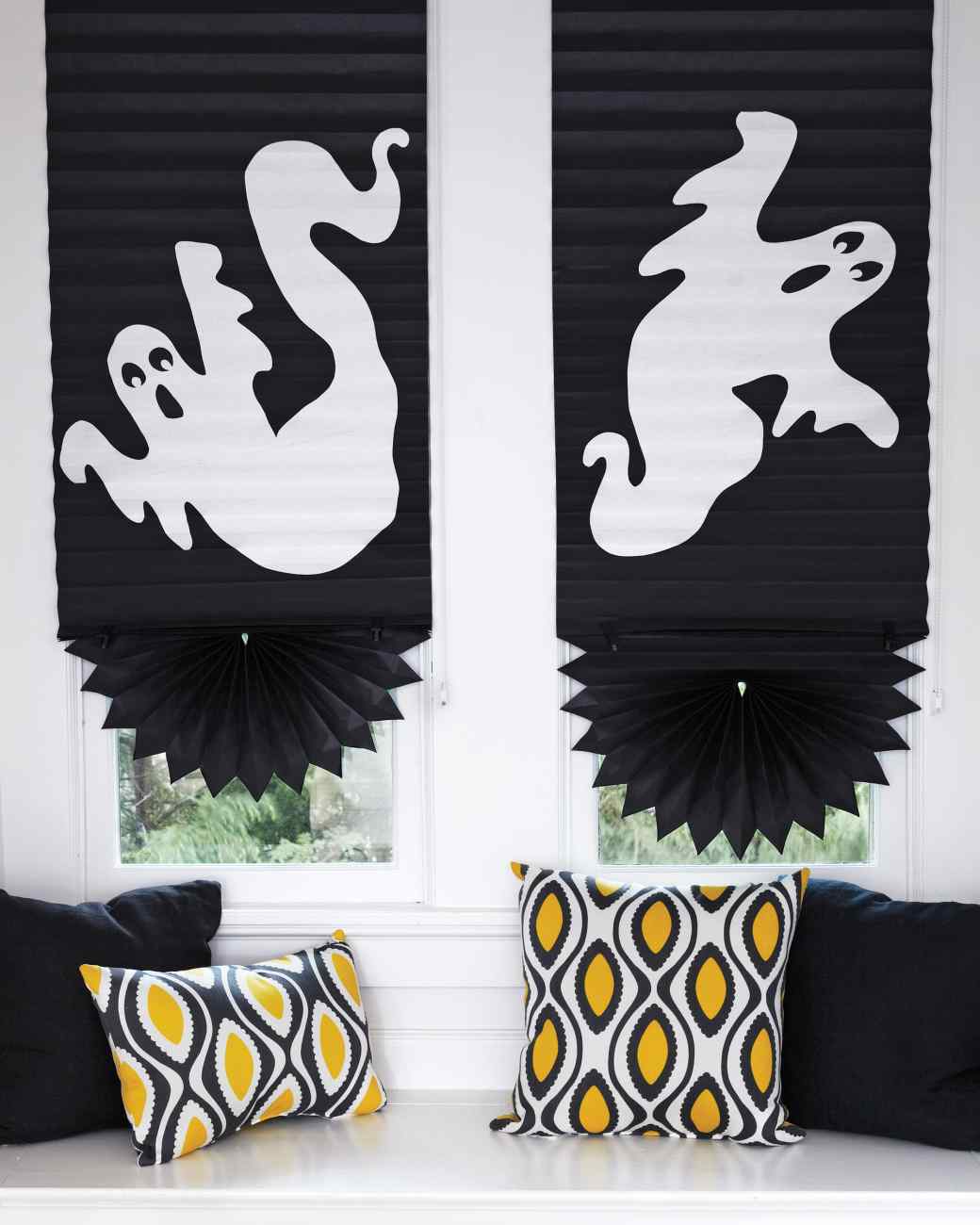 18. Jack-O-Lantern Glow
If you live in an old house that has an attic, then you have the perfect place to create an unforgettable Halloween window decoration. Using the windows in the attic, take some black construction paper and cover up the entire window. Mark the paper with the locations for the eyes, nose, and mouth; in fact, you can even throw in some eyebrows if you want. Remove the paper from the windows to cut the design out, and then secure it in the window. Place spotlights or other bright lights in the attic to give the eyes an eerie jack-o-lantern glow.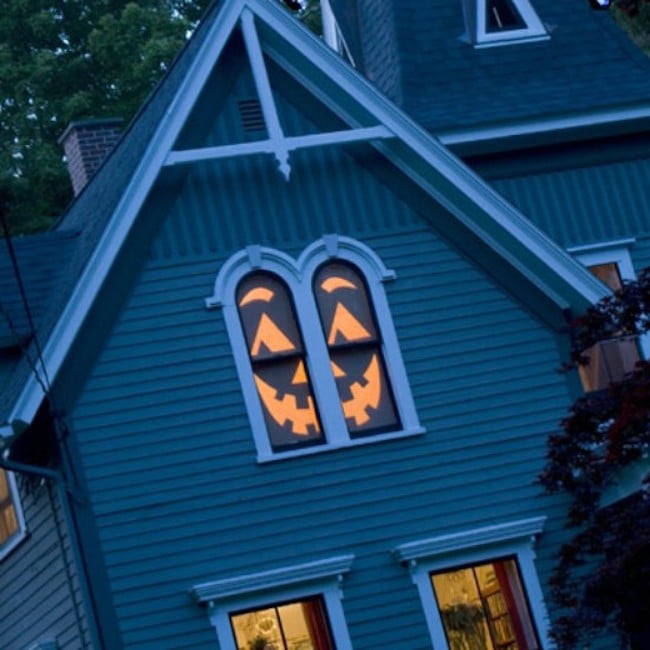 Happy Haunting!!
Happy Halloween!!
18 Halloween Window Decoration Ideas You Don't Want to Miss
Reviewed by
Team
on
September 24, 2018
Rating: