Are you dressing up with your man this Halloween? Here are a few easy ideas on some last minute couples costumes…
1. The Bandits
This is such a simple outfit, you probably already own a pair of black pants and a striped shirt. Just add a simple black mask and bonus points for a $ bag!
Get detailed instruction here.
2. Mad Men
We always have fun choosing characters from our favorite TV shows and movies. A couple years ago we did Mad Men, which couldn't have been more simple!
Get detailed instruction here.
3. Google Markers
How creative are these couples costumes? For BOTH: Use yellow duct tape, to tape streets on a long sleeve T-shirt. Print up street names and bus stop signs (like seen on Google maps) and tape those to different spots on your shirt. Then, use poster board to create your large A marker and B marker.
Get detailed instruction here.
4. Dirty Dancer
A good way to find a costume for Halloween is to look through your old movies. The classic 80's movie "Dirty Dancing" felt like a great option for a simple, homemade costume with likeable characters. Who doesn't love "Baby" and Johnny's relationship? Be careful though, your friends might have some high expectations and want to see some dance moves and lifts!
Get detailed instruction here.
5. Magician and Rabbit
Grab a suit for your man with a hat and wand for the magician. For the rabbit, you can tie a big white bow in your hair, or make a cool wire headband like we did here with fabric and a little thin wire. Add a pom pom rabbit tail!
Get detailed instruction here.
6. The Grand Budapest Hotel
Wes Anderson fans will appreciate this quirky couple costume.
Get the tutorial at
Sugar & Cloth.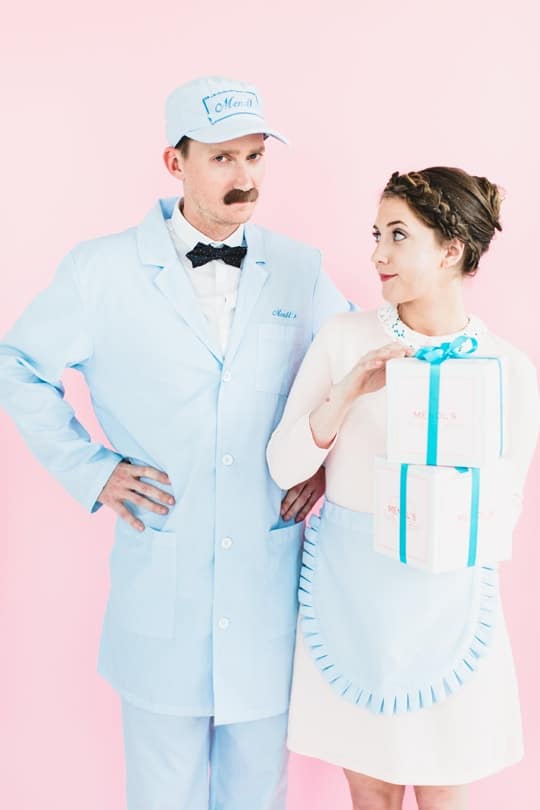 7. Grease
Same black outfit, another classic film! Don't forget the red lipstick and too cool for school attitude.
Get detailed instructions here.
8. Strawberry and Farmer
These getups are oh-so-cute!
Get the tutorial at
Studio DIY.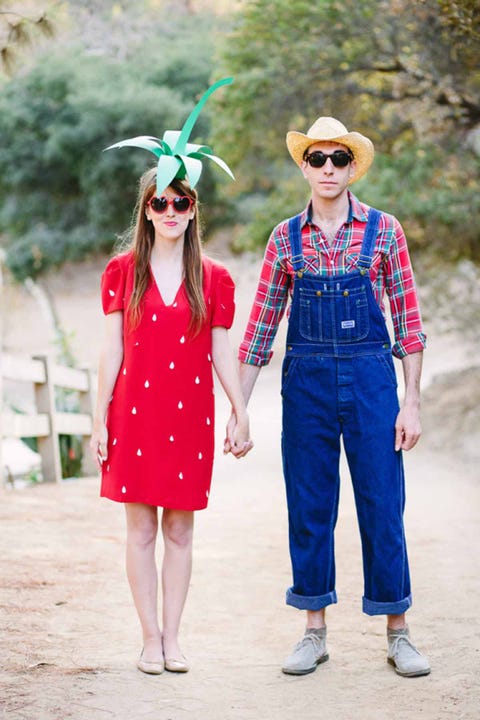 9. Forrest Gump and Jenny
For Him: Khaki pants, a plaid button up T-shirt and a ball cap. For Her: A 70's style dress, guitar and flower headpiece!
Get detailed instruction here.
10. Angry Birds
This popular game transforms into an easy costume idea. For EITHER: Grab a red or black T-shirt and a corresponding hat. Decorate your hat to look like the bird's face as seen in the game and throw on a feather boa! Can you even believe how little effort it takes for these funny Halloween costumes?!
Get detailed instruction here.
11. Alice and the White Rabbit
Let's hope you're not late for an important date this Halloween. This charming Alice in Wonderland-themed costume will have every trick-or-treater feeling like they've gone down the rabbit hole.
Get the tutorial at
Keiko Lynn.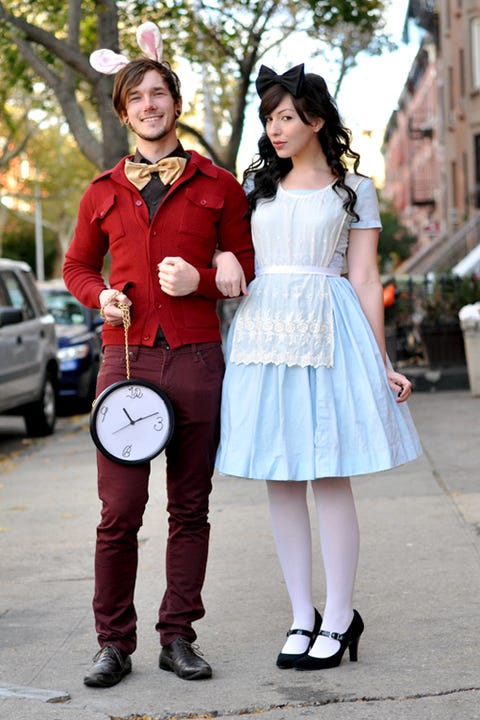 12. Lumberjacks
Do you have jeans and a flannel? You're 90% there! Also, what guy doesn't look hot as a lumberjack?
Get detailed instruction here.
13. Mary Poppins and Burt
Hopefully you won't need a spoonful of sugar on the candy-filled night (candy is dandy, after all). But this couple's costume based on the childhood classic just may just blow your party guests away.
Get the tutorial at
Keiko Lynn.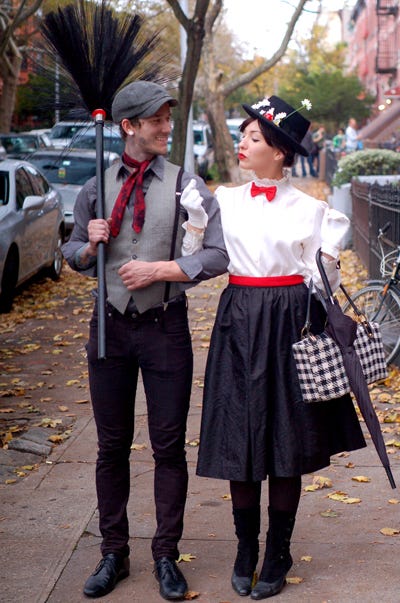 14. Mary Poppins
Such a classic! Grab a blouse and red bow, a fun hat with fake flowers, and a cap on your man. You're just about ready to sing and dance!
Get detailed instruction here.
15. Lightning Bolt and Victim
For Him: Create a lightning bolt out of large poster or cardboard. You can either cover it in yellow fabric or color it in yellow.
For Her: Take an old shirt and tatter it up, mess your hair and use makeup or body paint to add the black carbon residue.
Lastly, take an old umbrella and tear it up so it looks like it was struck by lightning! This has got to be one of the best funny Halloween costumes around!
Get detailed instruction here.
16. Oreo
Double stuffed is always the move. You'll be hugging all night long to create this cookie sandwich, and as the sweetest couple out there; all you'll need is some milk.
Get the tutorial at Aubrey Jo.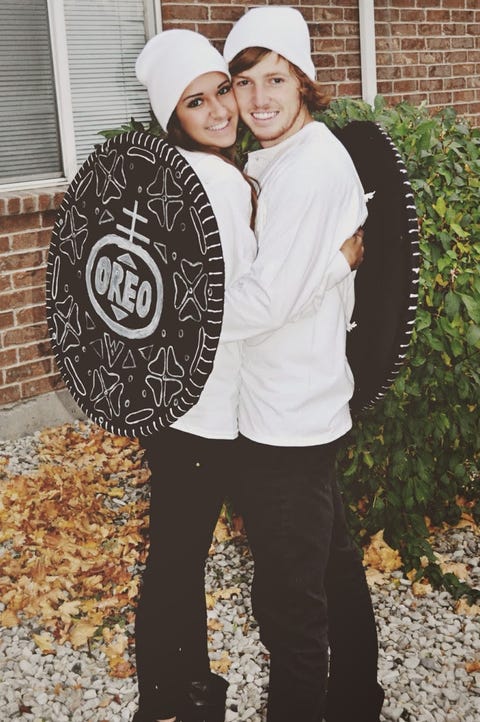 Happy Halloween!!
16 Easy Last Minute Couple Halloween Costumes
Reviewed by
Team
on
September 23, 2018
Rating: